On Wednesday, August 22, Hot Docs Ted Rogers Cinema is hosting Sex and the City and Us: 20th Anniversary Extravaganza! Presented in partnership with Simon & Schuster Canada, this can't-be-missed event features bestselling author Jennifer Keishin Armstrong (Seinfeldia) as well as writer and pop culture commentator Anne T. Donahue (Nobody Cares, The Globe and Mail) to discuss Armstrong's hotly anticipated new book Sex and the City and Us: How Four Single Women Changed the Way We Think, Live and Love.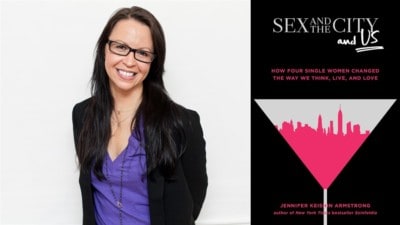 Grab your best pals for a fun-filled evening that will relive legendary moments from our favourite boundary-pushing show on the big screen. Donahue and Armstrong will explore exclusive behind-the-scenes stories from the cast and writers, as revealed in Armstrong's fascinating new book, which has earned positive reviews since its release earlier this year.
This is your chance to learn all about how the iconic (and sometimes problematic) cultural phenomenon endured slut-shaming and a slew of nasty reviews on its way to revolutionizing television for women.
Doors open at 5:30 p.m. This evening starts at 6:30 p.m. Arrive early for cocktail specials and more. Book signing to follow!
CONTEST
Enter to win a pair of tickets for this exciting evening of laughter, fun and gossip.
You have three ways to enter:
Twitter: Tweet "Dear @shedoesthecity, HOW HAS IT BEEN 20 YEARS SINCE #SexAndTheCity first aired? I want to relive it! And discuss it. The good and bad. Please send me to the 20th Anniversary at @HotDocsCinema this Wed."
Facebook and Instagram: LIKE + COMMENT on our Sex and the City and Us: 20th Anniversary Extravaganza posts.