Come As You Are's annual Erotic Arts and Crafts Fair is THIS SATURDAY at The Gladstone Hotel—of course Cosmic Clit will be there!
We love their highly-detailed vulva sculptures, that come in all sorts of shapes and colours (just like real-life vulvas!), and after browsing through them on Etsy, it became obvious that we needed to chat with designer Monique McCabe to find out the birth story of Cosmic Clit.
How did your vulva sculpture journey begin?
It began with trying to find a really cool vulva refrigerated magnet that wasn't twee, or cartoonish, or overtly sexual. I kept coming across work that depicted the vulva in a cookie cutter manner. All the labia's were tidy and symmetrical, and the clitoris was a perfect tiny bean, and everything was some shade of pink. Overall I was annoyed by the complete lack of diversity.
I wanted something that celebrated the unique organic flow of the vulva but didn't shy away from the anatomy. And I didn't want the only option to be pink. And I didn't want to compromise; so I set to make it myself.
How did you learn to do what you do? What kind of research was necessary? Don't hold back on the details.
I have a BFA from OCADU, which helped inform the planning and overall aesthetic—but I had no formal training in sculpture. It took about two years to develop Cosmic Clit from concept to market. During that period I worked full time and used my evenings and weekends for research and development.
I worked out of my bedroom and relied heavily on DIY videos that artists and craft enthusiasts posted to YouTube, and Instagram. I tried out numerous materials and techniques. I tossed out anything that was less than perfect. I began again. I asked for feedback. This process wasn't easy and I had multiple setbacks, but I was really determined.
Do people want vulva sculptures that remind them of their own vulvas? (We're thinking about Gwyneth Paltrow's vag candle.)
Perhaps some, but mostly no. I think the draw is not to find a twin but to see the beauty in something familiar, but different.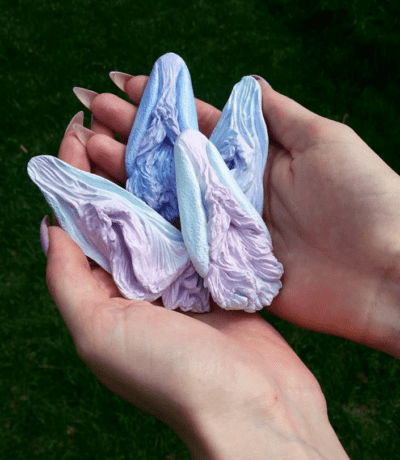 Do you have vulva sculptures all over your home?
OF COURSE! My fridge is my own mini gallery.
What do you love about the Erotic Arts and Crafts sale?
Unfortunately not many arts and craft fairs are able to support erotic art, which makes EACF a rare and beautiful gem. I am so jazzed to be able to show my work alongside all the talented artists and crafters at this years' EACF, and to meet all the cool and curious folks coming to the fair.
When do you feel most yourself?
When I find foliage or paint in my hair.
What are three of your most favourite places in Toronto?
The super underrated but absolutely stunning Tommy Thompson Park, my pottery teacher Julie Moon's studio, and the outdoor garden centre at 21 Seven Market.
What's your best advice, when it comes to vaginas?
Listen to your body and educate yourself from credible recourses. I had a wonderful time reading Closer: Notes from the Orgasmic Frontier of Female Sexuality by Sarah Barmak and the Vagina Bible by Dr. Jen Gunter.
Browse the vaginas from Cosmic Clit at the Erotic Arts & Crafts Fair this weekend. It truly is a magical event, hosted by Come As You Are: Toronto's longstanding feminist co-operative that we simply adore. More info on Saturday's titillating event here.