Have you ever watched RuPaul's Drag Race? The answer is only yes if you've watched it at the Henhouse on Tuesday nights. It's the only way to watch the show. Picture about 30 people crowding around to watch the show as it's projected on to a thin white cotton sheet. Then picture two amazing drag queens, Judy Virago and Igby Lizzard, as hosts. Then picture-listen to all the cheers, leers, and hollers as the sassy show plays.
The crowd at the Henhouse knows how to watch good bad TV. They whistle at the right parts and stay quiet when needed (sometimes you have to listen hard for those under-the-breath insults). If you thought watching TV at home with your roommates was a hilarious romp, you were wrong. Your roommates are only okay and the Henhouse crowd blows them out of the water with their enthusiasm and well timed clamor. They make the bestcommentary and shout out the funniest things. You want them to be your roommates. (One regular attendee dresses up in various costumes for every screening. Last week she was a Russian ski bunny from the '80s, and this week she wore the largest hoop earrings I have ever seen and a do-rag.) Fun people.
When Drag Race ends everyone watches Untucked, the behind the scenes footage from the show. This week's episode it was particularly catty and the crowd really felt it. Our rowdiness faded and people started having conversations about the way the drag queens were treating each other. The mood darkened in a way that showed that the audience's interest goes beyond the show's sassy comments, ridiculous challenges, and amazing costumes.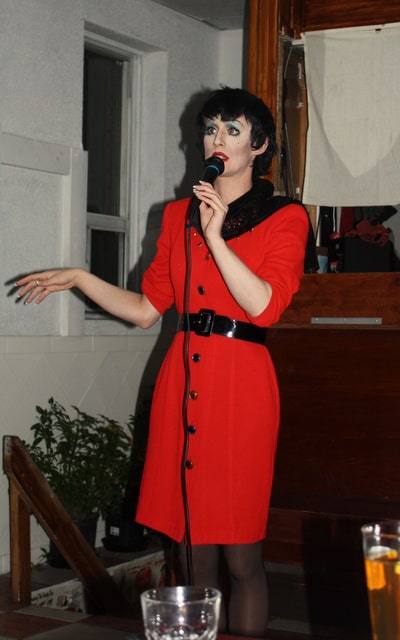 Luckily, at the end of every night, the hosts do a lip sync performance. This week Igby Lizzard was Mama Cassand, and Judy Virago was Liza Minelli. IT WAS A LAUGH RIOT. As the ladies danced aroud the bar, there wasn't a single straight* face in the crowd. Igby had me take a bite out of the ham sandwich she was making, just before she choked on it. When Judy did Liza's Sex in the City "Single Ladies" performance, we were all gasping for breaths between laughter. These two know how to entertain, and the crowd loved it. And the regulars that keep coming back every week are just as fun loving and hilarious as the hosts.
Fun night, fun people. So pack up your roommates and come on down to the Henhouse. It's where you need to be on Tuesday nights.
Rating: 5/5 Dollar Beers Before 9pm!
*Not a pun, but also, maybe a pun?