ArtworxTO: Toronto's Year of Public Art 2021–2022 is a year-long celebration of Toronto's exceptional public art collection and the creative community behind it. We love how exhibits and installations are popping up all over the GTA, bringing new meaning and perspectives to parks, buildings, and high-trafficked intersections. Bayview Village is home to Curator Raji Aujla's magnificent chashm-e-bulbul (Eye of the Nightingale), an exhibition that probes the erasure of Sikh grandmothers' visibility from historical records.
Over the course of COVID, Raji found herself thinking a lot about her grandmothers, feminism, and missing narratives from history. The well-respected curator has been making waves in Toronto for over a decade, perhaps best known for her work with Mongrel House, or the transformation of Campbell House Museum into a luminescent multi-floored installation during TIFF. But this exhibit is by far Raji's most personal one yet. "I've never really put myself out there before. This exhibit is my feelings, my thoughts, my religion, and my becoming a woman. It's the project that I'm most proud of."
Raji brought on seven other Sikh artists (Angela Aujla, Jagdeep Raina, Harjot Ghuman-Matharu, Pamila Matharu, Keerat Kaur, Simranpreet Kaur Anand, Conner Singh VanderBeek), and asked them to also consider their matriarchal lineage. The result is a powerful group show of painting, sculpture, textiles, and multimedia installations that celebrate the contributions of Sikh matriarchs, specifically exploring Sikh culture in Canada, and the different waves of immigration.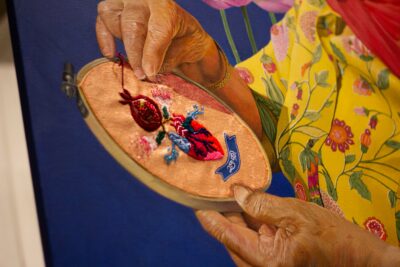 "Walking through the space feels magical… It all spurred from curiosity… with us asking ourselves: where are our grandmothers in the books?" says Raji, who shares that the biggest takeaway of the project has been the conversations that have emerged about taking up space. "We need to make ourselves visible, so that we change history. We don't have information about our female ancestors, and if we silence ourselves, our children won't have visibility of us. So much knowledge of who we are is passed down through our matriarchal lineage, and yet so much of the power and acknowledgement is held by our fathers and grandfathers. One gets visibility and the other doesn't."
Before opening to the public, Raji invited grandmothers from the community to tour the exhibit. Wandering around the 20,000 square foot space, the women were touched to see their efforts recognized, many were moved to tears. "It's really a reckoning to make visible the contributions that don't get the attention they deserve."
The experience of putting together this exhibit has had a profound impact on Raji, and helped her feel more comfortable owning her full identity. "There was always this part of my identity that I kept to myself and practiced at home," says Raji, who is from BC. "Then there was this Toronto person, my anglicized self. You have these two different parts and kind of code switch. I realized that so much of the work was on us to do that code-switching." Now, when the artist cannot find the right word to describe something in English, she won't hesitate to say it in Punjabi, her mother tongue. "I can be both people at once."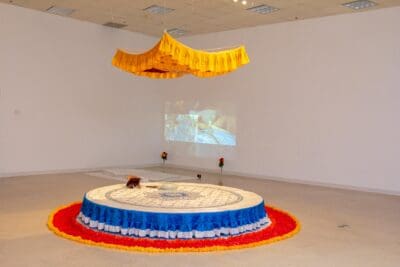 On Saturday November 6, the ArtworxTO Hub at Bayview Village will host a women-only Diwali celebration. The free event is happening from 12:30-3PM, and will feature folk singers, traditional dancing, folk music, and light. "We're going to have tea in the middle of the day with samosas and collective singing. Being together after so much isolation in Covid, it's going to be very healing," says Raji, adding that the event is open to women from all backgrounds.
Image #1: Mother by Keerat Kaur. Image #2: Bande chasm deedn fanaai by Simranpreet Kaur Anand and Conner Singh VanderBeek. chashm-e-bulbul (Eye of the Nightingale) will run until December 31st.