Les Femmes Fatales is Canada's first burlesque group for women and femmes of colour, founded by Toronto-based performer Dainty Smith. The troupe is all about self-love and empowerment, unapologetically celebrating the power and beauty of femme bodies through burlesque.
Their upcoming show Other Suns is described as "a celebration, a beautiful story, of resistance, magic, sensuality and love," and is inspired by a Richard Wright poem. The show is happening at Buddies in Bad Times Theatre on June 17, as part of their Pride Month programming.
The confidence and artistry of Les Femmes Fatales is inspiring, and this performance is sure to be electric. We caught up with Dainty Smith, producer, curator and host of the show, to find out what you can expect from Other Suns, and to learn about what the journey of Les Femmes Fatales means to her.
What was it that initially led you to burlesque?
I was inspired by Josephine Baker. Josephine Baker was an American burlesque performer, a singer, actress, cabaret star and civil rights activist. I was a young woman when I discovered her and up until her, I had never seen a Black woman who was so daring and glamourous, sexy, sensual and playful. As an adolescent and coming from a very strict and religious upbringing, this discovery was mind blowing. And it ultimately gave me permission to also be fearless and daring.
What does burlesque performance give you?
Burlesque gives me a feeling of ownership over my own body and sexuality. It allows to me feel empowered and feel enjoyment in my own beauty and sexuality. Burlesque allows me the power of self-love and self-worship. It gives me freedom and reminds me that I can choose myself, over and over again, that my body is perfectly imperfect and always beautiful.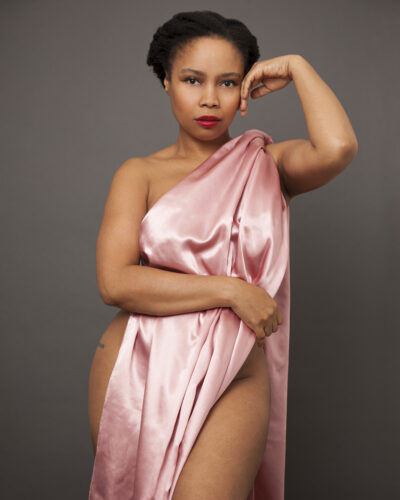 How would you describe the mission of Les Femmes Fatales?
Les Femmes Fatales is a troupe for Black women and femmes, Women of Colour and our allies. The mission of Les Femmes Fatales is radical sensuality. This is a collective that celebrates self-love and sexuality, survivorship without apology through burlesque and performance art, and seeing the femme body as beautiful and powerful.
How has Les Femmes Fatales grown over time?
Les Femmes Fatales started quite small, in the beginning, I was actively seeking Black women who wanted to be part of the world of burlesque and wanted to see themselves on a stage. Representation and diversity weren't something that was being talked about as much over a decade ago in the burlesque community and industry. I was trying to find folks who wanted to take up space on purpose in that world.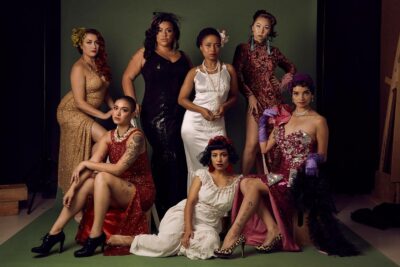 What was it like at the beginning as compared to now?
In the beginning, it was hard and at times lonely. I felt that people didn't really understand what I was trying to do or why representation was important in the cabaret world. I started the troupe in 2010. It took time to build the troupe with permanent members. And there were some changes for me as the creator, I realized that I was initially cis-centric and so I changed our language and realized it should be women and femmes. Which is more expansive and allows more room for non-binary folks, trans bodies and more room for what " Femme" is. Femme is large, it's layered and multi-faceted, there's more room for different persons and bodies when we say femme.
What can audiences expect from the Other Suns show?
Audiences can expect a show that includes burlesque that is classic, neo-burlesque, performance art, modern dance with touches of contemporary dance. Artistry, sensuality, tongue-in-cheek raunchiness and a celebration of feminine strength.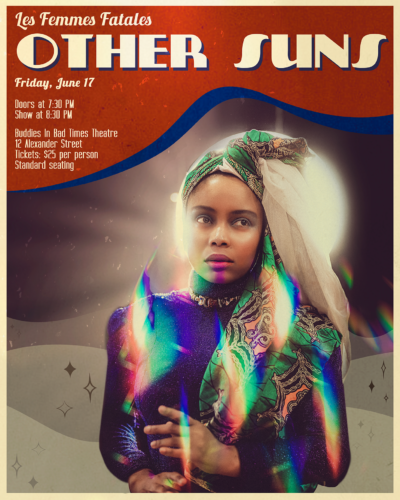 After two years of no in-person celebrations for Pride, how are you feeling this year?
After two years, I am still learning to get my stage legs back! I am more nervous than I was before, more serious and more tender. And I feel more vulnerable. But I think that's ultimately a good thing and that comes through in the art.
Les Femmes Fatales: Other Suns is happening on June 17 at 8:30pm. Tickets are available to purchase here. Be sure to check out Buddies in Bad Times Theatre's Queer Pride Festival programming for a stellar lineup of celebrations all month long.