When Jen invited me to go to Edulis last Thursday night to participate in a wine tasting, I immediately said yes. Without a doubt, yes. Sounds like fun, right?
Or does it sound like serious?
When I found out that I would not only be in the company of Toronto's foremost sommeliers and wine critics, but also share the tasting with the Head Winemaker herself, Sue Hodder of Wynns Coonawarra Estates in Australia, I started to worry that maybe they would be a little out of my league.
I love a good glass of wine. Let's be honest: I love a good bottle of wine. But this was not a dinner party with my girlfriends. I wasn't going to get away with crusty purple wine lips and a round of YouTube karaoke with this crowd.
Jen told me not to fret, so off I went, feeling like the veritable Lois Lane of Wine Journalism. Fingers were crossed that I wouldn't end up like one of the kids from Heavy Metal Parking Lot.
I swore to myself that I'd spit out the samples.
It was one of the chilliest nights of the year, and soon enough I was sitting around a table with the who's-who of wine appreciaion. The evening was hosted by the Treasury Wine Estates as well as the lovely Jamie Drummond, Director of Programs & Senior Editor with Good Food Revolution. The location was Edulis, which EnRoute Magazine named the Best New Restaurant of 2012 in its November 2012 issue. Edulis occupies the space that used to be The Niagara Street Cafe. I took a seat beside my new best friend Dick Snyder, writer for and editor of City Bites Magazine; we had bonded earlier over our past lives in St. John's and our similar jovial attitudes. He had no choice but to be my wingman for the smelling and sipping portion of the evening.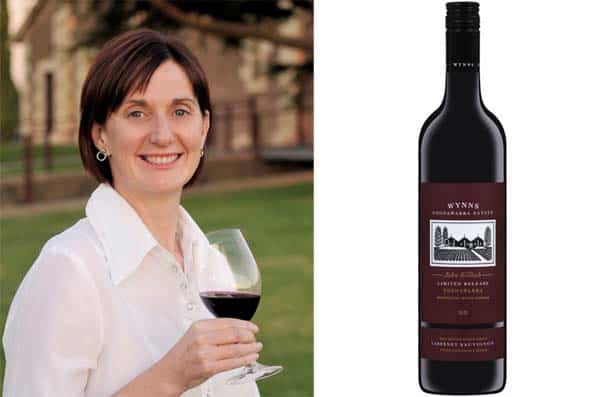 The guest of honor, Sue Hodder, spoke of Wynns Coonawarra Estates with pride and sincerity, frankly highlighting the challenges and successes of growing grapes in a region of Australia that is rich in terra rossa soil and has a somewhat maritime climate that is reminiscent of Bordeaux, France. Celebrating her 20th Vintage for Wynns Coonawarra Estates, Hodder spoke of the importance of their product in the "Australian wine story," and she described each of the six offerings on hand with care and confidence.
Soon we were sipping and swirling. I followed suit and what seemed at first to be an arbitrary action soon turned into a fun practice. As others stated flavours (Eucalyptus, mint, and red berries were popular choices), I started to sense them, too. As we moved through the spectrum, I could also feel the difference in weight and body.
Jeeze Louise, I was getting the hang of this! The serious was starting to be the fun.
Throughout the tasting, the conversation moved from the specifics of the evening's wines to wine marketing—specifically the notion that there is an Australian style, because the soils across the many regions is as varied as the climates. Coonawarra is known primarily for Cabernet Sauvignon, but also suits the production of Shiraz, Riesling, Chardonnay, and Sauvignon Blanc. Other more topical issues came into debate, including the increasing popularity of screw-top closure as opposed to the traditional cork. To hear the views of the experts on the misconception that screw top closure is unsatisfactory for aging was probably my favorite discussion of the night, and it is interesting to note that Wynns Coonawarra started implementing screw top closures on its more expensive bottles in an effort to refute this attitude. The general opinion of the group was that whatever keeps the wine best is what works, so my tip to fellow novice vinophiles is to pay more attention to the content than the closure.
I took a moment towards the end of the evening to thank Hodder for her insight and her hand in producing such beautiful wines. My favorite selection was the 1993 Wynns Coonawarra Estate Cabernet Sauvignon John Riddoch, named after the man who planted the first vines in the region over 100 years before. Hodder spoke to me about her appreciation of the science of winemaking, as well as her appreciation for being able to have evenings like this to discuss strategy in marketing and promotion. Soon we were on her iPad, destination: Twitter.
I now follow ShitMySommelierSays (@shitmysommsays) based on Sue's recommendation. I follow her (@sueatwynns) and she follows me, too! Her profile picture is her smiling with a glass of red on the sprawling estate. Perfect. Mine is of me dressed like an early '90s gymnast for Halloween. Although it isn't in the picture, I can guarantee that wine was involved in that scenario, too!
What a great evening! The combination of excellent discussion, sensational food from Edulis, fantastic wine from Wynns, and a nice crop of new friends produced quite a fun night for this Lois Lane.
But I didn't spit. Not one tasty drop.