David Bowie is…. mysterious, fantastical, liberalizing, radical, adored, complex and so much more.
You know that game that you play with children, where you find an adjective for each letter of the alphabet to describe something? Well, after exploring the David Bowie Is exhibit at the AGO yesterday, I found myself playing that game late into the night as I twitched in bed. I decided that I could probably play the game a dozen times and come up with twenty-six new adjectives each time, and every single one of them would ring true. David Bowie is many things to millions of people: he's not easily defined and that's what makes him so damn cool.
At the media preview, Geoffrey Marsh, co-curator from London's Victoria and Albert Museum, reminded us of the post-war climate that Bowie was born into. "It's difficult to imagine how grey London was after the war. This ordinary boy….what happened to him in his teens, he had such determination to be successful." I imagine a cloud of orange smoke and a young Bowie rising from the dirty streets clad in a flashy suit, spiky hair and that devilish sideways grin. The exhibit reminds us just how incredibly revolutionary he was for his time.
With 300 objects and over 60 costumes, David Bowie is offers inspiration at every turn and the artifacts date back to Bowie's teenage years; you really see the transformation of both a man, David Robert Jones, and his constructed glam-rock superhero, David Bowie. It's a colourful metamorphosis and wandering through the many rooms of the exhibit, listening to hits like "Rebel Rebel", "Starman" and "Fame" on headphones, you will want to roll your shoulders, gyrate your hips and break away from your own body into the magic world of Bowie.
The fashion is fabulous to gaze at but I particularly liked the small hand-written note from Jim Henson encouraging Bowie to star in Labyrinth. Looking closely at the original lyrics to "Ziggy Stardust" scrawled with an inky pen on scrappy piece of paper, I wondered where Bowie was when he wrote them. Did he move around the room and get into the part? Or put eye makeup on in between verses? What did his creative process look like?
Art, drama, writing, dance, sexuality, individuality, music, fashion: Bowie influenced and continues to influence all areas. The fact that he has not once communicated directly with the V&A curators adds to the mystery and fascination of Bowie that grips both young and old.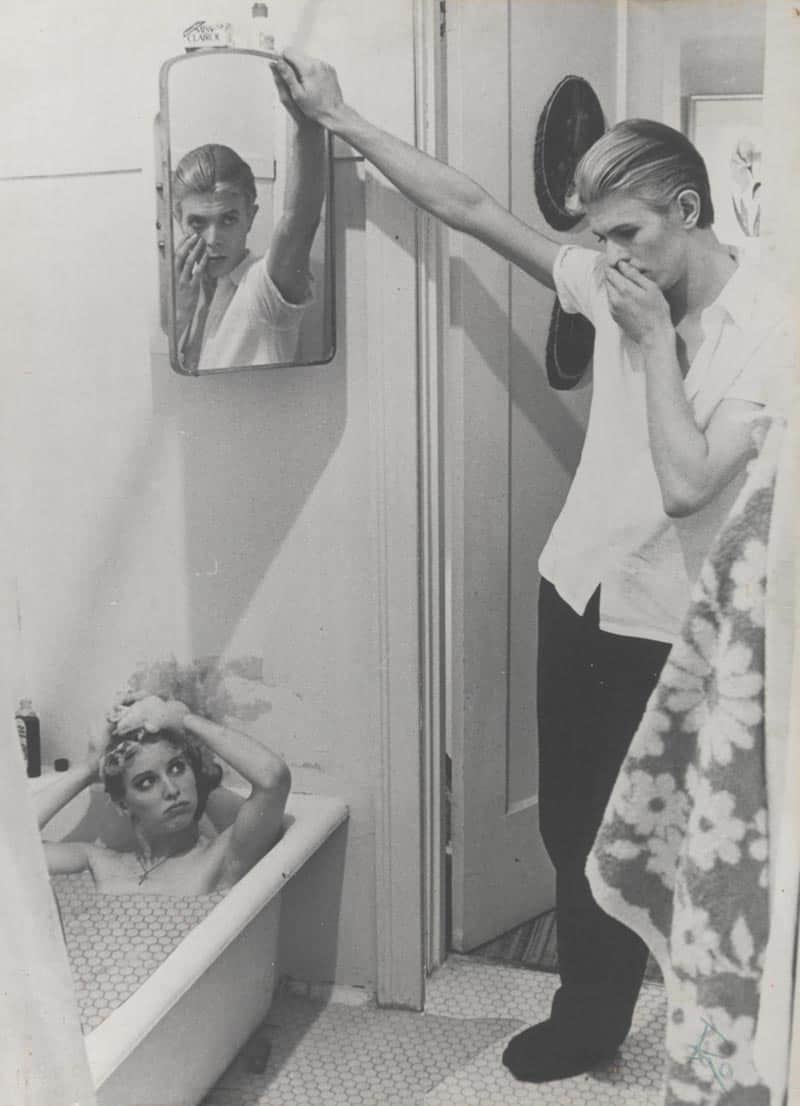 Photo-collage by David Bowie of manipulated film stills from The Man who Fell to Earth, 1975-6. Film Stills by David James. Courtesy of The David Bowie Archive. Film stills © Studio Canal Films Ltd. ImageCOPYRIGHT C SIGN Victoria & Albert Museum
David Bowie is runs from Sept 25 – Nov 27. Purchase tickets on the AGO website.