Sophie Desmarais gives an outstanding performance as Emma, a fiercely talented and determined emerging conductor in Days of Happiness, the latest triumph from Montreal-based writer-filmmaker Chloé Robichaud. The film had its world premiere at TIFF this past weekend, and has caused a stir in both the film and music industry, with its painstaking attention to detail, breathtaking sound, and sheer beauty.
Like her past films, Robichaud's writing begins with complex female characters who are underrepresented in their fields and rarely seen on screen. She's tackled the world of politics (Boundaries), and sports (Sarah Prefers to Run), and Days of Happiness explores the field of classical music, and specifically conducting.
Emma is determined to advance her career in Quebec's competitive and male-dominated music scene. That in itself is a challenge, but the story is driven forward by the tense conflict she has with her father, Patrick (Sylvain Marcel), who is also her explosive agent. Since she first learned to play the piano as a little girl, he has been her harshest critic, controlling Emma's moves every step of the way and regularly using fear as a tactic.
"Some narcissists are very good at charming people, but at the same time they are criticizing. Those are tricky relationships. It's hard to get out of those relationships because they are good at giving you what you need. But also good at taking from you," says Robichaud, who was compelled to explore this type of insidious form of abuse on screen. "I think we often see violence towards women as something that needs to be seen, but there is so much violence towards women that is more psychological, at home and in the workplace."
Having worked with Desmarais on Sarah Prefers to Run, Robichaud knew that the lauded actress was perfect for the role of Emma, a difficult part that relies less on dialogue and much more on body language. "She had to work two years before filming, trying to get the movements of the conductor. There's a huge amount of choreography. She gives her whole heart to a project and I needed that for this role."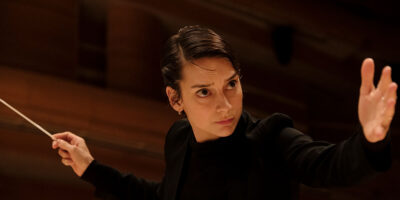 A year before Robichaud started working with Desmarais, she was already in talks with another major player: the Orchestre Métropolitain de Montréal, who came on as an official partner shortly after Principal Director, Yannick Nézet-Séguin, signed on as the official Music Consultant.
The music in Days of Happiness is a rich character in and of itself, and classical music lovers will be utterly enchanted with the way emotions and story unfold through the music. "Music is a great way to express what we're not even capable of understanding sometimes. It's a voice sometimes when we don't have one."
Robichaud describes the partnership with the Orchestre Métropolitain as "amazing", sharing that it brought a level of realism that couldn't have been achieved without their involvement.
"I wanted musicians to see the film and believe that Emma is a real conductor and Naëlle (Nour Belkhiria) is a real cellist, and I think we succeeded in that."
Beyond being a member of the orchestra, Naëlle is also Emma's girlfriend. It's a tender and complicated relationship, adding another dimension to the film, but it's not the focus of the film, which is an intentional creative choice.
"Emma is gay, but the film is not about that. We're at that point in time in cinema now, where characters can be whatever they want and their identity doesn't need to be the issue in the film," says Robichaud, who is relieved we've finally arrived at a place where queerness doesn't need to be examined and picked apart on screen. "When I was a kid, I tried to get films that showed lesbian stories and often the story was about the coming out and it would often end with suicide. I needed to offer something that was different, something that was positive and just there."
She succeeded at that, and so much more. Days of Happiness is a deeply moving story that will stir your soul.