For the last few months, I've been hearing that cleanses are hogwash. But, can one really believe all the shiny people on TV? There was only one way to really find out—I decided to do one. I chose a three-day (beginners) cleanse from Greenhouse Juice Co.
I wasn't looking forward to drinking my meals, 'cause like the next gal, I love solid food. But I couldn't wait to try something new and learn about the inner workings of my gorgeous bod.
For three days all I would consume were the juices sent to me each morning by Greenhouse Juice Co. in cute little glass bottles. To prepare, I broke off all ties with caffeine, alcohol, and cigarettes (my favourite things), and stuck to a regime of healthy undercooked/raw vegetables.
Here's what happened:
DAY ONE
5:30 a.m.
THE JUICE HAS ARRIVED! It was so early, so I went back to bed and began my cleanse at 
10:00 a.m
.  I took stock of everything that had arrived in a nifty little brown box, which Greenhouse Juice Co. encourages you to reuse and/or recycle!   1.   First thing: 
Clean-Zing, 500ml
2.   Mid-morning: 
Almond Milk, 250ml
3.   Late morning: 
E3 Live Booster
4.   Around 
noon
: 
East of Eden, 500ml
5.   Mid-afternoon: 
Choco-Maca-Milk, 250ml
6.   Late afternoon: 
The Good, 500 ml
7.   Evening: 
Deep Roots, 500ml
8.   Last Thing: 
Chia Seed Hydrator, 500ml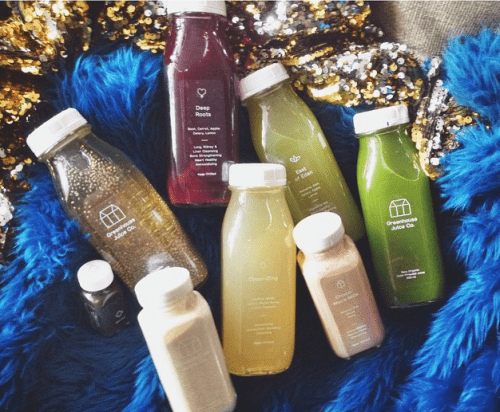 10:00 a.m.
The "Clean Zing" in the morning is hot and spicy because of the Cayenne, but mainly the first and last sip. It makes my face scrunch a little.  
12:00 p.m.
I want bread! I'm being overly dramatic, probably because I didn't get enough attention as a child, but still. I want bread! It can be stale.  
12:30 p.m.
I just finished eat-drinking the dressing-less salad that is "East of Eden". This name makes perfect sense to me. If Eden is a paradise, then east of there must be some sort of swampy vegetable patch that I just happened to ingest! I'm hungry, and apparently upset. I have had three large, loose bowel movements, thankfully in the toilet. Sorry buddy.  
1:00 p.m.
Have you ever eaten a bag of grass clippings? The E3 Live Booster is the size of my index finger, and when you pour that little green vial into your mouth, you cannot imagine how they've blended the entire eco-system that is the Amazon jungle into one tiny jar. I am hoping this will be good for me….and it is. YUM?  
2:00 p.m.
"Choco-Maca-Milk" is delicious! More please. I'M NOT KIDDING—who do I call?  
2:43 p.m.
I think I'm having a meltdown. I text my BFF Olga in a moment of despair. This is all her fault, somehow.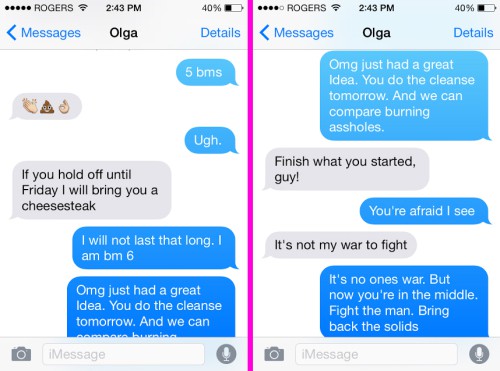 3:00 p.m.
Solid food is like the sun rising in the east. After a while you get used to it. Even start to depend on it—ode to solid food.  
5:00 p.m.
"The Good" aftertaste is like a kale and cucumber orgy on a salt rock. I love it. I have had two more large bowel movements with the same consistency.  
5:30 p.m.
I'm feeding my cats right now and considering eating their food. 
Meow.
6:00 p.m.
It's time for "Deep Roots." I should've had the cat food. Now my boyfriend's home and it's too late; I don't want him to stop loving me. (I've never been more envious of my cat)  
8:00 p.m.
I'm onto my final juice for the day. I'm a little weak, and very annoyed.
DAY TWO
It's the middle of the day. I have had four more bowel movements, each more floral and vibrant than the last. I am starting to think that cravings rule my life and I want to curb my obsession with processed foods, but all I can think about right now is a bucket of french fries.
By the end of the day, I start to feel a great freedom. The shackles of my mind have been loosened, and I can once again focus on things besides food, like shoes and rhinestones.
DAY THREE
I have now finished all my juices and developed a new appreciation for food, portion size, and raw ingredients. I feel content that I've learned something about myself, and my eating habits; I could now eat a person if the nutrients were there.
I'm really proud of myself for sticking it out, and I feel that I've reached my goal, which was to break ties with boxed foods and top up my life with healthier choices.
Once you remove solids from the equation, you're able to see the patterns in your cravings. You begin to realize what your body needs and doesn't need. Greenhouse Juice Co. provides a delicious way to integrate plant-based choices into your busy life. I will most definitely continue to enjoy some of my favourite new juices, maintaining a healthy balance between cheesesteaks and grass clippings.