When news of the non-binary deck dropped in our inbox, our response was unanimous: "Ha. This is cool."
We love it when a subtle shift has a powerful impact. The illustrations on playing cards are probably as universally recognizable as the Mona Lisa or the Coca-Cola logo. To open a box and see a mix of characters replace the usual white kings and queens is wonderfully refreshing—the royalty has been toppled!
Egale is Canada's leading organization for 2SLGBTQI people and issues with a mission to improve and save lives. Teaming up with TAXI agency, the #DealThemIn campaign launches on International Non-Binary People's Day (July 14), and is one of many initiatives that the duo have done to bust up gender stereotypes and norms, to create a more inclusive world.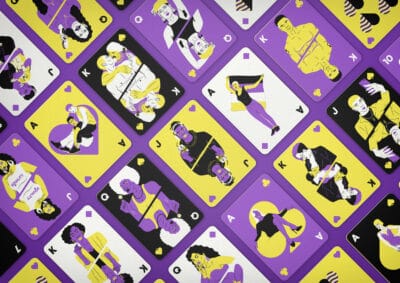 "The goal of this campaign is to start a conversation beyond the card table around how all parts of our culture can better represent all people," says Egale's Executive Director, Helen Kennedy, sharing that 39% of 2SLGBTQI Canadians report feeling under-represented in the media.
With playing cards being used more often in the pandemic, as kids discovered new games and people tried to stay busy while stuck at home, Egale and TAXI saw the moment as a good opportunity to refresh the deck. They also recognized that updating iconic symbols that have been around for over 1000 years was, well, an ace move. "From film adapts to celebrity takeovers, playing cards have been used countless times in today's era to represent our culture." Said Alexis Bronstorph, Global Co-CCO at TAXI. "But they've always included out-dated gender constructs that exclude so many people. #DealThemIn turns playing cards into a catalyst for cultural change."
The large social push includes a series of static posts and a short video that was developed in partnership with Fort York VFX who handled the animation, School Editing who edited the video, and SNDWRx Audio who created the original track. The video dynamically shows off the cards along with the message of the campaign and signs off with the super "It's time the world follows suit". Indeed.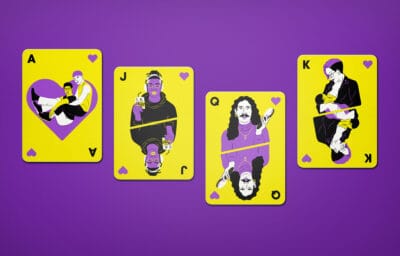 Both Egale and TAXI are encouraging people to share the hashtag #DealThemIn and donate to 2SLGBTQI communities at Egale.ca/donate.