Comedy sensation DeAnne Smith will headline a queer comedy extravaganza on June 9, alongside a lineup of Canada's hottest LGBTQ+ comedians. As part of Buddies in Bad Times Theatre's Pride Month programming, the Gay AF Comedy Pride-A-Palooza will be a show to remember. Expect a diverse lineup of comedians, drag Queen improv, and more laugh-out-loud comedy that will raise your spirits as you celebrate Pride Month.
Smith is an award-winning comedian best known for their 2019 comedy special Gentleman Elf, featured as part of Netflix's Comedians of the World. Smith also opened for Hannah Gadsby on their North American tour and currently is fresh off of their three week run of "Nipless" at the Melbourne Comedy Festival, a show that touches on "gender-affirming surgeries, marriage (the gay kind), death and feeeeeeelings."
Ahead of the Pride-A-Palooza, we caught up with Smith to hear more about their comedy journey, how they plan to celebrate Pride, and why uplifting queer comedians is so important right now.
What was it that made you want to get into comedy?
Well. I come from a family of alcoholics, so I think I've always been comfortable trying to make people with drinks in their hands happy. Plus, it's so fun! And real jobs are for suckers. Also, I have an apparently insatiable need for attention and approval. IS THIS WHAT YOU WERE EXPECTING.
Can you remember the first time you fell in love with a comedian? Who was it and why do you think they inspired you?
Before I moved to Canada and started comedy, I was living in Mexico teaching English. Satellite radio was new (gather round, kids, it was a different time) and my girlfriend burned a bunch of CDs with English comedy on them for me to use with my classes. A lot of the names were cut off and I wasn't totally sure who I was listening to. One voice REALLY stood out as deeply personal, absolutely absurd, and way more insightful and hilarious than anyone else at that time. Turns out it was Maria Bamford. In my opinion, she remains the best comic out there. Patton Oswalt once described her as "an alien who does racist jokes about humans." She just seems to be able to understand and translate the human condition on a level unlike anyone else.
In your opinion, why is a queer comedy show so important right now? In 2023?
As we can see by policies all over the United States, queer and trans people are in very real danger right now. We have the ability to speak freely about who we are, which is not a right everyone has in this world. Just on that level, it's important. But also? In my opinion, good comedy exists on the margins. It speaks to, and hopefully upsets, the status quo. Queer people live in the margins. We have been forced to be outside the "norm," to learn to be proud of who we really are, to take risks to love and to get creative about community and belonging. We know how to celebrate and we know how to have fun. And us? We tell really good jokes.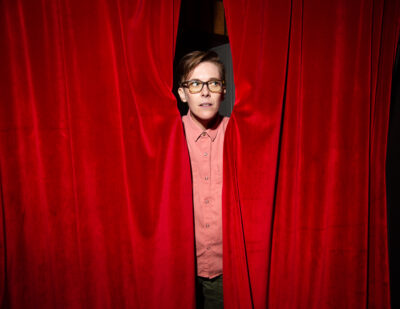 What's making you laugh these days?
Usually, my dog. Today she pooped on a bird corpse. Dark humour, sure, but still funny.
What's some career advice that has served you well?
"Get good. Get noticed. Get paid." There really aren't any shortcuts. It feels like with the rise of internet comedy, people are trying to skip the "get good" part before they want to get noticed, and that can work for a little while, but it's not sustainable. It's all about stage time. If you want to be a comic, get on as many– and as many different– stages as possible.
What can people expect from this show?
Expect a diverse lineup of Toronto's funniest queer comics performing to an enthusiastic and excited crowd. If you've never been to a comedy show at Buddies, you should definitely check it out. Your face will hurt from how much fun you had.
How do you plan to celebrate Pride this June?
I'm headed back to New York after this, so I'll be in the city taking in all that craziness. My 15 and 13-year-old niece and nephew will be visiting me, too, so I hope to blow their tiny minds with the energy and costumes at the Pride parade.
What's a nonprofit that you'd like to give a shoutout to, and why?
I love Coveted Canines. They started by rescuing dogs, and now they have a whole rescue farm. I got my dog through them years ago and they are run by the kindest and most giving people. They do a great job of pairing dogs with potential owners and I can't recommend them enough!
What would you like to say to the queer kid or adult who's feeling nervous or scared about sharing who they truly are?
It can be scary! But when you're ready, there is a wonderful world of new community waiting for you. Have a little Google search to see what's in your area. No doubt whatever you're into– there's a queer meet up version of it. If you don't have any queer friends to talk to yet– message me!
What has stand-up given you?
EVERYTHING. Years ago, I decided to follow my heart and all good things in my life have come from that decision. It's been how I've been making my living for years so it quite literally sustains me. It's given me best friends, amazing travel experiences, and the absolute inability to get out of bed before 11 a.m.
DeAnne Smith will headline Gay AF Comedy's Pride-A-Palooza on June 9. Tickets are still available.