We're delighted to see that Funny Boy is getting the acknowledgement it deserves, with nine nominations from the Canadian Screen Awards, including Best Motion Picture, Achievement in Direction, Best Adapted Screenplay, and Best Performance by an Actress in a Supporting Role for Agam Darshi.
Mehta has a longstanding reputation for tackling subjects that others fear, and this is, in part, why we have so much respect for the award-winning filmmaker. Based on Shyam Selvadurai's award-winning novel by the same name, Funny Boy is a visually stunning and deeply moving story that mirrors the Sri Lankan civil war with one young man's inner battle to come to terms with his identity in a world that does not accept him.
Set in an upper class Tamil community in Sinhalese country, in the turbulent years leading up to civil war between the 1970s – 1980s, Funny Boy is a coming-of-age love story like no other. Arjie is a beautiful 8-year-old boy who discovers that he enjoys dressing in women's clothing. He is shamed for his behaviour, and thus begins his long journey of trying to fit into an oppressive society where homosexuality is viewed as a sin, forcing him to constantly dim his queerness to protect himself. The film moves between young Arjie who has the love and support of his Aunty Radha, and older Arjie whose sexual awakening happens as the civil war erupts around him.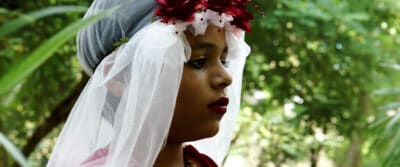 "We shot the film in Sri Lanka where the story is set. The bleached beaches, the turquoise ocean, the lush palm groves are in constant contract with the tentative nature of sexual awakening and inevitable bloodshed," explains Mehta, "Violence and peace coexist uneasily in this film, whether in a relationship, or in a political climate."
Mehta has acknowledged how challenging Funny Boy was to make, starting with delays in getting permission to shoot the film in Sri Lanka, to casting that took over a year, to having to do post-production at a time when the world was on pandemic lockdown. But nevertheless, just like its protagonist, the film kept pushing forward.
Funny Boy was picked up by Ava DuVernay's ARRAY, and was selected as Canada's entry to the Oscars (later to be disqualified as it didn't meet Academy's requirements for foreign language). With the support of Telefilm, the film went on to campaign for Best Picture and other categories for the Oscars. Though none of those nominations materialized, Funny Boy has received worldwide recognition, with today's CSA nominations being potentially the most important for Mehta.
"For me, Funny Boy is a quintessentially Canadian story, and could only be written by a Sri Lankan who had emigrated to Canada," says Mehta. "The objectivity that Canada provides, through which we can look at our respective homelands, is I think, this country's greatest gift."
This year's CSA nominees show off the diverse range of stories we have in this country, which is a definite source of pride. "It is our immense privilege to spotlight the excellence and success of our industry, and to show our appreciation for the stories they tell," says John Young, Chair, Academy of Canadian Cinema & Television. Funny Boy is certainly an important story to tell.
Canadians can watch Funny Boy on CBC Gem; the film is available on Netflix in the US and other countries.