Toronto Outdoor Art Fair returns to Nathan Philips Square July 12-14, and we are spotlighting a few of the fabulous artists who'll be exhibiting this year.
Diana Rosa is a Cuban-born artist who emigrated to Canada in 2001. Employing a folk-art style, her work is inspired by the natural landscape and how humans interact with land, animals and each other. Her paintings often have strong autobiographical elements and mixed realism with fantasy.
We chatted with her this week.
SDTC: What is your earliest memory of either creating art or being inspired by an artwork? When did you know you wanted to be an artist for a living?
My great-grandfather, Gerardo Fernandez, was a Cuban musician and music teacher. Growing up and witnessing his passion for the arts inspired me to become an artist. I studied Art History at the Oriente university in Cuba. After I graduated, I was working as a curator at the Contemporary Art Centre in the city of Holguin, Cuba. I met my husband in Cuba. He was a tourist, and I was setting up a show at a hotel. He bought some artwork that day when we met. I emigrated to Canada in 2001. My husband has always been supporting my dreams. He saw that I was never giving up and always going forward. I always believe in a better tomorrow. Every day I wake up and go to paint my reality and my dreams.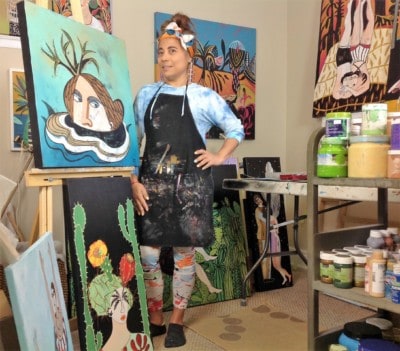 How has living in Brampton shifted your perspective when it comes to art-making?
I have been changing since I came to Canada. My work shifted to become like a tropical landscape; I call that series Beautiful Island. It was very nostalgic, reflecting the tropical exoticism of the landscape—images that reflected my memories from Cuba.
Walk us through your process to creating a painting.
My paintings start with a number of sketches on paper. A sketch is selected and then drawn full size onto canvas. Over the years, I have developed a unique technique using sharp brush strokes, palette knives, contrasting textures, a variety of acrylic mediums and multiple layers of the rich colour palette. I never have a final version in mind, but I always have the characters interacting that will play the role on my work. They could be real, unreal, surreal, fixed like symbols or fantastic motifs. I'm always sketching, looking for new hair design, new dresses and different expressions. The background or place surrounding and the colours are what is changing depending on the emotions or feelings.
Nature, animals and women's experiences figure heavily in your work. Why are you drawn to these subjects?
I explore the relationship between humans, animals and the environment, because we live in and share the same world. I love my work to be symbolically rich and encapsulate the fantastic scenery the world has to offer. I like to think my art is magical; [it aims to] explore human nature, the possible, the impossible, and to investigate the beautiful as well as the odd.
I'm influenced by the modern masters like Matisse, Paul Gauguin and Henri Rousseau. These artists inspire me to envision and create new aesthetics that use shape and colour in contrasting ways and without boundaries. My paintings are autobiographical and a mixed of realism and fantasy. Using the acrylic paint to bring to life an unlimited range of iconic themes, I like to re-define identity through depictions of the body, dress and everyday objects.
Through my work, I show my vision of modern society. My artistic process seeks to enlighten while paying special attention to the often-neglected emotions of the human being. I share a message of hope as well; it's an artistic testimony of our time where a woman like me has the voice to do great things and accomplish the goals of my life.
What do you hope viewers take away from your artwork at the Toronto Outdoor Art Fair next week?
That always is room for interpretation and they create platforms that trigger thoughts, feelings, emotions, and ideas.
My artwork is an invitation to think and dream and remember that life is beautiful.