In the late nineties, I was a Communications student at Concordia University. I loved my time there, but upon graduation I realized that I still had no clear understanding of the multitude of jobs within the film and TV industry, or how the various roles worked together. While the Directors Guild of Canada in Ontario's new podcast Wider Lens is geared at professional showrunners and established creatives, when listening, I can't help but think how useful the podcast would have been for a lost soul like me, eager to get my foot in the door, but with no real clue as to how the arts & entertainment ecosystem worked. Wider Lens would have opened my eyes.
Hosted by Director, Writer and DGC Ontario Executive Board Chair Annie Bradley, Wider Lens launched today and hopes to shed light on the behind-the-scenes production and problem solving of our most beloved films and shows.
The first episode features prominent creatives of the award-winning series The Handmaid's Tale, which so many people witnessed being filmed in various locations around the province. Listeners and fans are treated to a candid conversation between Creator and Executive Producer Bruce Miller, Actor and Director Elisabeth Moss, along with DGC Ontario Picture Editors Wendy Hallam-Martin and Christoper Donaldson, on the inner workings of the the series.
"The scale of the show and the prestige of production has presented so many Canadian creatives with watershed moments in their careers," says Bradley, before introducing her guests. They talk about what they set out to achieve with the series, dissecting pivotal moments in certain scenes, and share how the cast and crew members worked together to tell Margaret Atwood's chilling story. Relaxed and at ease, the group also reminisce about memorable on-set anecdotes.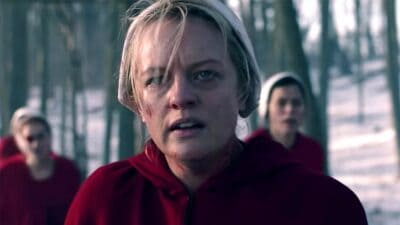 While we're used to seeing Moss on-screen, in Wider Lens she openly discusses her decision to go behind the camera to try her hand at directing season four of The Handmaid's Tale. "I never realized until directing how much actors make you look so good!" she laughs. "They're brilliant. I had the best possible experience. It was very trusting, and collaborative, free, and incredibly supported."
While much of the industry has been on edge, wondering what the future landscape of Canadian arts & entertainment will look like, Bradley reminds all that the business shows no sign of slowing down. "Production is trending upwards in meteoric fashion across the globe, and it's our mission to champion the brilliant creative voices we represent. What better way to do that than to have deep, insightful conversations about their life's work delivered straight to your headphones?"
Wider Lens offers a refreshing conversation on how we make good film and TV, providing an absorbing resource for anyone committed to the art of storytelling. Listen here, or find wherever you get your podcasts.