A few weeks back, I was looking at my calendar (the old-fashioned print kind, because sometimes I'm a Luddite) and got really excited at all the upcoming road trips I had penciled in: Blue Mountain, Lake Kashagawigamog in the Kawarthas, cottage on Lake Huron, Prince Edward County, Muskoka, Creemore, Uxbridge. I turned to my partner in absolute glee and exclaimed, "WOW! We've got so many things to look forward to!" Truly, I can't remember a time when I had so many mini holidays organized in Ontario. After a minute of pondering, I realized why:
With our son now being three, driving somewhere with him is tolerable and not a sweat-inducing hellish activity. (He was not a happy baby in-car and would erupt in inconsolable scream-crying that made driving for any length of time a seriously stressful situation.)
We're a family that loves to travel, but because our son is only three, it makes sense to explore life and landscapes that are close(r) to home versus abroad.
Realizing that we had quite a lineup, I decided to document and share some of our excursions. First up: Blue Mountain, Collingwood. Now, considering our boy is a toddler, he didn't partake in all of the amazing recreational activities on offer, but I had a lot of fun imagining returning with him when he's school-age and able to mountain bike or try his hand at the ropes course or climbing wall. (Oh, we'll be back.)
While most will associate Blue Mountain with ski hills, the resort and the surrounding Collingwood area has a lot going for it this time of year. (Their #LiveItOutside mantra applies 365 days a year.) Here are some highlights:
Open Air Gondola:
Take a ride to the top of the Niagara Escarpment and see a spectacular view of Georgian Bay. Once at the top, there are trails to hike or bike, lookout points, and even a food truck, if you're feeling peckish.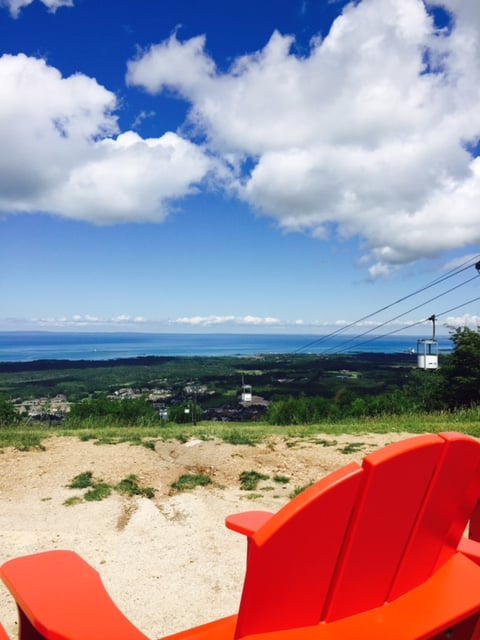 Woodlot Low Ropes and Timber Challenge High Ropes
Nestled at the foot of Blue Mountain, each of these courses are welcoming for beginners but also offer a terrific challenge. Both offer a super cool way to experience a forest.
Ridge Runner Mountain Coaster
Our little guy really wanted to do this, but we decided that this time around, we'd instead watch Dad fly by – almost as thrilling. The Ridge Runner covers 3650 feet of mountain terrain, and with self-controlled speed, you can zoom through the forest at your own pace.
Sunset Point Park
We had a wonderful time at this long strip of Georgian Bay shoreline. From tossing pebbles into the water to playing in one of the most impressive children's playgrounds I've ever stepped foot on; it was a destination that held our little guy captive for hours.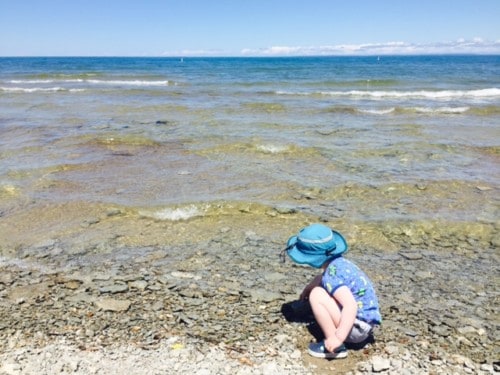 Poolside at The Westin
We stayed at The Westin Trillium House Blue Mountain, which was way more luxe than our usual lodging, and we were very impressed by how welcoming they were for young children. Beyond noticeable friendly hospitality, there is a kids club room full of Lego and toys, a terrific pool stocked with water wings, floaties, goggles, and strollers available to borrow – which we made use of.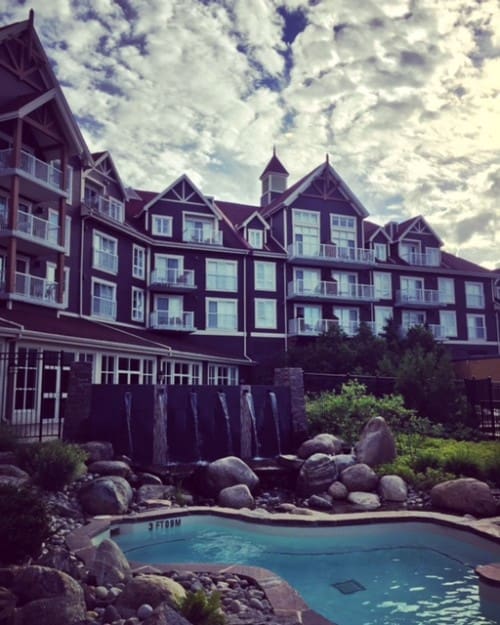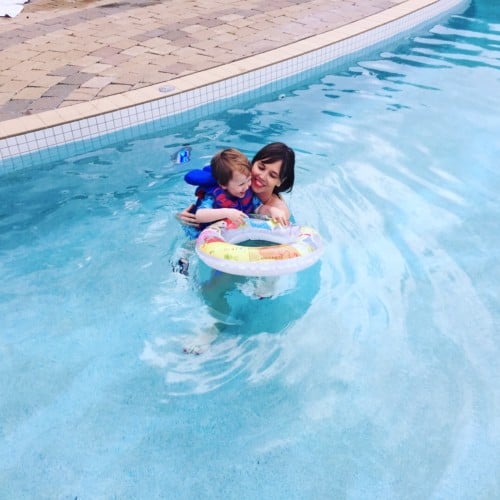 Blue Mountain Playground
Of course, with young kiddos, it doesn't matter how impressive the offerings are – you'll likely always spend most of your time in a little playground. We were quite happy with the one two minutes from our hotel that had terrific equipment, a sandbox, sandbox toys, and a view of the Blue Mountain hills and pond.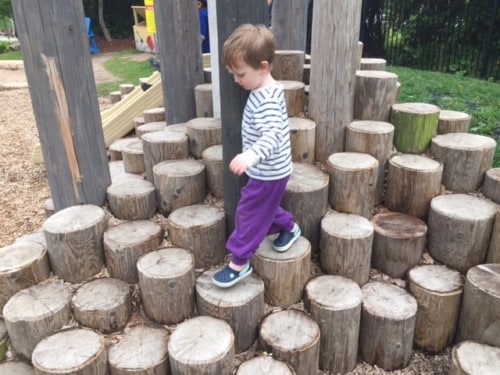 With lots of restaurants on the resort, including Firehall Pizza Co. (hugely attractive for our firefighter-obsessed kid), plus a ton of scenic picnic areas to choose from, there's zero stress when it comes to finding family-friendly options. Even the nicest spot – Oliver and Bonacini Blue Mountain – is completely welcoming.
There is so much more beyond what I've highlighted (mini-golf! rock-climbing! zip-line!) and Collingwood has a thriving arts community that is definitely worth exploring.
On your drive home, stop by Barrie Hill farms in Springwater for berry picking, the tastiest strawberry frozen yogurt, or a bushel of the freshest asparagus.