I started using the Diva Cup six months ago.
It was out of concern for the environment; spurred on by a photo of tampon applicators washed up on a beach, and marching alongside young teens in a #FridaysForFuture climate strike, hearing them scream out "There's No Planet B! There's No Planet B!" Once I began wearing it, I wondered why I hadn't done so before. I love my Diva Cup! It is so comfy. Why had I not been using it for years?
Beyond comfort, the Diva Cup has me interacting with my body in a whole new way. Unlike tampons and pads (that you're constantly disposing of or trying to conceal) the Diva Cup forces you to really connect with your body. You're putting your fingers deep inside of yourself to place the cup properly, something that becomes second nature after a few tries. It also forces you to truly see your blood – hold it in your hand, carry it to a sink, rinse it away. I began to think about my period more, and in doing so, I gained a deeper respect for my monthly cycle, and my body in general.
"The product itself creates an environment where you are empowering yourself, and being more in touch with your body. It's something that we've been programmed, really for thousands of years to be ashamed of, That it's something evil, and we shouldn't talk about it,"says Carinne Chambers-Saini, CEO and co-founder of the Diva Cup. "All the shame surrounding menstruation has created a culture of silence. Using the Diva cup has helped women get in touch, and appreciate their own bodies, and the power that we have."
Carinne co-founded the company with her mother, Francine Chambers. Francine remembers as a young girl how limited the options were, and when Carinne became a teenager, she set out on a mission to disrupt the market. The mom-daughter team began designing prototypes at home in Kitchener, Ontario, and after years of perfecting the fit, they launched in 2001 "We had this mission and vision to change the period experience around the world, and make this mainstream, to take this product, that had been super niche – and make it known that there are tampons, pads, AND cups."
It's been a slow and steady build, that took off in recent years, and now their mission has expanded to being a voice and expert in the areas of menstrual equity. This is how Diva International began, the advocacy and education arm of their business—which helps donate approximately 15,000 Diva Cups annually to women around the world— and is what inspired them to make the documentary Pandora's Box.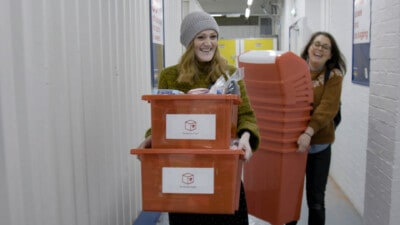 "We're big advocates of the menstrual equity movement. We decided when the first period conference was happening in 2017, that we wanted to capture this event, and start getting some interviews. We weren't sure how we were going to use it, or how we could bring all these stories together, and that's where the idea for the documentary came."
The film begins in Nairobi, Africa, where we meet Christine, a woman whose education—and dreams–were cut short due to her period. We meet ex prison inmates in America, who share stories of how they were deprived of period products in the US prison system. Rachel, in the UK, talks about invisible poverty, and how—when her family was hit with financial difficulties—was too embarrassed to ask friends to donate tampons and pads.
Moving around the globe, Pandora's Box introduces us to both individuals and organizations, who are trying to shift both perspective and access when it comes to menstruation. "There are so many angles to that. It continues to evolve. It shocks me that in almost 2020, that this is even an issue," says Carinne. She describes it as not just part of women's rights, but also a basic human rights issue. "This isn't something that affects a segment of the population, this is something that affects 50% of the world's population, and we're treated as if it's an afterthought!"
From educating young girls in Mumbai about their period, to a red box project in London where teenage girls in need can easily access menstruation products, the film introduces us to dedicated teams everywhere that are committed to change. With so much mobilization, it's hard to pinpoint when and where the shift began to happen, but Carinne believes that the Diva Cup has been fueling a lot of the movement. "Before the Diva Cup, there weren't as many conversations about periods. The Diva cup has sparked so many conversations." As a user, I can attest to this.
Periods are beautiful, and as the film reminds us: they are an indicator of good health. Why wouldn't we celebrate the cycle of life? Pandora's Box is a fascinating documentary that shows the enormity and complexity of the issues surrounding menstruation. It's enraging to think that women everywhere still face stigma and shame for a vital bodily function, but more than that this film offers tremendous hope for the future, and gives the world a much-needed catalyst for change.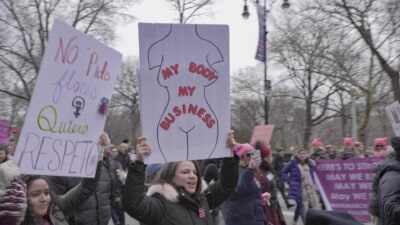 Pandora's Box has its worldwide premiere at the Whistler Film Festival today. We hope that it will be available everywhere soon.