We can't wait for QUEENS to premiere on CBC Gem this Friday, an unmissable over-the-top series starring 8 of Toronto's most beloved drag queens. We've already gushed about Allysin Chaynes, and are now shining the spotlight on the inimitable Champagna.
QUEENS is a comedy, a whodunnit mystery, and a whole lot of fun. Set in and around Toronto's Church & Wellesley neighbourhood, each 6×10 minute episode follows the misadventures of a particular drag performer whose preparation for the "Miss Church Street" pageant is interrupted in a strange and unfortunate way.
Champagna gives a radiant performance as jaded, older queen, Elaina. From slowly and carefully applying her lipstick to the sheer panic that erupts when beauty pageant plans go array, every move she makes is a drama within a drama.
What was it that made you say YES to doing this show?
The opportunity to be a part of a series that is making Canadian history. Creator/Writer Justin Gray has done an AMAZING job at capturing a very queer experience the voyeuristic lens of a "coming out" or "gay bashing" storyline was very exciting.
What was it like when you first discovered drag? How old were you and can you briefly describe the first time you dressed up?
It was electrifying! About 5 years ago I had been having difficulties getting any footing in the acting world and was finding myself extremely creatively pent up and miserable. Legendary Judy Virago had noticed this and asked me to sing live for a Pride cabaret, I said yes! She then proceeded to ask if I wanted to do it as myself or in drag, as someone who never backs away from a challenge I jumped on the opportunity to do drag. The night of the performance was extremely well attended, it made me feel like a Rockstar – I popped a bottle of Champagne up my butt and the rest is history.
What do you love most about the Toronto Drag Queen community?
There is so much talent here from all walks of Drag! Any given night of the week you can go and see something different. We have Queens (from traditional to alternative), a Pageant scene that does amazing community work, a thriving King scene, world class AFAB performers, and trans and non binary performers breaking down the doors for generations to come. Toronto Drag is extremely diverse, I love it.
Do you have a ritual when you dress up? How does that transition feel for you now? A favourite outfit?
My tradition is "slap on the face and get to the gig!" hahaha. Over the years I've been able to cut my prep time down to about an hour and a half. In terms of a favourite outfit? Hunny, throw me on a runway! As long as it's fashion, it's my favourite…okay some disco fantasy as well.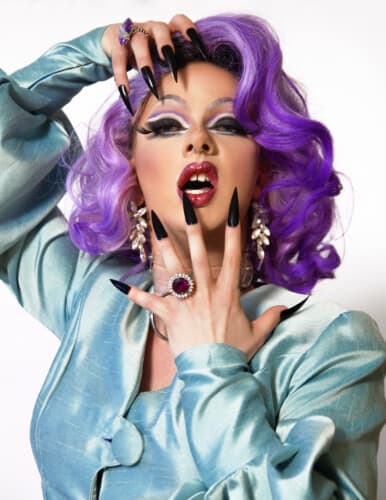 How are you feeling about The Village right now? Do you think it can recover from the pandemic?
Yes, yes and YES! We've already seen businesses pivoting to keep afloat, and people are rallying to help the ones who are in need the most. It will absolutely require the government to step in (helllloooooo, where you at?) with actionable steps for the survival of such a historical queer ghetto, but I know as soon as things are able to open again people will be flocking to support the area and Drag performers will be more than happy to take up the task of helping bring that business in.
What has helped you pull through quarantine life over the past few months?
Phew! My weekly viewing party of Rupaul's Drag Race with Allysin Chaynes has been a godsend. I've also found this time to be great to connect with so many queers which has in a sense made our community even stronger. I've forged new friendships with a lot of other performers as well. The constant sense of competition has eased, which has allowed space for us to see out commonalities and use that power to add to our "sisterhood".
How will you celebrate pride this year?
With my feet kicked up and out of heels! Hahaha, I kid. I'm really looking forward to the absence of corporate pink washing, and how that will create more awareness toward online events that are more community and information driven.
What are three things you can't live without?
The love, support and nurturing of my community
My tenacity to overcome and conquer any situation
My friends and family
QUEENS is the fun entertainment we need right now, and it's arriving this Friday (June 19) on CBC Gem, as part of Pride's Feature Fridays screenings of Queer and Trans movies, documentaries, and more.