We've teamed up with The Drake for an adorable Mother's Day photo shoot, and now we're getting personal with each mom.
Abigail Van Den Broek is the Senior Manager of Public Relations for all Drake properties, and this Sunday marks her very first Mother's Day. (Happy Mother's Day, Abby!)
With beautiful daughter Madeleine approaching her first birthday, Abby has a ton of solid advice for new moms. Kids grow so quickly, and as they do, we tend to forget about all the challenges and INSANE phases in that first year! The best advice often comes from those who are still in it or who've recently gone through it.
Always a busy gal about town, Abby also has great advice on how to enjoy gallery openings and cool culture with babe in tow. Speaking of which, on May 17th, The Drake will be launching a weekly B.Y.O.B. (Bring Your Own Baby/Bottle/Boob) social for moms + babies, running on Tuesdays, 11am-4pm. FUN.
Best Advice For New Moms:
Stop Googling everything. Ask for advice from some trusted friends and other new moms, and stop after that. Focus on learning who your baby is and listening to yourself. I don't know how original this advice is but it's something I learned the hard way and deeply believe to be true.
What is one of the greatest lessons your mom taught you?

Her parenting advice to me actually really hit home: If she's hungry, you feed her. If she's tired, you put her down to sleep. If she's wet, you change her diaper. Stop trying to analyze and control everything and worrying about what she should or shouldn't be doing.
That was much, much harder for me to wrap my head around than I ever would have expected; I got very worked up by what books said I "should" be doing. Really listening to that piece of advice set me free in those early months.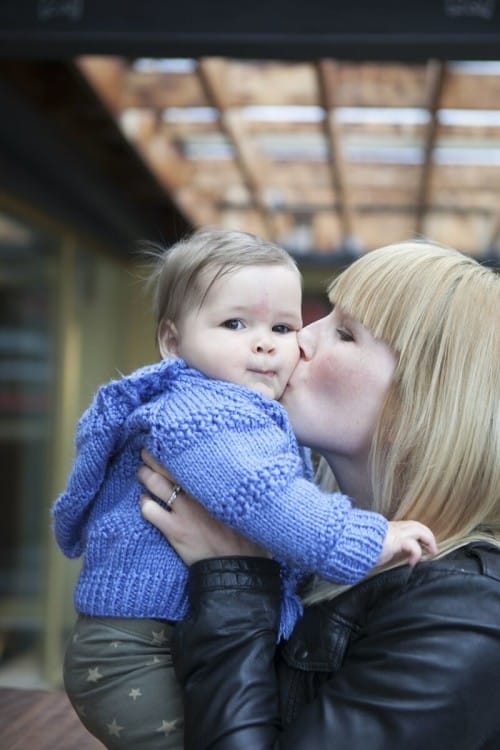 What have you recently learned from your child? 
That everything is going to work out, even if it doesn't go according to plan. I'd say that is my #1 lesson, 10 months into being a parent. Babies are far more adaptable and flexible than we give them credit for.
What family activity do you really cherish?
Early morning cuddles in bed. If my husband and I are feeling crabby, or the baby is being a bit of a jerk, we turn on some music and dance around/act goofy. She loves it and it helps us not take everything so seriously. It's fun. I also really cherish bedtime, when Justin and I get to unwind, eat dinner and have a glass of wine (#sorrynotsorry Madeleine). Time alone without the baby is so, so important.
What is a recent accomplishment that you're proud of?
I am proud of myself for successfully putting my phone down when I am spending time with my daughter, and really focusing on her, now that she is so aware of everything going on around her (and SO aware of my phone). I mean, it's obviously necessary to check your phone, texts, Facebook, etc. But I try to save that for when she's napping and just hang out with her when she's up. It's allowed me to enjoy my maternity leave a lot more and also catch her doing things for the first time. It's so fascinating watching them learn.
Which children's books are favourites in your home?
Ten Little Fingers and Ten Little Toes, I Love You Through and Through, and the Madeline books (of course!).
How do you introduce your kids to cool culture? 
Ideally, just by bringing her to stuff that I want to go to myself. For example, there's a cool little get together with a group called Art Strollers, where they take you on a private, afternoon tour of the Power Plant collection (next week) or a mini classical concert in the park (coming up this summer). My friend and I also took an afternoon and did a Queen/Dundas St. W. gallery crawl with the babies. We just popped in and out of all the galleries that looked interesting and let the babies do their thing in the stroller. I think the key is just to bring them along to anything you enjoy and not worry about them "being cool" or whatever.
What is your recommendation for families looking to enjoy life at The Drake?
Go there to eat with them! It's actually a very family- and baby-friendly dining spot. The servers are super accommodating to strollers, high chairs, etc., and have been lovely every time we've taken our daughter there. Plus, it's generally loud and rowdy, which is distracting for them (bonus). It's white noise for when they're really little (they'll fall asleep to the din) and it will muffle their cries/rage attacks if they're bigger. There's also so much for them to look at; it's hardly a sparse environment.