Dusk Dances, Toronto's renowned and beloved outdoor dance festival, returns to Withrow Park this August for its 24th year. Featuring the work of five stellar choreographers, this year's performances uniquely respond to the natural park environment in imaginative ways, truly reflecting the energy, pulse and beauty of the wonderful city we live in.
This year's Dusk Dances welcomes Toronto-based choreographer Allison Toffan as part of its incredible lineup. Toffan has been stirring momentum within the Canadian tap dance community for over a decade. She spent eight years as a principle dancer with Turn on The Tap and was a featured tap dancer at the 2010 Olympic Opening Ceremonies, Warehouse 13 Series Finale, Festival Dance Encore, TD Canada Trust Toronto Jazz Festival, TapCity's Tap Internationals and Montreal Tap Festival's Rhythm Lives!.
Toffan established the Toronto Rhythm Initiative, a platform to voice the artistry of Toronto's tap dancers in collaboration with live music, and Toffan Rhythm Projects, a production company rooted in collaboration, creation, curation, and community.
We caught up with her this week.
SDTC: What are your first memories of dance?
AT: My home studio: Sandra Gray School of Dance in Edmonton, AB. Back in the 1980s, there were tile floors in the studio, and I remember the sound of my patent leather baby tap shoes on the tiles. I also remember the music from Al Gilbert syllabus for shuffles at the bar. I can still sing it to you today.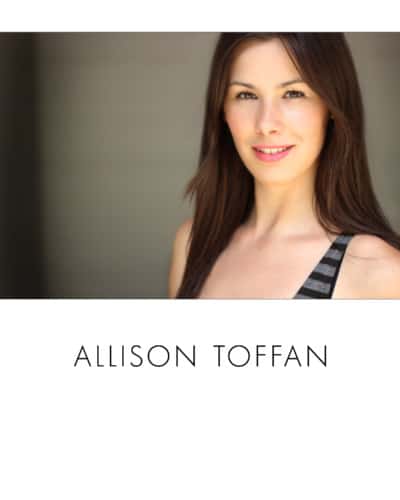 Why is dance an important skill, or outlet, to foster with children and youth?
Dance is a language, and it's such a strong tool for investigation and expression. It is an adventure that gives kids a raw, unique and personal device to understand themselves and become great people. Regardless [of whether or not] a child pursues dance as their career later in life, it completely shapes how one perceives the world and goes about life. Kids who dance have an incredibly strong sense of self-awareness and develop discipline, accountability, prioritization, organization, drive, compassion, and the ability to be open and coachable.
What is the most challenging aspect of being a dancer?
Patience. There's so much to learn, create, participate in and grow. The craft requires a lifelong dedication to discovery, practice, digging into the history and innovation.
How did you go about designing the choreography for this year's Dusk Dances?
I put together a powerhouse cast of female tap dancers: Cori Giannotta, Kylie Somerville, Tanya Knights, and Julia LeClerc. I asked my favourite jazz vocalist and dear friend Sophia Perlman and intelligent and out-of-the-box bass player Brendan Davis to join us. I put together wonderful artists and have grown the piece organically, beginning with collaboration with Sophia. I then built grooves and polyrhythms leading into choreography, weaving back and forth between counterpoints and improvisation and interplay amongst all artists involved. It aims to create complete symbiotic cohesion between the movement and music.
Why is Dusk Dances so meaningful for you? What does it signify?
It's meaningful for a few main reasons. I love being a part of programming that explores different dance genres from a wide range of curiosity and perspective. Even though we have strong sub-communities, this kind of festival gives us an amazing opportunity to expand, get inspired by each other, and connect as a community at large.
It also gives us such a unique opportunity to connect with nature, the city and the audience in such an interesting way. It's a platform providing immersive experiences for the artists and audience goers alike. It starts conversations, builds interest and creates artistic accessibility.
For those who've never experienced Dusk Dances, what can guests expect? Who should come?
Everybody should come! Expect to alter your expectations, to be moved, to be entertained, to have questions, to be inspired. There truly is something for everyone, and through the diversity of this year's presented programming, you will learn, feel, and think differently after leaving the park.
When you are dancing on your own, just doing it for fun, what's your most beloved dancing music?
Jazz. Always jazz. Tap dance is the dance of jazz music and my heart is deeply rooted in the origins.
Anything else you'd like to share?
I'm in complete awe of the history of Dusk Dances. I'm so inspired by the life, vibrance and reach of this festival. Congrats to Festival Director Sylvie Bouchard on 24 years of innovative programming, and a huge thanks to Michael Caldwell, this year's Withrow Park Guest Curator, for including me. I'm honoured to be part of this year's lineup and am overjoyed to have tap presented in such an amazing festival.
The 24th annual Dusk Dances takes place August 5–12, 2018 at Withrow Park. This event is PWYC (with a suggested donation of $15/person). Get more info here.