It's a good time to get into Earth & City. Their creations are all-vegan, mainly raw, gluten-free and organic, and because they are made from locally-sourced ingredients, are seasonally-inspired. And as anyone with half a pumpkin spiced latte knows, autumn flavours are INCREDIBLE. We sat down with Lisa and Cassandra, the brand's founders and the masterminds behind recipes dedicated to working with what Ontario has to offer.
The two first met when Lisa purchased one of Cassandra's paintings and later reconnected at a local farmers' market. Immediately attracted to each other's interest in food and education, they decided to start a business selling food at farmers' markets.
SDTC: How has your life changed since launching your business?
Lisa: Our lives have transformed in amazing ways since the advent of Earth & City. Most significantly is probably the ability to work for ourselves within an amazing community.
SDTC: What have been your top sellers/most loved recipes this fall?
Lisa: Our smoothies are always a hit at our markets. Our customers love the combinations of local fruits and greens. We've also been selling a delicious almond milk-butternut squash smoothie for the fall. Our roasted pumpkin-navy bean hummus and kale-parsley pesto are also huge hits this time of year.
SDTC: As the holidays are approaching, do you have any favourite recipes for this time of year? 
Lisa: For the holidays, we love creating seasonal twists on classic favourites: healthy, delicious versions of carrot cake, apple crumble, and pumpkin pie. When bringing gifts to holiday parties, we frequently share a variety of our popular maracoons (vanilla, cacao, and peanut-butter-molasses) and raw brownies (frosted with vanilla or peppermint coconut butter icing).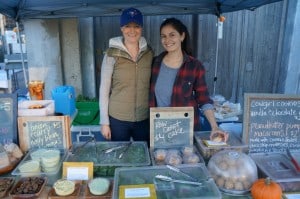 SDTC: Where do you get your local ingredients? 
Lisa: We source our ingredients through a variety of farmers, producers, and local stores. Chocosol provides us with many of the ingredients in our desserts. We buy produce from fellow vendors at the markets: Bizjak Farms, Highmark Farms, Sosnicki Farms, Kind Organics, Wheelbarrow Farms.
SDTC: Do you have any favourite chefs or food industry mentors that have really influenced you? 
Lisa: Our biggest mentors have been (and continue to be!) our fellow market colleagues. We've grown our business in sync with other small businesses, so our learning and mentoring has been mutual and shared.
SDTC: What will you be selling at Gluten Free Garage?
Lisa: We will be selling a couple of different smoothies at the GFG as well as two varieties of our popular flatbreads (savoury onion and sweet cinnamon-raisin). We will also be bringing our carrot-beet spring rolls, topped with sweet walnut sauce and fresh sunflower sprouts.
Earth & City will be at the Gluten Free Garage on Sunday, November 17.