Thirty chefs. ENDLESS options!
FoodShare's 9th Annual Recipe For Change event is going down at St. Lawrence Market on Thursday, February 22nd and will bring together some of Toronto's finest chefs for a thoroughly memorable culinary experience that gives back. Recipe For Change is a truly special event that supports vital food literacy work in Toronto schools and school farm programs. If you are a socially minded foodie, you will not want to miss out!
Leading up to this must-do, must-eat event, we're spotlighting various chefs featured at this year's Recipe For Change. For this installment, we spoke to Melanie Bozzo of The Plant YYZ, a retail shop in the Junction that boasts an extensive line of plant-based foods and ready-made meals that are locally sourced and made with integrity.
SDTC: Is there a recipe that changed your life? What was it, and how did it alter your perspective or direction?
MB: There hasn't been a recipe that changed my life as much as ingredients changing my life. This journey in pursuit of local ingredients and working with farmers to localize food and diversify Ontario-made prepared foods has opened my eyes and my heart to the unbelievable women and men that are Ontario growers and farmers. The intensity of flavour in local ingredients has changed my life for sure. The flavour profile of local ingredients from Ontario is so superior that the simplest of recipes or even just the raw ingredients seasoned blows me away.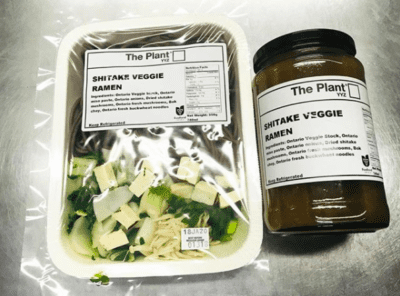 Why is supporting FoodShare so important to you?
It's so important to democratize food and make healthy, locally grown food accessible to everyone. Food should be readily available and building programs to support that is so important; that's why FoodShare is such a necessary and effective organization driving this mission forward.
What food experience excites you most and why?
Feeding is definitely something I love. Getting into people's homes and having them share food around a table is everything. It's such a responsibility and I take that very seriously. Growing food is becoming increasingly important to me and becoming a part of the growing process is the future of The Plant YYZ.
For those who aren't immersed in the Toronto food community, can you share something about it that you think makes it special?
Its diversity, for sure. The access to so much delicious cultural food on any corner at any time is what makes Toronto so special. We have so much to be grateful for in Toronto and we are so close to our agricultural communities that you really can taste Ontario.
What dishes of yours can guests expect at Recipe For Change?
We are doing an Ontario plant-based walnut, kale, collard and spinach pasta medallion with our mushroom bolognese or plant-based pesto.
What philosophy is currently guides your culinary journey?
EAT LOCAL. BUY LOCAL.
Tickets for Recipe For Change are now on sale. The $135 ticket includes all-you-can-eat-and-drink access for the duration of the three-hour event. DO NOT PROCRASTINATE: THIS EVENT WILL SELL OUT! Get all the deets about the good that FoodShare does for our community here.