The Word on the Street Toronto is an annual celebration of ideas, imagination, and storytelling, promoting great books by Canadian and Indigenous authors year round. Each September, The Word on the Street Toronto hosts Canada's largest FREE book and magazine festival – with festivals hosted in Toronto, Halifax, Saskatoon, and Lethbridge. For 32 years, The Word on the Street has been a gathering place for authors, publishers, booksellers, and readers of all ages to celebrate the stories that connect us.
The inaugural festival took place in 1990. On Toronto's Queen Street West, during International Literacy Year, and is now one of Canada's largest literary celebrations. Each festival showcases books and magazines, including showings from small presses, independent authors, and writing associations that benefit from the exposure they get from festivals, such as this one. As part of their commitment to literacy, The Word on the Street provides ten percent of their exhibit space to literacy organizations for free.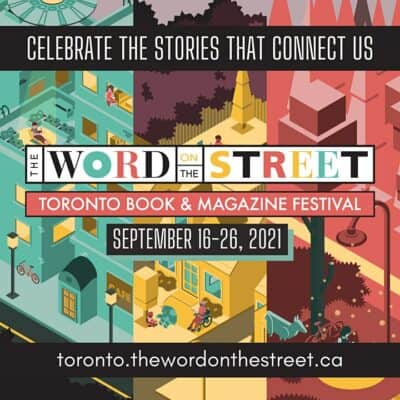 The 2021 Word on the Street Festival will be virtual this year, taking place from September 16th – 26th.
Authors and panelists include Amanda Leduc, André Alexis, Catherine Hernandez, Eden Robinson, Farzana Doctor, Zoe Whittall and so many more. Events are free to attend, but attendees can also provide an optional donation to support the festival.
You can find the full schedule of compelling literary events here, however, I wanted to highlight some of the events I'm most excited about!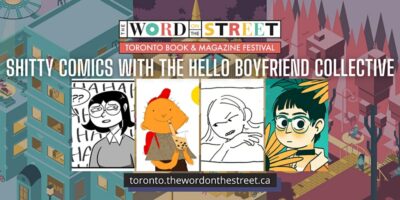 WORKSHOP: SHITTY COMICS WITH THE HELLO BOYFRIEND COMICS COLLECTIVE (September 19th, 2021, 6 pm – 7 pm EST). Register here.
Draw along with Hello Boyfriend Comics Collective, as they make some really bad sequential art together. During this workshop, collective members will lead participants in a series of simple collaborative comic-making exercises, ideal for people looking for a low-stakes way to dip their toes in the comic-making world.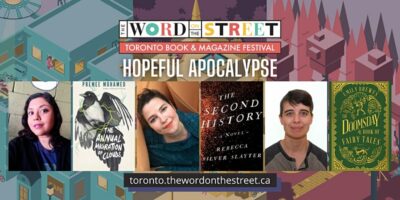 HOPEFUL APOCALYPSE: CLIMATE FICTION FOR THE CAUTIOUS OPTIMIST (September 20th, 2021, 5 pm – 6 pm EST). Register here.
Author Kelly Robson moderates a panel with authors Emily Brewes, Premee Mohamed, and Rebecca Silver Slayter about what we can learn about individual resilience and community care from stores at the end of the world.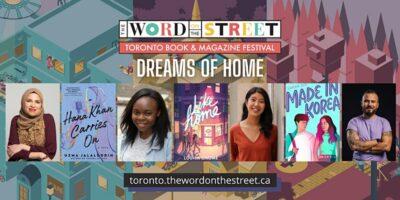 DREAMS OF HOME: STORIES OF COMMUNITY & CONNECTION (September 21st,2021, 5 pm – 6 pm EST). Register here.
Home is a tender topic for many, and in this panel, authors Uzma Jalaluddin, Sarah Suk, and Louisa Onomé, and moderator Danny Ramadan, discuss the ways home shows up in [their] writing. They ask questions like "What even is home: a place, a people, a feeling?", and "What do we do when our homes change in a way that threatens how we relate to them?"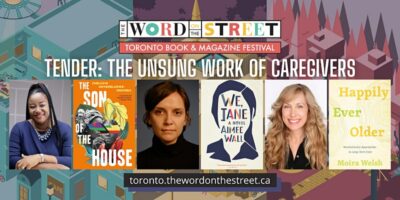 TENDER: THE UNSUNG WORK OF CAREGIVERS (September 22nd, 2021, 2 pm – 3 pm EST). Register here.
Authors Aimee Wall, Cheluchi Onyemelukwe-Onuobia, and Moira Welsh discuss some of the hidden ways women care for each other in our patriarchal societies, and how that care is impacted and influenced by race, class, inequality, and other intersectionalities, and explore their dreams for a more caring culture.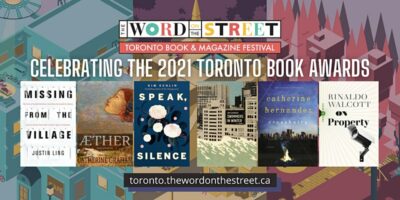 CELEBRATING THE 2021 TORONTO BOOK AWARDS (September 22nd, 2021, 7 pm – 9 pm EST). Register here.
Celebrating the finalists for the 2021 Toronto Book Awards, honouring books of literary merit that are inspired by the city.
Books featured from 7 pm – 8 pm include: Æther: An Out-of-Body Lyric by Catherine Graham; Missing from the Village by Justin Ling; and Speak, Silence by Kim Echlin.
Books featured from 8 pm – 9 pm include: Simmers in Winter by Faye Guenther. Crosshairs by Catherine Hernandez; and On Property by Rinaldo Walcott.
Presented by the City of Toronto, the winner will be announced this fall.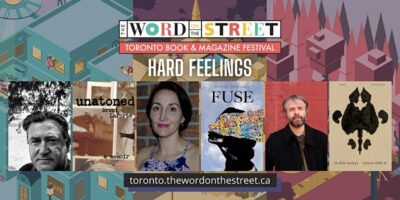 HARD FEELINGS: PROCESSING TRAUMA THROUGH WRITING (September 23rd, 2021, 5 pm – 6 pm EST). Register here.
Moderated by writer Kathy Friedman, this panel digs into the subsets of mental health, and mental illness that are being overlooked in today's conversations, and how they can be brought into focus. Authors Brent Laporte, and Hollay Ghadery, and poet Jacob Sheier answer the questions "How should our understanding of mental health be evolving and transforming", and "how do we apply that new understanding to systems that support the mental health of our communities?"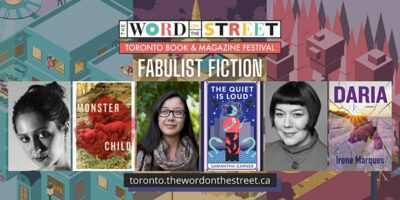 FABULIST FICTION: EXPLORING IDENTITY THROUGH MYTH & MAGIC (September 25th, 2021, 2:30 pm – 3:30 pm EST). Register here.
Sometimes the only way to tell a true story about the self, is to tell a myth. Fabulism is the literary cousin to Science Fiction, fantasy, and other speculative genres – incorporating magical and fantastical elements into an otherwise realistic setting. Moderated by Amanda Leduc, panelists Irene Marques, Rahela Nayebzadah, and Samantha Garner discuss their own approaches to fabulism, and how the myths and legends of their heritage inform the magical elements in their fiction.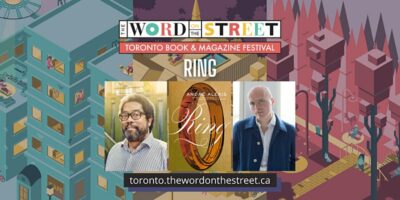 RING: A CONVERSATION WITH ANDRÉ ALEXIS (September 25th, 2021, 8 pm – 8:45 pm EST). Register here.
Playwright José Teodoro hosts a featured conversation with novelist André Alexis, about his new novel Ring, the fifth and final book of his Quincunx cycle.
André Alexis is an award-winning writer – his most recent novel Days by Moonlight won the Rogers Writers' Trust Fiction Prize, and Fifteen Dogs won the 2015 Scotiabank Giller Prize, CBC Canada Reads, and the Rogers Writer's Trust Fiction Prize. Ring is a fresh take on the romance novel, turning the "literary romance" upside down, as it explores magic, honour, faith, and of course, love.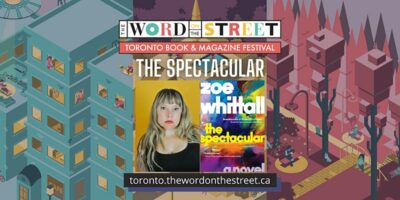 THE SPECTACULAR: A CONVERSATION WITH ZOE WHITTALL (September 26th, 2021, 4 pm – 4:45 pm EST). Register here.
A featured conversation with award-winning author Zoe Whittall, about her new novel, The Spectacular. Whittall is also the author of three previous novels, including The Best Kind of People, which was shortlisted for The Giller prize. She has published three collections of poetry, and is also a Canadian Screen Award winning TV and dilm writer, with credits on Schitt's Creek, Degrassi, and the Baroness Van Sketch Show.
The Spectacular is a multi-generational story, exploring sexuality, gender, and the weight of reproductive freedom. It follows three generations of very different women, who struggle to build an authentic life – radically changing their definitions of family, romance, gender, and love, as they seek out lives that are nothing less than spectacular.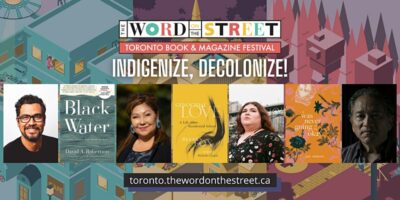 INDIGENIZE, DECOLONIZE! INDIGENOUS WRITERS' ROUNDTABLE (September 26th, 2021, 5:30 pm – 6:30 pm EST). Register here.
Join authors Bevann Fox, David A. Robertson, and poet Jaye Simpson, along with moderator Darrel J. Mcleod, as they hold space to grieve the losses of this year, honour the struggles and successes of those dedicated to Indigenous resistance, and discuss the role that writing has in decolonizing our world. Exploring questions like "how do books and storytelling contribute to healing?", and "How do we celebrate and protect Indigenous storytellers?"
With events and panels featuring speakers including Francesca Ekwuyasi, Shawn Hitchins, Richard Van Camp, and Zoe Whittall, all for free (or by optional donation), this iconic festival is sure to be lit(erary)!
While waiting for the festival, you can subscribe to Word on the Street's Youtube channel, for a preview of what to expect during the WOTS2021 festival, and watch (or rewatch) their year round City Imagines, and Book Talk series.
—
Ameema Saeed (@ameemabackwards) is a storyteller, a Capricorn, an avid bookworm, and a curator of very specific playlists, customized book recommendations, and cool earrings. She enjoys bad puns, good food, dancing, and talking about feelings. She writes about books, unruly bodies, and her lived experiences, and hopes to write an essay collection one day. When she's not reading books, or buying books (her other favourite hobby), she likes to talk about books (especially diverse books, and books by diverse authors) on her bookstagram: @ReadWithMeemz