This week, Elizabeth Shepherd explores the concept of envy in an intensely personal performance as part of Seven Deadly Sins, a new contemporary musical experience from Soundstreams. The performance asks different artists to draw inspo from one of the deadly sins—pride, greed, lust, envy, gluttony, wrath and sloth—and reflect on their own ideas about what sin means to them.
We chatted with Shepherd about the performance this week.
SDTC: Why did you want to contribute to this performance?
ES: I've worked with Soundstreams before on a super fresh take they do on Handel's Messiah. In speaking with all the minds and hands behind what they do, I love and respect their artistic vision as an organization. And then there was the content of this concert: the seven deadly sins. When they told me I could choose my sin, it really got the wheels spinning and I starting digging within, and envy really spoke to me.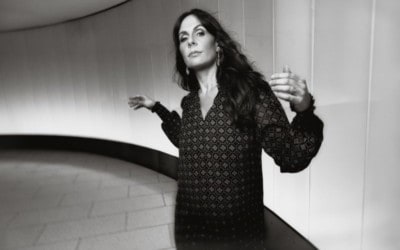 What makes envy so fascinating? How has it affected your life?
Initially, what I found so fascinating is the fact that it's common to everyone at some point. Some people get stuck there, while others pass through. And yet envy is so corrosive. Unlike gluttony, lust, and wrath, which are these excessive passions or perverted joys, envy has no joy in it. In fact, it's an inability to derive joy from what one has, and one step further, it's the sick desire to deprive others of joy, too.
Then, as I started my research, I realized that there are so many more layers to envy; it sometimes hides behind this false crusading for justice, as in, "I'm just trying to make things fair," when really the subtext is "I don't want you to you have something that I don't." It's juvenile and quite perverted, really. It's deep.
Has putting this piece together shifted your view of envy? Has seeing what the other artists have prepared shifted your views of the other deadly sins?
I was really moved by all the pieces. Highlights that really moved me are gluttony, as Chloe Charles has this haunting confessional about feeling so empty within; wrath, as Aviva Chernick channelled cultural grief and suppressed anger into this gorgeous Yiddish chant; and sloth, as Robin Dann wove this sonic soundscape that leaves you feeling suspended in time, in the middle of a forest at dusk. It's all so wildly different and personal.
What do you hope audiences take away from your performance at Seven Deadly Sins?
I'd have to answer that in two parts: first, there's something for the heart and brain. Each of the composers and songwriters has really done their unique take on their sin. So in watching the other performances, I can say I've come away with a new understanding of the nuances and complexities of these traits that we all wrestle with.
And the second part would be musically. You're getting everything from soul jazz to contemporary classical to soundscapes to electro pop. It's phenomenal.
What are you most envious of?
Those who are free from envy. Oh, irony…
Seven Deadly Sins runs this week at The Great Hall (1087 Queen St W). Get tickets here.