A dancer, choreographer, and movement director, Esie Mensah has worked with megastars like Rihanna and Drake, and is making serious moves in her own right. She is the creative force behind ZAYO, and the Dora-Award dominated Shades, which uncovers the process of healing from shadeism in the Black community. She's committed to using Afrofusion to explore more personal narratives of her Ghanaian heritage, blackness, and belonging.
On October 31st, she'll be performing at TIFF boombox: Heroes and Villains. We chatted with her this week.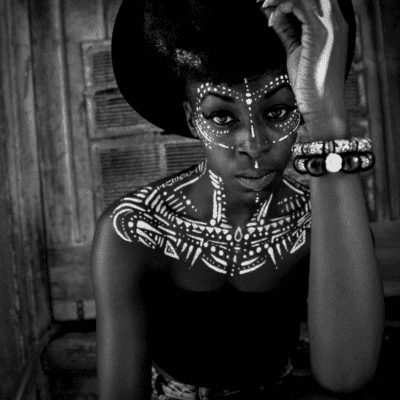 SDTC: Describe your ideal Saturday scenario.
EM: I'm an artist so ideally a Saturday that doesn't involve work! I get to enjoy a weekend by resting and catching up with friends and family.
What is commanding a lot of attention in your life lately?
My TEDxToronto talk and my productions! I spent six weeks working on two major productions for performances in Toronto and Ottawa – ZAYO and Shades. ZAYO is an Afrofusion dance/theatre show that is a memoir about my life and Shades is a dance/theatre piece about shadeism/colourism. Two very powerful and successful productions!
This past week, I was excited to share a piece of myself with the TED audience. As a choreographer/dancer I am honoured to have this platform to speak my truth and give the general public a peephole into my world.
What have you learned about yourself in the past year?
When your life is in the flow you can achieve anything.
What is a fun, little-known fact about you?
I love old school cartoons!
What book/film/show have you connected with recently, and what about it appeals to you?
Conversations with God: Book 2. The honesty is what intrigues me. It forces you to question a lot, as well as the validity of the book itself but anything is possible which makes this book a fantastic read.
What's the worst piece of advice you've been given?
Follow the trend!
What is your motto at the moment?
I can do anything…
Which dancers/choreographers are you fascinated with right now, and why?
I love Bob Fosse. I'm fascinated about his conviction and determination to follow his voice/artistry and explore it fully. He's a legend but was rejected because he didn't fit the typical mould of a ballet dancer. I think this is remarkable and can identify with how rejection fuels you for greatness.
What are the qualities you like least and most about yourself?
Least: procrastination.
Most: perseverance.
Rewind five years. What would you tell yourself?
Stop worrying, you will only stress yourself more. Surrender.
What is your earliest memory of dancing?
My earliest memory is in elementary school. Dancing at an assembly to one of the songs from Grease the movie.
When did you realize you wanted to do this for a living?
I realized in University that I wanted to try it as a career so I dropped out and went to George Brown college to do their Commercial Dance program. It wasn't until my second semester at GBC that I realized I was exactly where I needed to be. I had no real intention of it becoming the career it did but I'm thankful I took the chance. I wouldn't be here without it!
What song always makes you want to get up and dance?
Depends on the day. It could be Afrobeat, House music, a good Motown track, SOCA, 80s British pop, or a 90's Hip Hop/R&B jam.
What unnecessary object would you love to own?
A jet! So I can travel anywhere and anytime I want.
What tip, technique or hack has made your life better in the past year?
Hiring an assistant!
What issue do you wish people took more seriously?
Choosing to have more compassion for the people around you.
What outfit makes you feel the most you?
Anything African print!
Who/what has surprised you lately, and how?
My friends/dancers surprised me once we got back from a trip to Ghana. We had performed in Ghana for a festival and they got my family and friends together to celebrate the accomplishment. I cried because it was so unexpected–and it was an ugly cry.
What can we expect from your performance at TIFF Boombox?
Nothing short of entertaining and fun! I love showcasing the talent in this city and I am so thankful to have a platform to do that. There may be a moment for you (the viewer) to join in so get ready!