In our Ethical Gift Giving + Supporting Local Moms series, we've been profiling local women entrepreneurs who've been making a real impact when it comes to sustainable apparel and goods. If you're still on the hunt for gifts this holiday season and want to help reduce waste, we've got another awesome company for you to check out: Nudnik. This is the future of sustainability, people!
Can one T-shirt change the world? This is the mandate of Nudnik, which hopes to reverse the damage we're doing to our planet, one T-shirt at a time. Founded in 2016 by twin sisters Lindsay and Alexandra Lorusso, Nudnik takes preloved clothes and transforms them into new designs for kids. Their clothes are specifically designed for the next generation of game-changers, leaders, innovators and disrupters (hear hear!).
Curious to learn more, we caught up with Lindsay this week.
SDTC: What was the job you had before you started your business?
LL: I made the unconventional leap from waste management into fashion! Prior to launching Nudnik in late 2016 with my twin sister, Alexandra, I spent fifteen years working for Wasteco, a company my father co-owns. I started in customer service, moved into operations, then to the recycling division, and finally into business development.
I'm super passionate about circular design, waste diversion and innovation! I think innovation is strongest when skill sets are merged from various industries.
Why did you start your business?
Much like plastics, textile waste is very difficult to recycle. Fashion is the second dirtiest industry in the world, and the amount of textiles that end up in the landfill every year is astronomical. I've always gotten jazzed by the idea that we can transform waste materials into new products that people will covet.
This mindset, coupled with me having young children, led my sister and I to the idea of turning textile waste into unisex, contemporary kids wear.
We want to show impact in textile waste diversion and also be a standout example of how disruption in traditional fashion manufacturing can be a positive step forward to providing great products without harming the planet.
Where do all the materials come from?
We've pivoted along the way!
We started with gently used adult-sized sweatshirts and T-shirts we bought by the hundred-pound bail right here in Toronto. We cut our small pattern pieces from them and sewed them into our colourful basics right here in Toronto; however, 98% of all clothing donations are now being sent overseas to places like Africa.
We pivoted and began sourcing end-of-role fabrics from local artists like Erin Kleinberg, and even took misprinted sweatshirts and T-shirts by the box-full that were donated to us by design shops. This was a fractured supply chain, and it became difficult for us to achieve a scalable business model.
We spent the past eighteen months in two fantastic business accelerator programs (Next Canada's Next Founders and The Joe Fresh Centre for Fashion Innovation), where we focused on identifying a stream of textile waste that was consistent in volume, material composition and in colourways that fit the Nudnik aesthetic: bright and colourful!
We're now transforming 100% organic cotton cutting scraps (leftover from major apparel manufacturing overseas) into our Nudnik basics. We are launching our Negative Waste, Positive Impact T-shirt (1-6 years) in early 2019 after a successful Kickstarter campaign, and there will be more products to follow later in the year.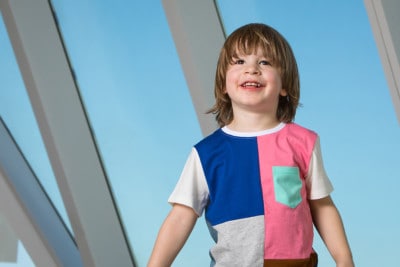 What are you most proud of?
I'm most proud of my children. My step-son Sebastian is 14, Hunter is 6, and Apollo is 3. They are my greatest accomplishments.
I'm proud of our success with Nudnik in creating a scalable kids wear brand made entirely from textile waste and being able to (most days) juggle start-up life and raise my kids simultaneously. Mompreneurs, I know you know what I'm talking about!
What are your hot sellers for the holidays/winter? Pieces you're excited about?
We are super excited to launch our Negative Waste, Positive Impact T-shirt. It's unisex and super colourful (colour combos are a surprise!) and guaranteed to be what your kids pull out of their drawer first when getting dressed in the morning! The T-shirts are made entirely from 100% organic cotton fabric scraps leftover from large apparel manufacturing. Available for pre-order on our website.
How has motherhood shaped your business?
The inward side of our brand is focused on creating awesome products for kids from waste materials.
The outward-facing side is all about raising this next generation of leaders, game-changers and innovators. Kids that wear Nudnik will stand out in a crowd.
The term Nudnik means little disruptor or pest; however, we look at it in a positive light. We encourage the kids who ask a million questions, the ones who want to break the rules and rebuild them in a better way, the ones who stand up for what they believe in.
These values mirror my own parenting priorities.
What's a lesson you learned this past year that has helped you as an entrepreneur?
Through the amazing accelerator programs we've been a part of, I made it a priority to ask many of the incredibly successful entrepreneurs I was able to get in front of about their parenting styles and how they balance raising families and growing a successful business.
Although the answers varied, the takeaway was that there has never been a better time to be an entrepreneur. We have the ability today to design businesses on our own terms, and to me that means flexibility. It's incredibly empowering to know I can build Nudnik the way my sister and I envisioned, to make this business work in a way that allows me to attend field trips with my kids, be there for most drop-offs and pick-ups, and work remotely.
What's a holiday (or wintertime) tradition in your home that you've grown to love?
For the last couple of years, my mom has taken my children and me to a Nutcracker Tea. It's high-tea with a holiday theme. It's an experience we've all come to cherish.
Anything else you'd like to share?
I believe the conversation of parents starting/ running successful businesses is just starting. The startup hustle is different for us because we are juggling many intense priorities and we have to work smarter as opposed to harder and longer. Let's keep the conversation going!
Doing some last-minute Christmas shopping for littles? Check out Nudnik now.