On her new musical comedy album The Motherload, artist and content creator Farideh blends genres to unpack the many sides of motherhood and gender inequality—from mom bods to sleep deprivation to the stress of family vacations.
Originally a member of the Saskatchewan folk-pop trio Rosie and the Riveters, Farideh was ready to leave music behind when the group disbanded in 2020. She began to dabble in content creation, but while taking comedy classes in L.A., her instructor encouraged her to write songs about motherhood.
"As a musician, you're told not to write about motherhood. It's not really sexy. I was pretty hesitant but once I started, I realized I had so much to say. People were really into my songs. Therapists would reach out to me and be like, your song was in the therapy session today."
View this post on Instagram

In December 2022, Farideh released a song called You Are Such a Good Dad — a short comedic tune about how fathers often receive praise for doing the bare minimum, while the endless work that mothers are left with often goes unappreciated. The song went viral, with more than 10 million views in three weeks, and thousands of comments, many from women who have experienced the same phenomenon.
"I noticed as soon as we had our child, that whenever my husband was out in public with our child, strangers would praise him for just being around our child," Farideh says. "There are so many ways in which women are criticized for parenting, but for men, it's just one: Are they there? The most annoying thing about being a mother is seeing your husband praised for pushing a stroller."
From there, the creative floodgates were open, and Farideh spent the next ten months writing songs, shooting TikToks and reels, posting online, and seeing the demand for her content grow in real time. The result is The Motherload, a musical comedy album spanning genres from folk to metal to hip-hop. The album is short but snappy. Each track is under 2 minutes long and packed with plenty of witty and relatable lyrics, catchy hooks and "oh shit, she went there" moments.
Honest conversations about motherhood can be hard to come by. Now eight years into parenting, Farideh is all too familiar with the judgement and cultural pressures moms face and how lonely it can be to navigate.
"Screentime, feeding, behaviour, mental health, potty training—there are so many ways in which mums are judged," she says."They can't speak honestly and openly about the hardship and the challenges, even with their friends. I think a lot of women keep that shame to themselves."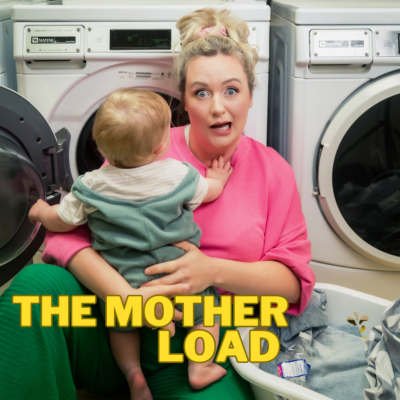 With her content addressing gender roles and cultural expectations that run deep, Farideh has been subject to her fair share of criticism online.
"When you put stuff online, you're reaching people with very different experiences of what gender equality inside of a marriage looks like," she says. "Sometimes with my work people laugh but they also feel a little angry."
She suspects this anger is often misplaced onto her, instead of towards the double standards and inequalities she sings about. Navigating the volume of these comments can be a challenge, especially coming from a career in live performances.
"The rigor of feedback that you get online is so different. You don't finish a show and then have the 500 people in the audience, one by one, tell you what they think," she says. "You have to protect your mental health if you're going to create content and put it out in the world."
Despite the challenges of creating content online, many mothers deeply resonate with Farideh's content, and have reached out to tell her they feel seen and heard, or that they saw one of her videos and just really needed a laugh.
Farideh's message for all of those moms? "You're doing better than you think. Most mothers are extremely hard on themselves and lay alone most nights thinking about all the ways that they need to improve. They're doing so much better than they know."