Fashion Art Toronto kicked off its much-anticipated Fall 2022 showcase this past Thursday with a knockout runway show by Anishinaabe model and fashion designer Lesley Hampton. "It's our most diverse show yet," Hampton shared, while en route to Parkdale Hall, the historic new venue for Fashion Art Toronto. "30 looks and 30 models. It's the biggest show we've ever put on."
It's been a year of big things for Hampton, who was recently named a Champion of Change by international advocacy organization Global Citizen. It's a major accolade that she can add to her long list of recent achievements, including being named by Vogue as one of the "standout labels" to watch.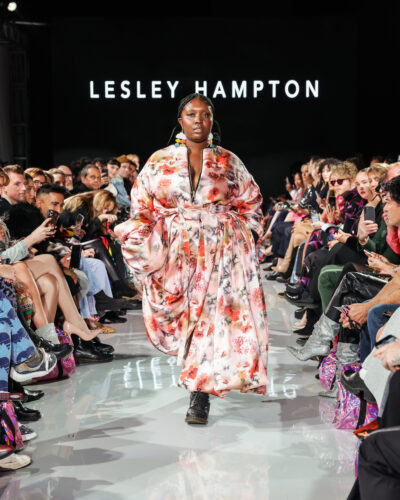 With this recognition, and celebrities like Devery Jacobs and Lizzo donning her designs, I was both surprised and impressed when Hampton said what she's proudest of these days is prioritizing her mental health. "I'm putting my mental health at the forefront," she says assuredly. "In my early career I didn't want to let go of any opportunities and it took a toll on my personal life. My business won't thrive unless I'm thriving. I really feel like the big milestones that I've had in the past year is because I have that balance."
Like so many designers in Canada, Hampton's introduction into the world of fashion was through Jeanne Beker. "I fell in love with fashion while watching Jeanne Beker on Fashion Television. At that time I was living in Newfoundland, so other than going to the mall, that was really my only connection to the fashion industry. On the flip side, I was a curvier girl and being an Indigenous person I never saw myself represented. It was amazing to watch, but I never felt I could be a part of it."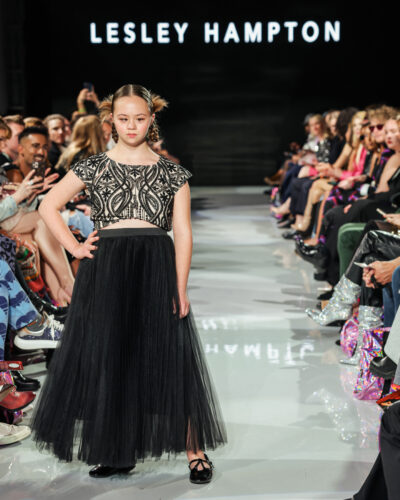 As soon as she finished school, Hampton was determined to disrupt the Canadian fashion industry so that young women wouldn't have to feel like she did as a teen—utterly unseen. It was at Fashion Art Toronto in 2016 when Hampton made her powerful debut, and she credits Vanja Vasic, Founder of Fashion Art Toronto, for helping her get her start. "It was that mentorship from Vanja that really helped launch things early on in my designer life."
For Hampton, representation runs much deeper than simply casting models with different body types and skin tones—she sees it as a form of harm reduction. "If we're able to see our bodies and individuality represented and celebrated in media and fashion it has such a great effect on our mental health."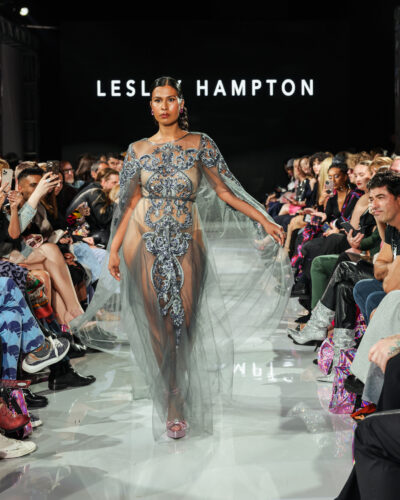 While in years past, Hampton's collections focused on womenswear, she broadened her offerings, and her show on Thursday was a celebration of individuality and all genders. Models exuding confidence in last night's show included Emmy Award-winning TV host Patricia Jaggernauth, artist and Netflix star Dom Gabriel, HIV/Aids advocate Myles Sexton, Cree-Filipinx TikTok activist Haley Rebecca Robinson, trans influencer Jamie Pandit, and Monika Myers, the first model with down syndrome to rock a runway at Fashion Art Toronto.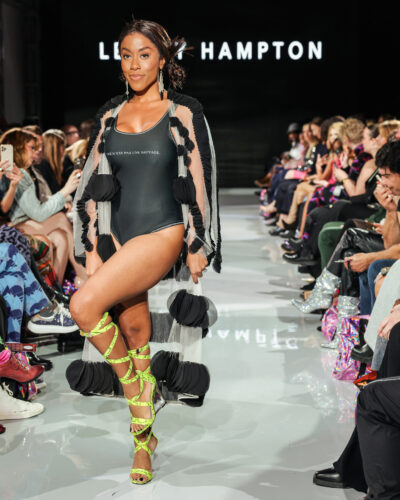 The Lesley Hampton show at Fashion Art Toronto's Fall Showcase was a full-fledged party, and it embodied what Fashion Art Toronto has always stood for while also reminding fashion lovers everywhere that inclusivity is not some trend. "I'm dedicated to breaking down systemic barriers in fashion," states Hampton, and we wholeheartedly believe her.