TW: Misogyny, Violence Against Women, Femicide
Laura Bates was a graduate from Cambridge living in London, UK, working as an actress when a series of disturbing encounters with men forever altered the course of her career. The turning point was in 2012, and since that time, she's devoted her energy and work to proving the devastating effects of widespread misogyny.
"I had a number of bad experiences in a quite short space of time, including being followed home by a man quite aggressively sexually propositioning me refusing to take no for an answer," says Bates, and when she asked the man to leave her alone, he replied, "I'll just follow you home, and then I'll always know where you live."
Exasperated, Ms. Bates founded The Everyday Sexism Project, a website where women share their personal experiences with misogyny. "It makes it more difficult to dismiss individual women for overreacting or getting the wrong end of the stick, if you can see thousands of others saying this happened to me as well," argues Bates. Today, hundreds of thousands of such incidents have been recorded on the website.
Over the past decade, Bates has become a feminist icon in Britain. In 2013, she received Cosmopolitan Magazine's Ultimate New Feminist Award. Ms. Bates' first book, also titled Everyday Sexism, was published by Simon & Schuster the following year. And in 2015, Bates was awarded The British Empire for services to gender equality.
The fame led to a speaking career. In pre-Covid times, Laura Bates would regularly appear on panels and talk publicly about sexism on a weekly basis. It was speaking to young men during these public appearances that prompted her latest book, Men Who Hate Women.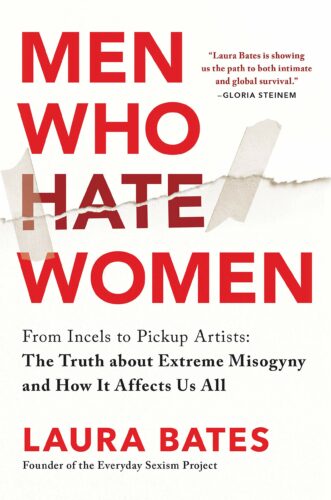 "I noticed a sudden and really concerning change in the attitudes of the boys I was working with in schools," explains Bates. She soon realized young men were being radicalized by The internet's INCEL and pickup artist communities; she wasn't about to sit by and watch that happen.
To better understand how boys were being "groomed" into sexism, as Bates puts it, the author went under cover. Posing as a man, she infiltrated sexist online communities. Her research illuminated the ways young men were radicalized with false information.
Bates cites that a prominent myth on the Internet is that, "White men are the real victims of today's society." She also warns of a popular notion, within these misogynist groups, that feminists hate men and long to destroy them. Another sickening lie that is often promoted within these online spaces is that false rape allegations are common, and men are in danger of losing their jobs to such claims.
While Bates' latest book paints a bleak picture of the ways many young men are being indoctrinated by sexist ideologies, her research is meant to inspire action, not despair. Ms. Bates describes Men Who Hate Women as an attempt to combat a "ticking time bomb." While many of today's youth are more progressive on issues of social equality, Bates warns we cannot assume that's always the case. If we wish to spare our sons from being socialized into misogyny, we must remain vigilant.
Men Who Hate Women was released in The UK in September of 2020, and is now available in Canada. Since its release, the news cycle has only made its warnings more relevant. On March 3rd, 33 year-old British marketing executive Sarah Everard was abducted by a police officer while walking home; her remains were discovered soon thereafter. The response from law enforcement was to tell women to protect themselves by not venturing out at night.
In Atlanta on March 16th, eight people – six of them Asian American women – were shot in a horrific hate crime . The names of the victims are Xiaojie Tan, Delaina Yaun, Hyun Jung Grant, Yong Ae Yue, Elcias Hernandez-Ortiz, Suncha Kim, Daoyou Feng, and Paul Andrew Michels. The Atlanta Shootings have led to renewed conversations about the many ways racism and sexism intersect. In the case of what happened in Atlanta, the stigma surrounding sex work made its victims particularly vulnerable.
Both tragedies – the murder or Sarah Everard and The Atlanta Shootings – demonstrate how deeply rooted misogyny is in the modern Western World. While these horrific events made headlines, many do not. Approximately every six days, a woman in Canada is killed by her intimate partner, and Indigenous women are killed at six times the rate of non-Indigenous women. A recent article in The Globe & Mail shared alarming statistics that show a noticeable increase in femicide in Canada in 2020, which many experts relate to forced pandemic lockdowns.
Books like Bates' do not solve the problem of a world that hates women, but the better we document this problem, the harder it is to ignore. It is necessary to understand how ubiquitous misogyny is if there's any hope of tackling it.
I wish we lived in a world where there was no need for titles like Men Who Hate Women, and I'm sure its author does, too. But for now, it's a book we should all be reading.