We've been emamoured with Elizaveta Yankelovich ever since we first laid eyes on her large-scale art necklaces (decorated with a dozen old mix tapes, naked dolls, tennis balls or feathers). Her work is daring and playful; fitting for both the model in haute couture or the naked woman running wild through the desert at Burning Man.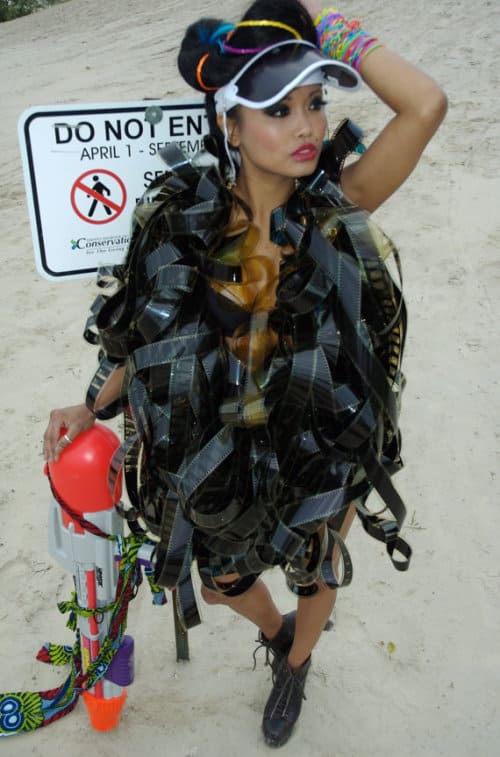 In the past year, Yankelovich broadened her creative endeavours to include The Love Book; a story for children with beautiful (and a bit trippy) illustrations of friendly creatures, great and small. The project was funded by Kickstarter and is yet another totally unique accomplishment to add to her eclectic assortment of imaginative work.
While some people see through rose-tinted glasses, Yankelovich sees life through a brightly coloured kaleidoscope.
SDTC: What are your favourite children's books?
EY: Are You My Mother?, a Russian version of Little Red Riding Hood, and every Nancy Drew and Judy Blume Book.
What about your favourite childhood character?
That's a tie between Monchhichi and my Cabbage Patch Kid Doll.
We've known you for years as a jewellery designer. Why did you decide to write a children's book?
I am a creative person, I dabble in everything that I love doing & making. I make jewellery, dreamcatchers, and I LOVE to write and draw. I have been drawing for 9 years (great way to give gifts without spending big bucks – DIY thriftiness is my thing).
How did The Love Book come about?
Well,  the ironic thing is that I would get a lot of feedback about my drawings that always veered towards "WOW…these are GREAT for Children and Baby Rooms." But when I create them, I never intended for them to be for children. It's just how I wanted to draw. I found it interesting that adults leaned towards believing that lots of colour, vibrancy, crazy patterns and swirls are for kids only. I also felt a deeper sadness that we as adults tend to lose our creativity or open-mindedness, so I really liked the idea of presenting my art not only to kids but adults as well – family in it's entirety. The whole idea being that animals or things don't have to be exactly how we see them in our everyday life. Cows can be pink and green, owls can be purple and blue and orange, unicorns can exist!
So the drawings came first. And choosing 'Love' as the main premise – well that's easy -I LOVE love! Also, as a child, unconditional love was a concept that was hard to grasp for various reasons – and even now it's a struggle sometimes. I'm pretty sure I'm not the only one. When I read The Love Book to kids at public events, at the end I always make all of them hug themselves super tight and yell really loudly that they love themselves.  Unconditional love and self-love are very important to me.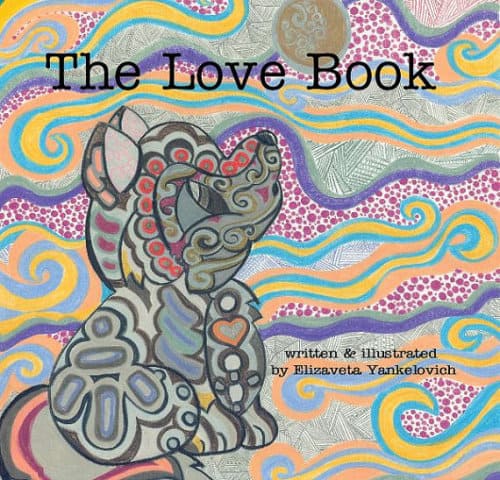 What was it like to do a kickstarter campaign? Would you recommend it?
It was amazing. I learned so much in such a short period of time. Afterwards I felt like I could do anything I set my mind to. Do I recommend? Yes, as long as you are ready to go crazy, drive everyone around you crazy and are open to pleasantly harassing the entire Universe for pledges.
Kickstarter doesn't work if you think it'll just work on it's own, unless you have an wonderfully amazing product/idea which goes viral (i.e. 3D pen or a glow in the dark toilet bowl that plays your favorite track). But for publishing and many other projects, it really is just a platform for your hard work and effort that at the end if you reach your goal, will make you feel unstoppable.
Where are 3 places in Toronto that you often find magic?
Kensington Market, McCaul Street, My Head.
What was the most memorable party you ever attended? 
I would have to say my baby shower. There was so much love in that room I will never forget it.
When do you do your best creative thinking?
Riding the TTC and at night when I should be sleeping.
How do you explain the word "love" to a child?
Close your eyes and imagine yourself in a little bubble made of strawberry cotton candy and imagine that in that bubble there are kittens and puppies dancing together with ribbons floating in the air and there are blue and pink tiny flowers with rainbows for stems slowly falling down everywhere. Then imagine that you are riding on top of a lime green horse with long flowing hair that is taking you up a mountain made of ice cream and whipped cream with rolling cherries all over it…. and then when you get to the top of the mountain and you finish the yummiest picnic you have ever had and then go to a kite flying tea party where there are sea horses with chocolate wings. Imagine that you are sitting beside a huge cuddly ocean-coloured teddy bear giving you the biggest fluffiest hug that you ever felt – this is kind of how love feels.
Is your spirit animal a unicorn?
YES.
Got any resolutions for 2015?
No. I don't do them yearly, I like to do them daily and then break them in the next day or two.