If you are old enough to recall the weeks and days leading up to the year 2000, then you likely remember it as an exceptionally weird time. There was a genuine fear that when the clocks hit midnight, and computers shifted to the year 2000, that the internet would blow up the world (or something like that). Mixtape rewinds audiences back to that moment in time, as seen through the eyes of a precocious 12-year-old girl on an adventurous quest.
A quick look at the trailer gave us Booksmart meets Moxie meets Babysitters Club vibe, but set in 1999, our head also jumped to My So Called Life and Ghost World.
On the eve of Y2k, orphaned, awkward 12-year-old Beverly Moody (Gemma Brooke Allen) discovers a broken mixtape crafted by her teen parents who died in a car accident when she was a baby. Raised by her grandmother Gail (Julie Bowen), a former teen mom herself who finds it painful to speak about her late daughter, Beverly sees this mixtape as a chance to finally learn more about her parents. So she sets out on a journey to find all the songs on the tape. Along the way, she makes friends with her quirky neighbour, Ellen (Audrey Hsieh); intimidatingly tough, Nicky (Olga Petsa); and Anti (Nick Thune), an anti-everything record store owner who's the key to finding these tracks, and a renewed bond between Gail and Beverly.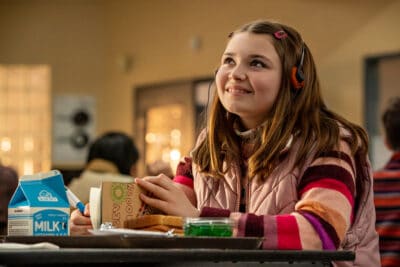 Mixtape arrives to Netflix on December 3rd. Enjoy the throwback.