One watch of this trailer sent a surge of strong emotions through us, as expected. We loved Anthony Bourdain, think about him often, and cannot wait for the release of Roadrunner next month.
Film Synopsis
It's not where you go. It's what you leave behind . . . Chef, writer, adventurer, provocateur: Anthony Bourdain lived his life unabashedly. Roadrunner: A Film About Anthony Bourdain is an intimate, behind-the-scenes look at how an anonymous chef became a world-renowned cultural icon. This unflinching look at Bourdain reverberates with his presence, in his own voice and in the way he indelibly impacted the world around him.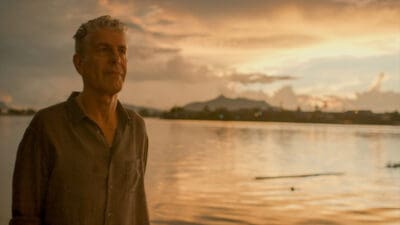 Beyond sharing what Bourdain was best known for: wandering, trying new things, eating stuff and making sincere connections with strangers along the way, we expect themes of loneliness and escapism to be closely examined in Bourdain's endless quest for the next thing. Or as one subject in the trailer says, "He was always searching for something."
Directed by Morgan Neville (Won't You Be My Neighbour, Twenty Feet from Stardom), we have no doubt that the story of the world's most beloved travelling chef will be captured with care.
Watch the trailer and get excited. In theatres starting July 16th.