Now in its sixth iteration, Yorkdale CONCEPT showcases innovative brands, products, activations and experiences from female-founded businesses, and this year, they're welcoming homegrown beauty and skin care brand Flawless by Friday.
Created by Brittny Robins, Toronto-based Flawless by Friday will be launching their first-ever makeup line and innovative fifteen-minute digital service fast beauty bar. The goal? To have you feeling your best and most flawless simply and quickly! We can't wait to check in with Flawless throughout the summer, as every two weeks, they'll be featuring a new theme of brands and products.
Flawless will also introduce its curated Female Founders Market, designed to celebrate female entrepreneurs and showcase over 50 innovative Canadian business, products and services in the CONCEPT space–all created by women.
We caught up with Robins this week.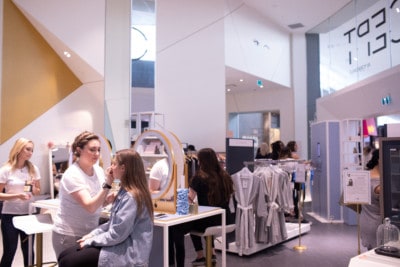 SDTC: Please share with us how your business first started.
BR: I was working in the cosmetic industry in my mid-twenties and was frustrated by how complicated all of the products on the shelf seemed to be. I also felt intimidated by all of the marketing in the beauty industry; when I looked around at all of the ads, none of them felt relatable. I didn't find an industry that I loved so much to feel overly approachable or accessible.
I wanted to bring approachability, speed and simplicity to beauty, so I started by thinking about a product that could clearly help your skin look and feel flawless by the weekend–hence, Flawless by Friday. Everything else went from there while maintaining the same pillars of speed, simplicity and self-confidence.
What can visitors expect when they visit you at the Female Founders Market at Yorkdale CONCEPT?
A group of inspiring women who are doing everything they can to get their businesses off the ground. It is a really collaborative effort and experience. You will find a mix of Canadian female-founded brands from clothing to shoes, accessories to food, and so much more! All incredible brands!
Every two weeks we have a different theme. The first one being Babes Who Beach (e.g., bathing suit brands, sunglasses), then Sun's Out Moms Out (mom and baby brands), Summer Self-Lovin' (active and wellness brands) and Werk It (e.g., work wear, shoes, purses).
We have also launched our digital fast beauty bar where you can try on makeup looks right in the space by looking at yourself in an app and then get the look done live in fifteen minutes! There are also hair services available for the first two themes!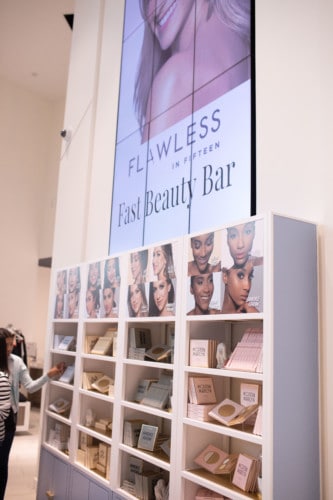 What beauty products or rituals are you currently loving?
Exfoliating often! Clarins tanning drops for the summer! Sun care!
Why do you think the Flawless by Friday brand has been so successful?
Our brand inspires each individual to find their own version of flawless. It's all about creating simple products that can help people feel like their best selves.
What are three pieces of advice you have for budding entrepreneurs?
Just go. People overthink every little detail of what they're trying to accomplish as opposed to hitting the ground running. I find perfection to be a devastating waste of time.
Be more afraid of not attempting your dreams than of what other people think.
If you have an idea, put it down on paper and then do something every single day (even for five minutes) to work towards that. Seeing something tangible feels different than just having it swimming around in your head.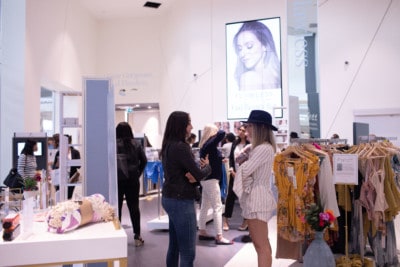 What are your top there pieces of beauty advice for hot summers in Toronto?
Sun care, always.
Our "finale" finishing powder.
Water!!!
What's a beauty secret your mama taught you?
Not to sweat the small stuff. It doesn't sound like a beauty secret, but I am a firm believer that stress can show up all over your face.
What excites you most about moving into Yorkdale CONCEPT?
The exposure to new people that we can help to make feel flawless and the incredible collaboration that we've been able to create amongst women kicking butt. It's all about Empowered Women Empowering Women!
Running until July 31, CONCEPT is located at the Southeast section of the shopping centre (near the TTC entrance). To learn more about CONCEPT, click here.