There are countless films that document teenage love, but very few get it right. Anya Chirkova's Flower Boy is tender, awkward, a little bit painful, and totally believable. Anya gives us two endearing high school graduates unlike any we've seen on screen before, and they will capture your heart.
Enjoy this and other titles at the Future of Film Showcase (July 9-22). We connected with Anya to learn more about her artist journey.
What compelled you to make this film? Or perhaps the initial inspiration?
The story isn't biographical, there wasn't one occurrence that happened in my life that pushed me to tell it, but rather an amalgamation of personal vignettes and burning anxieties that I had as an adolescent.
I left my home country when I was 17 and came to Canada with this desire to be a film director. I felt very lost during my first few years not really knowing where to start, feeling like I was wasting away months.
In a way, the film ended up becoming about the deep fear of what it's like to grow old and potentially not achieving your dreams.
Watching it now, how does your film make you feel?
It's surreal when I think about the first draft and how different the final film is, in a good way. I really believe that you make your film three times, once in writing, then in shooting and finally in post-production. It was interesting seeing how the film developed through this organic process.
I think there's always going to be a level of pain when a filmmaker watches their own film. I really relate to what David Mamet said, "when you make a film it's either going to hurt you (the filmmaker) or them (the audience)".
Watching it is also a reminder to me of all the talented artists I was fortunate enough to collaborate with.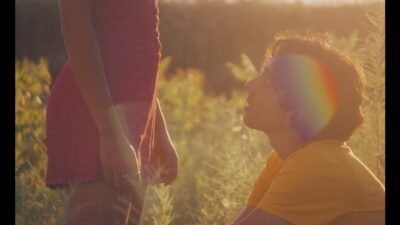 What was a lesson you learned while making your short?
I think for every filmmaker there's going to be a film where they find their voice. For me Flower Boy was that film. I gave myself a lot of time to think about my process and not jump into shooting.
Even though I had a script that I was happy with, I was upfront with the actors and told them the script was a template and I wanted to see what they could do with it. Then, through rigorous improv, we began rebuilding the script.
I fell in love with the rehearsal process and was impressed by how often my actors would surprise me.
What artists have had a major impact on you in the past couple of years?
Haruki Murakami
Richard Linklater
Phoebe Waller-Bridge
What piece of advice has helped steer your journey?
Not long ago, I connected with this YouTube video (I know a very millennial thing to say) about a young girl from America moving to Paris to attend an art institute.
One thing she said that really struck me was about failure and how immobilizing it can be. A lot of young people are scared to make something bad, but it's fine to do that, write a bad book, make a bad song. Even if you fail you'll end up in the same space that you were if you didn't do anything at all.
The Future of Film Showcase is running July 9-22. Visit www.FOFS.ca for the full short film lineup and watch on CBC Gem for free.