From the prettiest handmade marshmallows you ever did see, to gourmet gift boxes from Canada's top food and drink artisans, the Foodie Holiday Market (with over forty vendors!) is a an absolute must-do.
In the weeks leading up to Saturday, December 12th, we will be profiling some of the most fun, creative and sumptuous foodie talents whose wares and goods might just be the most original gifts under the tree. Let's start with Jacqueline Poirier, the artist also known as: The Crazy Plate Lady.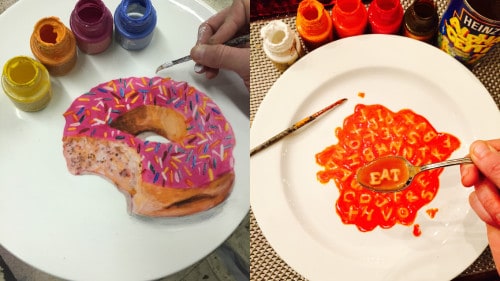 Where did the painted plate idea come from?
I have always been drawn to the circle; my undergraduate thesis explored the abstract concept of circles in their infinite form through the medium of oil on canvas. I had begun to experiment with porcelain and ceramics, so when I was asked about three years ago to paint on the porcelain chargers at TOCA in the Ritz-Carlton, the opportunity almost felt fateful. The thing about plart (my combined word for plate + art) is that it has both artistic and functional value, and people seem to love this!
Which plate makes you the most hungry?
I love all food so this is a tough one! I would probably say that anything pizza related really makes my mouth water, but I love to paint a good burger too. I usually do my best food plates when I am really hungry.
What do you anticipate will be hot sellers this holiday season?
We have been tracking the subject matter of our custom requests and food and animals always seem to be the most popular. However, this year we have had a lot of custom requests for portraiture and landscapes as well. I love that there is so much inspiration for design when it comes to requests, and I love a good challenge because it allows me to always be evolving my skills.
Do you and your fam/friends have any favourite holiday traditions?
I have a very large family so traditionally we do a Secret Santa for gift giving. Other than this we just try to spend as much time together as possible, and the holidays always include copious amounts of food, eggnog (of the rum variety), and laughter!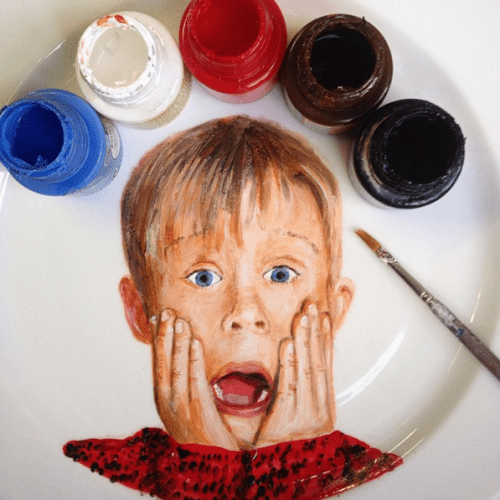 What are your favourite Xmas movies?
When I was young I loved Home Alone and this time of year the Kevin McAllister is one of my best selling plates! A more recent holiday film that I love is Elf. I want to paint a huge Buddy the Elf installation using plates of various sizes. Imagine this as an addition to a person's holiday décor!
What childhood Xmas gift really stands out? Do you remember one Xmas more than all the rest?
My family is really big on Christmas, so I have really great memories of the holidays. I think perhaps the gift that most stands out over the years was when I arrived at the Christmas tree to find my first ever snowboard! I am an avid snowboarder now because of that gift!
What are you looking forward to most this season?
I am looking forward to spending lots of time with my family and friends. We also have the Christmas One of a Kind Show coming up, as well as many more holiday shows and events so we will be very busy! I love painting for people this time of year, because I know that most of my plates will be given as gifts, and this idea is very special to me!
Mark it in your calendar!
Join us at the Foodie Holiday Market on Saturday, December 12th, 10am-5pm at Artscape Sandbox (301 Adelaide St. W). Exhibitors include Nadege, Emerson Pringle Carpentry, The Rolling Pin Donuts, Provisions Food Company, Burner Hot Sauce, I Love Puffy Love, Roselle Bakery, Lee's Ghee, Hinkleville, Petits Mots and so many more.
FoodiePages is our go-to for finding the most unique foodie gifts by incredible local vendors and chefs. Connect with Canada's best artisan food and drink makers now.