Comic artist and acclaimed illustrator Cinders McLeod is releasing a new book next week, and it's gonna help your kiddos learn all about MONEY.
The Moneybunnies series is geared at kids ages 3-8 and covers financial literacy in a relatable (and adorable) way. "I have two (grown) children of my own," notes McLeod. "When they were young, I tried my best to teach them about money. Whenever a commercial came on TV that had them hooked, I'd call out, 'What do they want?!' 'Our money!' they'd shout back. It was our joke. They say sometimes they still hear my voice calling, 'What do they want?!' during moments of consumer temptation."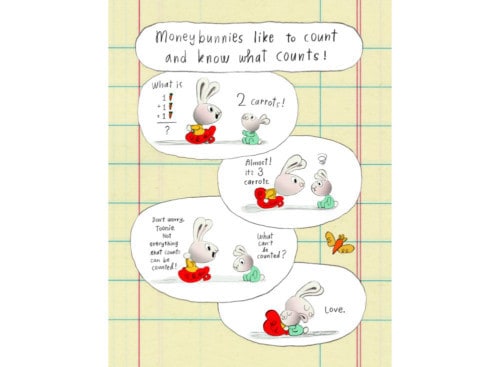 "I wanted to create a series of books that helped children understand not only basic money concepts, like earning and spending, but also more abstract concepts, like why some children's parents had more money than others, or why parents have to work. I went to school with children from the wealthy side of the tracks, and I could have done with a book that reassured me that having less money didn't make me less 'valuable.'"
The first book in the series, EARN IT! comes out next week, and you can scoop one up for your LO at the launch party at Queen Books (914 Queen St E) on August 15th from 5:30 to 7 p.m.