Producers (and twins) Rennata and Georgina Lopez discovered Toronto drag queens Fay Slift (JP Kane) and Fluffy Soufflé (Kaleb Robertson) the same way most people have: at one of their beloved storytimes. The boisterous duo have been bringing smiles to families for years at various venues around town—from The Gladstone Hotel to The 519. Friends had urged the sisters to check out the larger-than-life queens and as soon as they experienced Fay and Fluffy's Storytime, they knew how great they'd be at hosting a kids TV show. "We loved what they were doing. We were like, 'Oh, we really want to work with you."
Rennata and Georgina founded Lopii Productions in 2018 and have dedicated their work lives to producing shows that are high quality, inclusive and representative of all kids. Fay and Fluffy fit their mandate perfectly, and in early audience tests, they realized just how wide the reach was. "They have a great way of appealing to all ages. Babies find them entertaining all the way through to the parents, who are laughing," says Rennata. "They're approachable and real and engaging…and they're very good at opening up the conversation."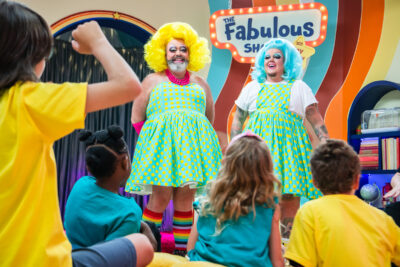 The Fabulous Show with Fay and Fluffy is colourful, upbeat, and wacky—as most kids TV is—but the hosts also tackle subjects head-on in a way that most kids TV wouldn't dare to. With a group of curious and engaged little kids, they address topics like Pride, chosen family, racism, anti-racism and allyship with the same ease as most kids TV hosts talk about telling time or the days of the week. And guess what? The kids can handle it. And in the most beautiful no-big-deal kind of way.
In one episode, Fay shares how she was being teased for wearing a dress, and to see how the young children (who are not actors, but real kids being themselves) respond, is incredibly moving. "The topic turned into how to make someone feel better after somebody says something mean, and they were just so real and genuine. The kids surprised us by just being so kind and inclusive, without us prompting them, there was very little prompting. They were so real and genuine," says Georgina.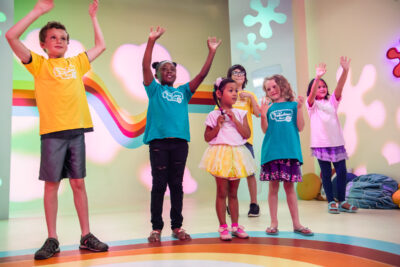 Celebrating differences is at the heart of the show. "With today's political climate, there's a very strong, small minority of people who believe that kids should not be exposed to different people. But it's just such a weird thing to believe!" Rennata exclaims. "It's important that we learn to celebrate our differences and who we are from a very early age."
Growing up as first-generation kids in Canada, with parents from Mexico, Rennata and Georgina know firsthand what it's like to feel like outsiders that don't fit in. They fondly remember how they felt when watching Sesame Street for the first time, and seeing the hosts and puppets speak Spanish. "It was awesome! It was really rare to see kids like us," says Rennata. "As we got older we had to realize that we have the power as creators ourselves to really make that impact on kids. So kids television has always been intriguing to us because you really are making such a difference. We wanted to make Sesame Street, but the village version," she laughs, and that's exactly what they've created. The Fabulous Show with Fay and Fluffy is so vibrant, sincere, zany, sweet, and fun.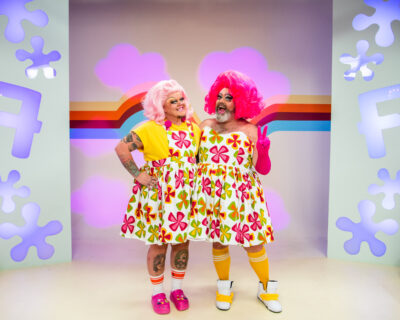 When they pitched the shows to networks, everyone saw the value, but most executives were too nervous to take the risk. They weren't daring enough to have a big burly bearded host with a polka-dot dress and sky-high pink wig command an audience of preschoolers. "They didn't want to handle the backlash… even though it's a minority, it can be pretty awful. But we were very excited and very lucky to meet our broadcaster Family Jr," who picked up the series with enthusiasm and confidence.
The first series has 26 11-minute episodes. Within seconds of watching, one can't help but smile. As predicted, The Fabulous Show with Fay and Fluffy has taken off fast. While the series is designed for 2-5 year olds, older children are also gravitating to the show. "It's consistently in the top 10 spot across Canada. It's still doing very well and it has a large audience." Truly, it's a joy to see.
Canadians can watch Fay and Fluffy on Family Jr. Canada.