Despite being born to Korean parents, I've never felt a strong connection to the actual experience of being Korean. Since immigrating to Canada in the 80s, my dad wanted nothing more than to be "Canadian" and many of my friends and influences growing up happened to be white. Aside from one visit to Korea when I was 7 years old, I knew little of my family or heritage, and my deepest experience of being Korean was taste-testing my mom's kimchi growing up.
With the sudden passing of my mother in 2014, I became even more detached from my roots, losing my one true connection to the cultural fabric of my heritage. Reading Michelle Zauner's essay Crying in H Mart was like seeing my internal monologue come to life: "Am I even Korean anymore if there's no one left in my life to call and ask which brand of seaweed we used to buy?"
My husband and I first connected at a local pub on a rainy Thursday evening over a shared love for all things Italian. I grew up as part of one of the few minority families in a small town an hour north of Toronto, while he was one of many Iranians surrounded by friends and relatives in North York. Somehow, race never entered the conversation when we were dating — we were singularly focused on our quest for la dolce vita. Many meals, late-night conversations and bottles of wine later, we ended up engaged, married, and expecting our firstborn together.
I had spent the 9 months leading up to my daughter's birth wondering what she would look like and who she might be, and when I first gazed upon my daughter's swollen, screaming face, I was surprised by the visceral experience of looking at this baby who literally grew inside my body, yet was so uniquely herself. What parts of her would she get from me? And beyond her genetic makeup, what cultural and societal influences would shape her life?
Passing on the Korean-ness in my genes forced me to re-evaluate my feelings on culture, heritage and family. Will my daughter's Korean-ness go beyond appreciating kimchi and enjoying a spicy stew-for-breakfast moment? How qualified am I to teach her what it means to be Korean, when my lame attempts to converse in my mother tongue draw smirks from native speakers? Will she resent me one day for not doing more to keep her connected?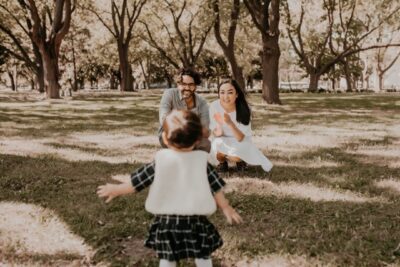 I am continually struck by the fact that my daughter's experience of life as a biracial person will be something that I have no insight into. Watching her grow out of the squishy newborn phase and seeing her features develop and evolve, I'm amazed by how much she can look just like me in one moment and then exactly like my husband the next.
Hearing my husband's family converse in Farsi whenever we get together, I wonder if she will feel left out, as I sometimes feel when I'm unable to comprehend their rolling r's and shared banter. What box will she tick on demographic surveys inquiring about her ethnicity? Will she ever be confronted with the annoying question all Asians seem to be asked at some point or another: "What are you?"
Even though I still have more questions than answers, we're creating new traditions, combining the experiences of being Korean, Iranian and Canadian into our unique family story. This year, we celebrated both Lunar New Year (saehae bok mani badeuseyo) and Persian New Year (nowruz mubarak).
These days, we joke about one of her favourite foods being rice (unsurprising for a toddler). It's a staple in both Korean and Persian cuisine, and I wonder if, as she gets older, she'll appreciate the spicy, stirred-together satisfaction of bibimbap as well as the crisp of glistening, golden-brown tahdig. Ironically, she has named her feet pizza and pasta, respectively, if that's any indication of what foods she loves the most.
We eat a lot of rice around here, in addition to pizza and pasta, staying connected to our families through food. The beautiful and hard part about having a mixed-race family is that there's always more to discover — about yourself, about your family, and all the experiences, cultural and otherwise, that make up who we are.
Julia is a first-time mom living in Toronto with her husband and 2-year-old daughter. You can find her on Instagram at @julia_lee.
This essay was selected as part of Shedoesthecity's New Voices Fund, established to help continue offering opportunities to talented emerging writers with less than 20 bylines. More info here.