We LOVE Workman Arts for being an organization that celebrates the connection between visual art and those of us who are living with mental health issues and/or substance-use challenges. Their annual Being Scene exhibition is on now until March 23 and brings together 60+ artists to give a voice to our diverse life experiences. Best of all? Programming is free!
In anticipation, we're getting up-close and personal with some of the featured artists from Being Scene. For this instalment, we caught up with zine-maker Mel Bender, whose installation, "Beside Myself" is featured at the fest.
SDTC: In short, what does art do for you?
MB: I think ultimately art allows me to speak to myself non-verbally, to tell myself the truth in code, in a visual language that others can understand. In the end I am trying to make sense of myself for myself, but the motivation to share my art and writing is to understand myself through others and to connect with people on the common ground of human experience. Symbiotic storytelling.
What is it about the Being Scene show that excites you most?
This year's show is really strong, and as diverse in materials and subject matter as always. The exhibition has really grown from its humble beginnings. I've lost count of the number of Being Scene exhibitions I've had work in. I've been a member of Workman Arts for about twelve years and when I started, the show consisted of drawings and paintings on display in glass wall-mounted cases inside the Centre for Addiction and Mental Health. To be receiving therapy as an outpatient at CAMH while also having a painting on display in the lobby of the hospital was quite surreal! It was incredible to have that tangible reminder of something special and valuable that I possessed, in spite of my illness: the ability to make art.
To this day, having the chance to have my work on public display is incredibly encouraging and healing. It's amazing that Workman Arts has a venue as beautiful and spacious as the Toronto Media Arts Centre this year! It's the perfect space for the show. This might be what I am most excited about for this year's exhibition.
When do you feel your most creatively inspired?
Probably when I am trying to navigate my way through a new challenge or set of circumstances. The creativity required to survive a life situation like dating or a new job bleeds over onto paper.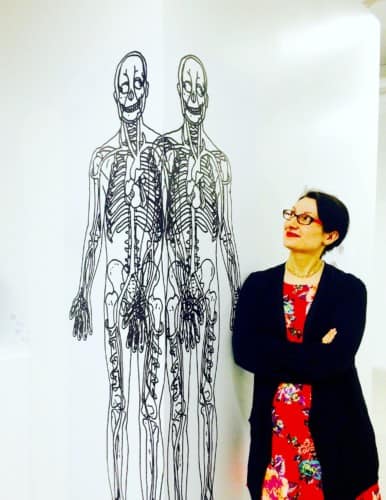 Your work taps into the subconscious through nonlinear & automatic processes, such as blind-contour drawing & stream-of-consciousness writing. What have been your biggest discoveries about the mind since you began doing this?
One thing I have discovered through my art and writing is that you have to use abstract means to express abstract things. And feelings are abstract. So are memories and desires and identities. So I try not to make too much sense and avoid saying things too directly. I get out of my own way by letting the subconscious take the lead. I've also learned to deal with my perfectionism by only drawing in ink and not sketching beforehand: can't be planned, fixed or erased. Then it's the fun of working with your mistakes. Which leads to spontaneity. And spontaneity is like a major artery or highway to the depths of the unconscious. I've gone from fearing mistakes to seeking happy accidents. The truth is often found and understood indirectly.
When is your favourite time to make art? Paint a picture for us.
I like to trace archival photos and medical textbook illustrations with a coffee at the Toronto Reference Library on a Saturday afternoon, or work on a new zine at one of my fave coffee shops in the city, like Moonbean in Kensington. Lately my favourite thing is writing letters to friends (yes, snail mail), complete with stickers and bad drawings of mugs and shoes.
Art aside, what in life are you really enjoying right now?
I was really enjoying dating over the summer, and now I'm really enjoying not. I am enjoying getting back into yoga the past few months; it's a more relaxing hobby than dating. I may enjoy dating again this summer. I guess we'll find out. For me, dating is seasonal.
What mantra is currently helping you on your journey?
My two mantras are "Better done than perfect" (which goes back to the thing about drawing in ink so I can't erase it) and "Better late than never" (which is more about dating than anything else, but I'll just leave that there).
Who or what really helped you become an artist?
First, my dad. He's a gifted artist and photographer in his own right. Second, Workman Arts. The classes, the studio space, the encouragement, the creative community and the exhibition opportunities made me the artist I am today. And third, OCAD. Having a degree in Drawing & Painting with a minor in Art History really helped me fully own the title of what I call "capital-A Artist."
Lastly, can you describe the work you will be showing at Being Scene?
I have an installation piece called "Beside Myself", which is a large vinyl wall sticker of two overlapping human skeletons. I often use the expression "not being comfortable in my own skin," and I think this haunting image captures this nicely. It's an enlargement of the skeleton on the cover of my zine, The Anatomy of Depression, which will be for sale at the venue. I like the idea of using physical anatomy to chart out, explore, visualize and describe mental illness.
For one of my next zines, I'm looking at mechanical systems such as the cockpits of airplanes as metaphors for the mind breaking down, and the breakdown of communication between mind, body and soul. I'm all about visual metaphors.
What place/space/venue in Toronto do you really love / feel at ease in?
I love the AGO, used to go there all the time when I was going to OCAD because admission was free for students. Haven't been there in a while. The Toronto Reference Library is my church. And Kensington is quirky and eclectic and fun. But really the Annex is where I feel most at home in the city. It has everything you need and has a great vibe. I've spent a lot of time writing and drawing there, and had a lot of mediocre OkCupid dates there as well. But even a mediocre OkCupid date is fun when you're close to BMV, a million coffee shops and Koreatown. For now, my best dates are with my sketchbook!
Check out Mel on Instagram. The Workman Arts Being Scene exhibition is on now until March 23. This event is FREE!