In the early 2000s, Tyler Clark Burke was the queen of throwing parties in Toronto. Perhaps most legendary ones were her Santa Cruz nights that began at Stones Place in Parkdale, headed north to Lee's Palace, and then took over the bow, port, and stern of Captain John's Ship.
They were raucous gatherings that paved way to the hipster era of the late 2000s, a time when VICE was just a magazine you picked up at your local skate shop, and you could still catch Broken Social Scene, The Hidden Cameras, and Feist (who Tyler still works with, helping design and illustrate the hand-lettering of her latest album Pleasure) at small venues during NXNE.
It was the sweaty and uninhibited moment in our lives that occurred just before the era of the smartphone. We didn't text or sext; if we thought someone was cute, we had to rely on body language or words. Since the process of bold human interaction was loaded with insecurities, Tyler devised a delicious way for us to be sweet (read: naughty) without having to open our mouths: a mailbox at the club.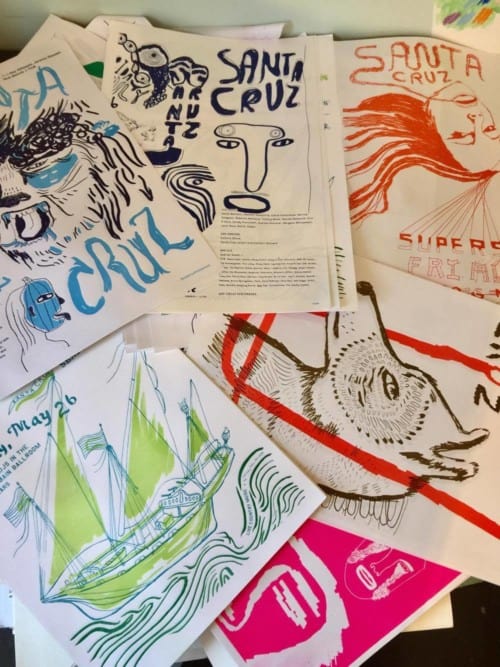 When I first heard that Santa Cruz introduced a system in which guests could write and send secret letters (partygoers wore pins that corresponded with a mailbox), the idea elicited such a thrill that I felt tingles I hadn't had since Valentine's Day in grade school. I still have some crinkled notes from those nights; who they are from, I'll never know.
While I never met Tyler back then, we undoubtedly crossed paths at 2am regularly. To me, and to many others, she was a local legend.
Fast forward fifteen years and we've become close confidantes. It's a friendship that has grown out of bonding over sleepless nights, nipple biting (not the sexy kind), sandbox dramas, and the myriad other joys and challenges motherhood brings.
What I love about Tyler is that her creativity and energy that shone so bright in Toronto back when I was a young and impressionable twenty-something continues to shine, but it is just channelled differently. I think it's safe to say that the intensity of motherhood has bowled both of us over, and with it came a hard stop to the life we once knew; however, with it has also come an invigorated sense of play and use of the imagination in a way that feels wholly awesome, and Tyler's new creative outlet as a children's author and illustrator is proof of that.
Bill Bowerbird and the Unbearable Beak-Ache is about a befuddled bird trying to manage beak pain. Through the beautifully hand-painted illustrations, we meet a variety of forest creatures who try to help poor Bill with his predicament.
Reading the clever rhymes and watching Bill's rough night unfold fills me with warmth and makes me smile. It's an adorable read, but Tyler's cool cred still seems to be marked on every page: the pigeon with the noisemaker, beavers waving streamers, Yak whooping it up with a frog on his head: Tyler Clark Burke, the queen of Toronto parties, is still at it – the guest list has just changed. The bearded guy who plays in the it-indie band is still invited, but now he's a spectacle-wearing walrus with a giant carrot. I'm into it.
I never attended Tyler's Santa Cruz scavenger hunt back in the day, but like so many things she touches, it became the stuff of Toronto folklore. On Saturday (May 27), to officially launch Bill Bowerbird and the Unbearable Beak-Ache, Tyler is hosting a scavenger hunt that kicks off at Indigo Yonge and Eglinton at noon.
In a recent post on Facebook, she posed a question: "First time hosting a scavenger hunt in over a decade; what will be the same? What will be different?" I chuckled when I read it, because again, the crowd may be pint-sized, but the purpose is the same: bewilderment, fun, magic, play.
Curious to understand her process as an artist, I sent Tyler some questions. Meet the prolific woman behind Mr. Bill Bowerbird…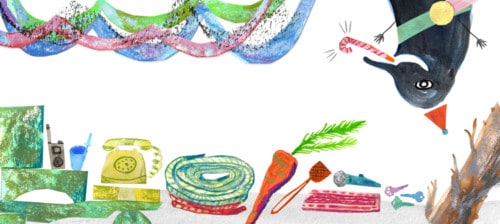 JM: You used to throw massive parties in Toronto (some of my favourite ones to date!). How does the creative process of writing and illustrating a kids book use similar creative muscles, and what new creative muscles did you have to learn to flex?
TCB: Interesting! Well, the driving force behind the Santa Cruz parties was probably to be as ridiculous as possible, which is something I think I needed after years of booking fun, but mostly politely reserved rock shows for my record label (Three Gut Records).
I think with Santa Cruz I was challenging myself creatively (each party was a different theme), while also trying to find or feel a sense of community. I still am the person who'd rather host a party than go to one, and I think working on a children's book is similar. I get to hide behind the curtain while the book is out there doing its best jazz hands. I also think that all the work I put into promoting my label, or my events (which involved writing ridiculous messages and illustrating posters), has come together in sort of a perfectly funny way.
What is it about kids lit that you love?
I love how much you can say in so few words—which is something I have not yet mastered. Making books for kids feels so special and important, and I don't think I've ever felt so driven for improvement. I also cherish the idea of being a part of bedtimes with families, and I love when people tell me Bill Bowerbird makes their kid laugh.
Actually, some neighbours recently told me they are sick of reading Bill to their kids—this was strangely a perfect compliment. And as for kids lit in a broader sense, I've loved meeting so many dedicated people in the children's book community in Toronto, like the unstoppable Small Print Toronto.
How has having kids changed you as an artist?
When I had my first child, my daughter Rooksby, I hadn't been making art for more than a year. It was a weird gap in my life – I thought I was transitioning into this new person-as-parent, and I just didn't know how to find the time (or will) to make art.
Instead, I found myself exhausted and scouring the internet for "cool" art to hang on her wall. So, I bought stupid shit on Etsy. I singed up for Pinterest. And one day I thought, I can do this. My mom painted a colourful picture that hung in my house when I was a kid – her only painting really – and I've always loved it.
I realized I wanted my kids to grow up with something on the wall that I made for them, so one night I went upstairs with the goal of making one picture. I ended up making six! Six crazy techinicolour animals. I felt so happy and found again. It was a tremendous relief—and a reminder that making art can just be for my own enjoyment (or my kids' enjoyment). And this is how this new chapter started. I started making art for the house, posting it on Facebook, and an old friend (John Crossingham) wrote me about doing book illustration.
Tell us why and how Bill Bowerbird became your character?
My husband Jeremy was the first one to tell me about bowerbirds. He was fascinated by how the male birds (with comparatively boring plumage) would collect colourful objects and arrange them to attract their mates. And oddly I really related to these traits!
I think I was—as a woman—a bit of a kooky male bowerbird. I loved collecting and arranging things, and I also loved shiny thread (ha!). But the Bill I created in the story is probably even a bit more accidentally autobiographical (Bill loves to throw parties!), which was pointed out to me after the fact by my editor John.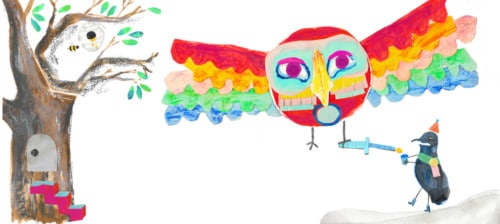 What did you enjoy most about this process?
Right now it's awareness that I have a lot to learn, but this learning is fun. I don't think I really knew I could get better at things? This doesn't mean I was great at things before; I think I just thought, "I'm 43. This is my level of ability." But I've spent the last year illustrating all sorts of projects and working on bringing different characters to life, and I'm getting better at using my paint, and if I don't like something, I start again. I rarely did this before.
I've always been such an immediate person, and this was reflected in my art. But children's books are very different: I needed to learn how to draw a character over and over again—a challenging monotony at times—and I needed to do my best to deliver on the pencil sketches I'd submitted. It's a much more collaborative process, and all of this is equally true of the editorial process. It takes years to release a children's book and now I know why.
Can you recall your favourite books from early childhood?
I sadly have almost no memory of the books from my early childhood, though I still have a tattered Eloise, which was given to me by my mother. As I grew older, I loved myths, fairy tales, and anything Shel Silverstein.
What can families expect from the Bill Bowerbird Scavenger Hunt and the Unbearable Beak-Ache Scavenger Hunt on May 27th?
A really fun time! I think it will be particularly exciting to see the list of items revealed at noon. Years ago, I held a scavenger hunt as part of one of my Santa Cruz parties. Two of the entrants strapped dry ice canisters to their bikes because they imagined some sort of race to the finish (they were planning to fog out the competition)! I don't think there will be this level of competition or hi-jinx, but who knows?
I mostly imagine a very simple activity for your kids, with great prizes, and a chance to explore the city! The scavenger hunt will also touch on some of the themes in the book (like being kind to others and exploring nature). And here is a Bill Bowerbird YouTube video!
CONTEST!
Wickety-tickety-BOO-hoo-hoo! We have a copy of Bill Bowerbird that we may just give to YOU!
Enter on IG:
LIKE and COMMENT on our photo of Bill Bowerbird.
Enter on FB:
LIKE and COMMENT on FB. (We especially want to know if you attended Tyler's parties back in the day!)
Grab your littles and go on the hunt! Details here.
Bill Bowerbird and the Unbearable Beak-Ache is published by OwlKids and is now available in bookstores across Canada.