I used to attend illegal after hour parties in abandoned shipping containers. Now, an invite to an IKEA "kitchen party" is how I rock my socks off.
A couple weeks back, Ikea hosted a pop-up in a parking lot at Davenport and Christie. Inside, were four dream kitchens of popular TV personalities, showing off IKEA's latest offerings. I don't like to use the word "swoon" but I did find myself swooning over the cleverly tucked-away waste receptacles and high-gloss finishes. The new SEKTION line also boasts "drawers within drawers" functionality, providing organizational heaven for spices, knives, or whatever hidden secrets lie within your kitchen.
Touring the kitchens was as enjoyable as I predicted it would be. My only complaint about the IKEA "Kitchen Party" is that there were no meatballs. COME ON! HOW IS THIS POSSIBLE? Oh well, if the kitchens below inspire you, like they did me, we'll all be eating those yummy Swedish balls soon enough.
Ready to play? WHICH IKEA SEKTION KITCHEN IS MOST YOU?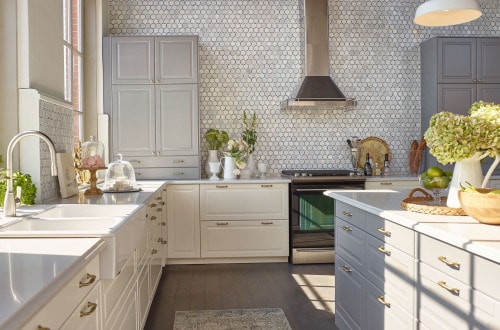 Love it or List It's Jillian Harris likes an elegant kitchen that can be easily dressed for each season. A secret "party wall" is also a must.
The Look: Elegant, bright whites with grey cabinetry: a versatile and clean finish that can be quickly spruced up with florals or DIY home decor to suit any occasion.
Jillian loved walking us around her kitchen, "There are so many functions that would make my life easier. Top drawers light up, the drawers within drawers; I think to pioneer those ideas is just so cool. The fact that most of this kitchen is based around drawers and not cupboards is important to me because, cupboards are annoying! And so difficult to find things in."
Jillian enthusiastically pulled open her dishwasher and showed off her very organized spice drawer, but it was her "party wall" that got us really excited.  "All those drawers are filled with party straws, balloons, streamers and stuff." Jillian doesn't mess around, she's ready to throw a raging kitchen party at a moment's notice. A really pretty one.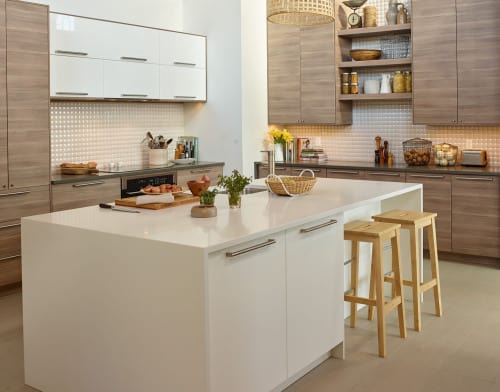 Chef Lynn Crawford's Ikea kitchen is every cook's dream. 
The Look: Welcoming, warm, wood cabinetry and a giant island.
Lynn enjoyed showing us her drawer within drawer of knives, organized spice drawer and talked about how she loves having an island. "It's my office, it's where I prep, it's where everyone gathers for Sunday dinners." Although the kitchen is where she spends most of her time, decor is about function; everything serves a purpose. "Pickles, peppers, honey, olive oil: I don't put things up to prop and style, I put things up that I use. I have a cookbook collection, a collection of wooden cutting boards, pepper mills."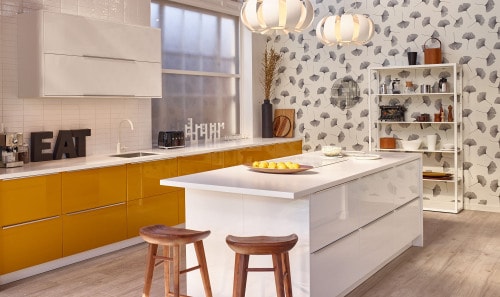 Jessi Cruickshank mixes vintage "knick-knackery" with clean lines and a high gloss finish. Ideal for the creative entertainer. 
The Look: Playful, bold, bright and with features that allow for easy entertaining. "The best kitchen parties are when guests can serve themselves!" says Jessi, as she lifts up the garage-door cabinets (above the EAT sign) to reveal a fully stocked bar and coffee shelf.
"My personal style is always eclectic and quirky; I wanted my kitchen to be the same. And FUN. I don't think I do anything that doesn't have a bit of a sense of humour, and sense of fun. To me this is fashionable-forward, chic, trendy but also throwback to the 70s."
We love how Jessi brings her own personal style to the IKEA kitchen by mixing vintage treasures and Marimekko wallpaper, "My favourite thing to do every Sunday is dive into every flea market and find weird old treasures. I've got a lot of kitsch in my kitchen, probably too much for the person I live with- my husband. So weird to say, I still call him my roommate. " (Recently married, check out Jessi's wedding pics here.)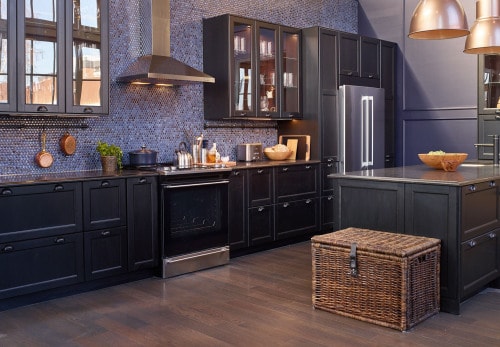 Scott McGillivray of HGTV's Income Properties is all about organization for the entire family. 
The Look: Darker cabinetry with rich blue tones & tons of storage  for a beautiful & organized family kitchen. (We loved the "secret' kid drawers that neatly housed all of their colourful utensils and art supplies.)
"My kitchen needs to be uncluttered and suitable for both my family and entertaining – everything in its right place," says Scott.  He raved on about the units that neatly housed the organic, recycling and garbage bins, and also enjoyed slowly pulling open each drawer to show off the interior lighting and, naturally, those sexy drawer-within-drawers. For a household with children, the drawer-within-drawer feature can be especially great for tucking away sharp objects.
The Ikea Kitchen Event is on now until April 6. For every $1000 you spend, you'll receive a $100 Ikea gift card. Check out the new SEKTION kitchen features here.