A few months into grade nine, Heyishi Zhang decided to come out as a lesbian.
"I knew that there were other kids in my year who were gay but too scared to come out, so I was like, 'Oh well, I'll take the hit'," Zhang explained. As a result of coming out, she experienced a great deal of homophobia and racism at the hands of her classmates.
It wasn't until many years later, as a young adult, that she began to process what happened in her teenage years. From realizing she identified as biseuxal to creating an alliance for women filmmakers with co-producer Hayley Wong did Zhang begin to unpack the discrimination she had experienced in high school. It was an experience that had taken a lot from her.
"I realized I wanted to be like a cool white girl," she said, about her time in high school, "Turns out they're really average."
Similar to what Iranian-American director and actress Desiree Akhavan did with her series The Bisexual or even Alice Wu's The Half of It, Zhang decided to use her experiences as a Chinese-Canadian teen discovering herself and her sexuality to inspire the story for her first short film, the original iteration of Gay Mean Girls.
The short film went viral and queer women of colour rallied around the show and its Tumblr. But, after graduating from Ryerson University's Film Studies program, the trio behind the short film, Zhang, Wong, and Maddy Falle, had all drifted apart; they'd gone on to focus on separate projects and hadn't touched the original story since.
"The process of discovering your identity while dealing with the forces that oppress it, and how that manifests within your relationships are very rife and quite complex," Zhang said, which is why Gay Mean Girls lent itself so well to its second iteration: a web series format. Not only did the project already have an audience, but the three-year-break since its initial inception lent itself to the time needed to expand upon topics the short film had only brushed upon.
Like most folks who were introduced to Gay Mean Girls: The Webseries in 2019, I came to the show expecting it to be a cheesy romance, already preparing myself for unnatural dialogue and unrealistic romance; staples of most sapphic web series. I was surprised when the show revealed itself to be a powerful story about what romantic, platonic, and self love looks like for queer girls of colour.
"In a lot of queer media there's this trope of being in love with your best friend, where you either end up together or you kill each other," Zhang said, and she had never seen how racism and whiteness plays a role in these types of relationships. At the heart of the show is the relationship between Lucy and her white lesbian best friend, Miranda. In its eight-episode format, the web series gives the audience greater insight into how race influences Lucy's sense-of-self and the discovery of her sexuality.
When storyboarding the series, Zhang specifically opened up the story to other queer women of colour. Fostering that sort of space helped Gay Mean Girls to be intentional and specific with its storytelling and characterization, and made Zhang more comfortable to share her experience alongside the rest of the writers.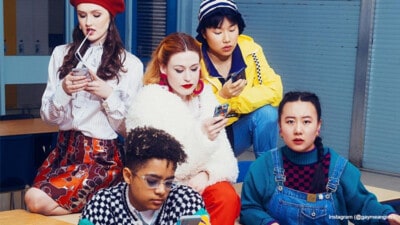 This is the very thing that prompted MH, a Black queer writer—and one of the voices behind the series—to join the Gay Mean Girls writers' room. MH has always been drawn to stories that centre around finding oneself and one's community; to write a story that focuses specifically on a queer first-generation Immigrant girl was a dream.
With the help of Ayo Tsalithaba, the series' consultant on all things nonbinary, the writers were able to get more insight on crafting a nonbinary character of colour to write Jamie's story accurately.
"Empathy can only go so far," Zhang said, quoting Barry Jenkins. Like Jenkins, she understood that to do right by Jamie, the Gay Mean Girls writing room needed to have a nonbinary person added to the team. "It's my personal belief that the best stories are told from people who have been through those experiences."
But Jamie's characterization doesn't just stop at their gender— once Jordan Li was cast for the role, joined by Family Channel alumni and IRL friend Sarah Webber as Anita, the script was reworked to fit their dynamic. Jamie went from a snapback-wearing, loner, skater kid to the unapologetically cool, loyal, and never-seen-in-anything-but-black, Jamie fans have grown to adore and love.
Gay Mean Girls just gets it. When I watched it, I had the same feeling as I did when I first saw Skam or even To All The Boys I Loved Before. Some scenes almost too real to be scripted, from the ContraPoints-like lit room during Miranda's Youtube exposé to the titling of the season's finale ("Your Best Canadian Girl") that references the unofficial go-to for sapphics of the indie rock persuasion, formally known as Mitski. This show is one of only a handful of teen shows that seems to have a proper grasp on the particular ways Gen-Z connect with one another.
Gay Mean Girls has a handful of vital messages, but the one I connected to the most is that "It's okay to not come out." As MH said so simply, "It's okay to just be yourself with the people you trust in your life. And you're not less of a person for not telling everybody, you're not less of a queer person because you haven't 'officially' come out."
As we approach the one-year anniversary of Gay Mean Girls, it's crucial to celebrate the important stories told by and for queer women of colour, as well as acknowledge all the hard work that goes into getting these essential stories to our screens.
Just like the series' protagonist, Lucy, friendship is at the core of both the web series' story, and the team behind it as well. Their commitment to this story and to themselves lends itself well to this charming, vulnerable, and even cathartic series that brings to light how vital, specific, and honest stories about growing up as a queer women of colour can be.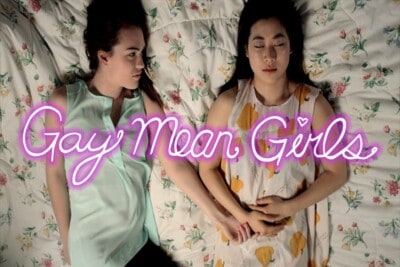 Adele Lukusa is a Congolese writer and j-school student based in Toronto. When she isn't writing, you can find her choreographing IG-story exclusive dances, criticizing literature/TV/film/podcasts/etc for fun or promoting her latest obsession on Twitter.