Like exciting texts before a hot date, we've been getting to know vendors in advance—daring to ask them some pretty personal stuff.
We're curious.
We've already chatted with
With vs. Bitch
and
Cosmic Clit
, now it's time to get to know the incredibly talented Olivia Elodia, or the deviant designer behind
Young Pup Lingerie
.
Holy hotness; what's the origin story of Young Pup Lingerie? How, and when, did this all begin?
I'd say its origin story started when I was little. My aunt is a famous airbrush artist whose pin-ups were often in Playboy, and so we always had a ton of her work around the house whether it was framed prints or just loose Playboy magazines lying around. I think growing up like that really normalized women's bodies in lingerie while also romanticizing it. As I got older, I fell into the punk scene which introduced me to feminism, DIY culture, and strong women who took ownership over their bodies and their sexuality. I eventually ended up going to school for fashion while working at The Condom Shack (R.I.P). Both of these spaces were equally influential on what Young Pup Lingerie is today, and most of the babes you see modelling my wares are friends I made during this time.
So long story short, Young Pup Lingerie is two years old but she's been slowly coming to life for a long time.
I can see for myself in the photos, but in your words, what makes Young Pup different than other lingerie companies?
I feel that Young Pup is different from other lingerie companies because I have always intended for it to be for the wearer, to lean away from mainstream lingerie that designs for the male gaze. A big part of that includes intentionally designing lingerie with all body type in mind. I want whoever sees picture of my lingerie to feel like that could be them, because it's for them. Sex and body positivity are a very integral part of my personal politics. I would hope that these principles bleed into the general message and aesthetic of Young Pup.
What's your most popular item?
Harnesses, definitely, which I think says something about the acceptance of low key kinky-ness in today's relationships.
Who is your inspiration? Your muse? Is there a particular burlesque dancer that comes to mind?
Josephine Baker, Bettie Page, strippers, sex workers, butch femmes, Betty Boop, Poison Ivy, Jessica Rabbit (all the cartoons that made you feel reallll weird when you were a kid), and all around tough and slutty babes.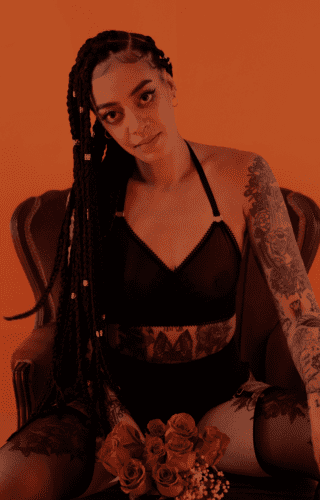 What do you love most about you do?
It might sound cliché but the responses I get from customers, either online or in person. Providing them with lingerie that makes them feel beautiful and strong is just a whole other level of happiness and success for me.
What are you looking forward to most at this year's Erotic Arts and Crafts Sale?
Getting to meet other vendors. I usually end up spending whatever money I make on other peoples art.
When you think of the word erotic—what comes to mind?
Honestly, what comes to mind is early 2000's late night cable tv soft-core porn intro music (clearly formative).
I picture you churning out lingerie in a dimly lit dungeon, but that's likely not the reality. Can you paint a picture of your workspace? Is there a Young Pup studio?
Truthfully you aren't very far off. And I mean that in the best way possible. I have a studio in a hilariously top secret artists' space called area51. It's an old auto-body shop turned workspace. I share it with painters, sculptures, and graffiti artists. We don't have any hot water and it's freezing in the winter but it's easily my favourite place in the city. My room is typically busy with scraps of velvet and thread thrown around. There's often either heavy metal or a murder podcast playing in the background.
What's a film, book, podcast, show, or piece of art that you recently consumed and fell hard for?
Fleabag. It's written and directed by a woman and shows a type of relationship to sex, grief, and life that isn't often represented. It's honest and tortured while being still being fun and playful.
When do you feel most you?
After getting a new tattoo. It helps reinforce a feeling of ownership over my body. Another piece of me that I have reclaimed as my own.
Top or bottom?
Power bottom // infamous bratty sub.
Check out the full Young Pup Lingerie collection here. Meet Olivia, and a ton of other extremely cool Toronto creatives, at the Erotic Arts & Crafts Sale this Saturday at Gladstone Hotel. 10-4pm, FREE entry.