Morgan Lunn has an impressive acumen. She graduated from Richard Ivey School of Business with an HBA and then worked the corporate realm; digital brand at lululemon, eCommerce at Hudson's Bay Company and brand management at Starbucks Canada. So how did she end up running an online cookie-delivery service boasting the best chocolate chip cookies in Toronto?
"When I started GIRL GANG GOODIES, my idea was to create a Shopify so I could learn to build a webpage, likely only tell my mom, and only she would order. It wouldn't go anywhere and that would be that," says Lunn. "Now it's a full-time business."
We chatted about her learning curve as an entrepreneur, the top secret recipe she is famous for, and what her mantra is these days.
SDTC: What is your first memory of eating DELICIOUS chocolate chip cookies?
ML: That's a hard one. As a little kid, [I remember] my mom making my favourite cookies—always so warm and soft! My earliest living memory of cookies is using a creative jump to launch myself and climb onto the counter to reach the cookie jar when my parents weren't in the room. Clearly, I have always been a cookie monster. Cookies (in my opinion) are the best dessert. They are also so dangerous, because you can keep having one after another.
How had cookie-making factored into your life prior to starting Girl Gang?
This recipe was sort of my family's "claim to fame" and my personal go-to my whole life: from potlucks, to piano recitals, housewarming gifts, desserts, and presents, this was the go-to recipe that my mom and I always made and then later were requested to bring to every gathering. Every time we made them, people said, "What is in these?!"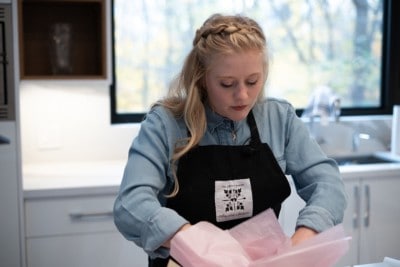 Walk us through a typical day in your life, from getting up til going to bed.
I hate to be stereotypical, but every day is different! No matter what, though, I am up early. Whether it's at 2 a.m. to bake for an event, or 6 a.m. for deliveries, or I am getting a quick workout in to start my day, I wake up and it looks like midnight outside.
Typically my mornings involve baking, boxing and delivering to Girl Gangs all over Toronto. In the afternoon, I'm either at an event, or I'm prepping for the next day, working on the business, getting a good meal in and running to bed (usually) at 11-11:30 p.m. The only thing consistent about my day is it's a whirlwind, and I love it.
Talk to us about growing pains: Were there any hiccups you experienced along the way when it came to launching/running your own biz? What have you learned from the experience?
Every day. This is the greatest learning experience of my life. I say this is my personal MBA, because the volume I am learning is both valuable and immeasurable. Everything from learning about food safety to the legal process of starting a business to how to do basic code were huge learning curves for me, given that my formal education wasn't in any of the above. There is a huge adjustment to lifestyle that needs to be made, both personally and financially, when starting a business. It's hard to summarize everything I've learned, but here are a few big ones:
1. Only you can determine what success is, so define what success is for you personally early on, and any time you doubt yourself or are confused, come back to that. There is a lot of advice and you shoulds out there, and some of it will be useful. Having that north star will guide you through that confusion.
2. Create your own personal board of directors. This was advice given to me early on. Find people who can objectively advise, support and endorse you on this path. They don't have to be in your industry or even your stage of life, just trusted sources to bounce off ideas and work through challenges. This is especially important as a solo-entrepreneur, as it is very easy to get wrapped up in your own thoughts.
3. Remember to take care of yourself. Entrepreneurship is a hustle, and it is hard. It will take everything out of you, and if you are a one-woman show or a small team and you don't work [together], neither will the business. Take care of yourself so you can fuel that engine.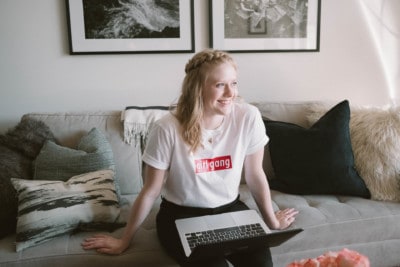 Any tips for those of us with an idea but who lack confidence or expertise in getting it off the ground?
Entrepreneurship isn't one thing. It doesn't have to be full-time; it can be an amazing side hustle. You don't have to have the best idea in the room, and if it doesn't take off, who cares? You've learned something! That's more than you had before. Also, why not you? Shoot your shot. Tell your friends. Pollute your Instagram feed with what you're up to and see where it goes. If anything, you'll have a building block for your next idea, next project.
My mantra is you have to believe in yourself more than anything else in this world, like your life depends on it. No one is going to believe in you and your idea more than you, so don't start with doubt! Believe in yourself! You CAN do this. You CAN start.
What do you love most about what you do?
Most of my orders are gifts and you can add a personal note. These orders are Girl Gangs treating each other for every occasion: birthdays to births to pick-me-ups. They are saying "I see you," "I hear you," "I love you." Most of the receivers don't know they are getting GOODIES and when I bring fresh GOODIES from someone important in their life, I know I am the best moment in that person's day. Because they feel seen. They feel heard. They feel loved. They feel supported. And selfishly, I love that I get to witness that reaction. This is one small vehicle for appreciation, and it feels really good.