DYK that Toronto is basically a massive orchard, with hundreds of thousands of fruit-bearing trees?
It's true.
Around 1.5 million pounds of fruit grow in the city every year, yet most of it goes unpicked and is wasted. And with sky-high food costs, many in the city experience food insecurity. That's why we were excited to hear of a new project: The Giving Trees.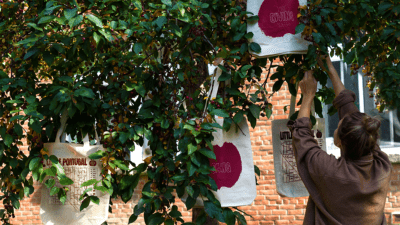 To launch, tote bags decorated with locations of public fruit trees will be hung on public trees, encouraging passersby to find them and discover Toronto's hidden secret. There are bags for three neighbourhoods, each decorated with a unique fruit prominent in the area: a pear for The Annex, a berry for Fairbank, and a cherry for Little Portugal. October is still apple-picking season, but the maps can be used in the spring and summer months to find cherries, berries, plums, peaches, pears and more.
Nab a tote if you see one, and go fruit picking this weekend!
Not Far From The Tree volunteers pick fruit from private properties in Toronto and share the bounty with homeowners, and local community food centres, shelters and social service agencies. If you are interested in joining their team of volunteer pickers, or have a private tree on your property that you would like to have picked, click here to register.