My husband and I have a thing for Turkey. We return to it repeatedly, but our most memorable trip so far has been the one when we met up with my sister, my cousin and their families. We spent three days together in Istanbul, walking the long, winding city streets, stopping to climb the Galata Tower and to gaze, mouths hanging open, at the Hagia Sofia. We rode the Tünel, a funicular, downhill to Karaköy and rested our tired feet at Hamdi Restaurant (a trip to Istanbul would not be complete without eating there), filling our tummies with Adana and Iskender kebab and finishing up with Künefe and tavuk göğsü.
We did the normal touristy things: a boat cruise along the Bosporus and haggling over carpets at the Grand Bazaar. We visited the Basilica Cistern with its atmosphere of eeriness, the arched domed roof resting on 336 marble columns. Underneath are large fish swimming in dark waters, their presence betrayed by the periodic glimmer of modern lights. We stared at the two Medusa heads; one resting her head sideways upon the wet floor; the other upside down. Littered about their heads were coins tossed in by hopeful tourists, seeking good luck from a woman with serpentine hair.
We flew to Izmir from where we drove to Ephesus, Pamukkale, and then Alanya. Even the names of these places evoke beauty. The garden of our boutique hotel in Ephesus was lush; the roses in bloom, the cannas over six feet tall, clusters of grapes nodding in the breeze, Gilbert (our hosts' cat) snoozing on a chair.
In the evenings, the cicadas would finally cease their nattering to allow the sun its moment as it set behind the distant hills. After the hustle of Istanbul, the lazy village air of this place was soothing. The ruins of Ephesus were startling, despite the withering heat. And then Pamukkale: the white cliffs hanging over milky pools and in the backdrop are green fields over which stand rolling hills.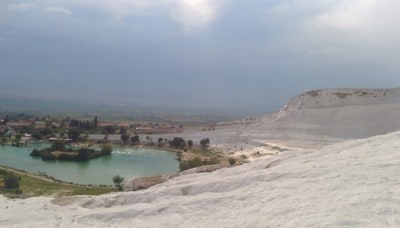 In Alanya, we visited the Sapadere Canyon, where the water was loud and angry, spluttering at nooks and gushing down rocks. The cicadas were just as furious, chirping, screaming. Was it the heat that set their tempers aflame? Or the sheer impossibility of the rock faces on either side of the gorge? We dared each other into the freezing water, emerging sodden, teeth chattering, only to observe some locals nonchalantly swimming back and forth.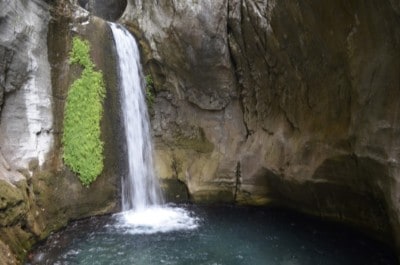 We rented a large boat to spend a day sailing along Alanya's coastline, all of us jumping in and out the Mediterranean and sprawling on the deck to dry off. The adults in our group were middle-aged parents of teens, yet on that boat, I am sure none of us felt a day older than eighteen.
The teens would probably tell you that the high point of the vacation was the paragliding. Their parents would tell you that the best moments were the ones spent sipping wine by the pool at night. But I will tell you that something magical happens when in the right company so that every moment contains its own special magic.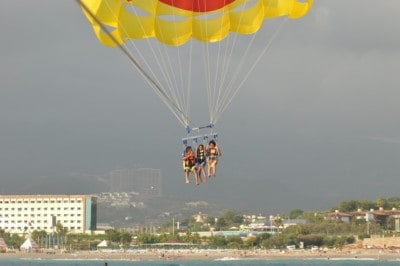 The next day, our family drove through the Taurus Mountains from Alanya to Konya and then on to Cappadocia. The road snakes through the pine-covered mountains, the tops of which are rocky and naked. I was a little bit carsick but not enough to miss the fruit stalls on the side of the road. My husband got out to translate for me, but the shopkeeper spoke fluent English. I felt ashamed for not speaking Turkish. I bought half a dozen baby bananas. Alanya was full of banana plantations, so I knew the fruit was fresh. I splurged on green figs, buying a full dozen.
I was sad. I wished I could share these figs with my cousin and my sister, but they were on their way back to their homes. We had had an amazing two weeks together, but my heart was greedy for more. I missed them all. If we were still together, I would have opened my heart and bought two dozen figs for the fourteen of us. Fine, I won't lie: I would still buy just a dozen.
At the back of the stall, I spied bottles of myriad colours: olive oil, jams, honey, honeycomb, marmalades. I picked up a bottle.
"What's this?"
"Fig jam. My mother made it."
I bought it for my mother. I told the shopkeeper it was my mother's birthday. I liked this gift–this jam made by this polite man's mother would soon fly across the Atlantic to find its place on my mother's breakfast table.
Our son loved Cappadocia with its distinctive rock formations. He raced to explore the churches and homes carved out of rock and the rest of us panted along behind him. In Ortahisar, I wanted our thirteen year old to stand under a wooden engraving hanging from the ceiling of a souvenir shop so that I could take a picture, but of course he refused. While I was still trying to badger him into posing, the elderly shopkeeper stepped up and wrapped one long arm around my child's shoulders while I clicked. Afterwards, he shared his poems. He gifted both our children postcards. He wished the children love, health and joy. I was overwhelmed and wanted my husband to ask the poet/shopkeeper if I may hug him. I knew he spoke English–that is how he had been communicating with the kids and me–but I felt shy asking him myself. I wanted my husband to ask in Turkish so that if he wanted to refuse, it would be easier for him to do so in a language he knew I did not understand. My husband refused to comply, as usual. He told me to ask him myself. But I didn't have to; the poet stepped forward and held me close. He wasn't embarrassed by my tears. He looked into my eyes as he wished me goodbye. "Güle güle," he said. "It means 'go with a smile.'"
Tehmina Khan was born in Karachi, Pakistan, and holds degrees from Kinnaird College, Lahore, and Faculté des Sciences Humaines et Sociales de Tunis. She has her home in Toronto, where she lives with her husband, two children, and dog, Luna, and is currently working on a novel. Follow her on Instagram, Facebook and Twitter.