I'm comfortable being alone. In an introverted, socially un-adept kind of way I don't mind — and sometimes prefer — spending time by myself. Though, there are some activities, like going to a huge event packed with people, where my flurried heart freezes up without someone to accompany my nerves. Especially back in 2019 when I was in university and a complete ball of introversion and social anxiety. Somehow I can go to the most desolate places alone but still need someone by my side when there are thousands of people around.
The Vancouver Pride Parade was first brought to my attention when I was of a young enough age that my Grandma simultaneously praised its celebration and cautioned me not to go because of the "naked people." I was interested in going but the fear instilled in me from those words, along with a subconscious apprehension towards exploring my identity kept me from going over the years. It was something that other people did, an event that only queer people went to with their queer friends.
An explosion is an apt way to describe the force with which I felt I had to go to Vancouver Pride that summer of 2019. I had come into some semblance of self that year, moving from identifying as pansexual to bisexual to myself, but it didn't feel like enough. If I wasn't comfortable enough with my identity to share it with others I wanted to be a part of the community more, to claim my stake in a world I hadn't been allowed to explore prior. I wanted to go to Pride.
But isn't going to Pride supposed to be some big, magical event with all of your LGBTQIA2S+ friends celebrating everyone's out identities? It's what social media purports to be true, and what news outlets suggest is the norm, I thought at the time. Coupled with my anxiety, I felt pressured to get someone to come with me. However, connecting with friends wasn't (and still isn't) the easiest for me and so it was a bit of a mental and social struggle to try to find someone to come. A flurry of anxiously asking the few people I felt comfortable messaging, albeit at the relative last minute, ensued.
Busy 🙁 sorry
Just went through a break-up, don't really want to go out.
I'm working 🙁
It seemed hopeless. I felt like I was going to miss my chance for the slice of freedom I was finally allowing myself. A pit of indecision formed in my chest and I weighed the safety of not going to the risk of being out (in more ways than one). But losing the chance for happiness seemed bigger than my fear. I decided to go without anyone.
Donning my Hayley Kiyoko "Girls Like Girls" concert tee that I hadn't worn outside my room before, I ventured downtown. I knew the parade started along Robson street and after getting off of the Skytrain at Burrard (a stop I don't frequent) all of my nerves threw my sense of direction off, destroying any planning that I could have done. I was scrambling to reorient myself on my cellphone's map app but shaky hands and frantic thoughts prevented it. I looked up from my phone, trying to calm down, and noticed something unusual for Downtown Vancouver's business district on a Sunday: swathes of people in brightly coloured clothing and accessories with smiles on their faces, all heading in the same direction. I followed.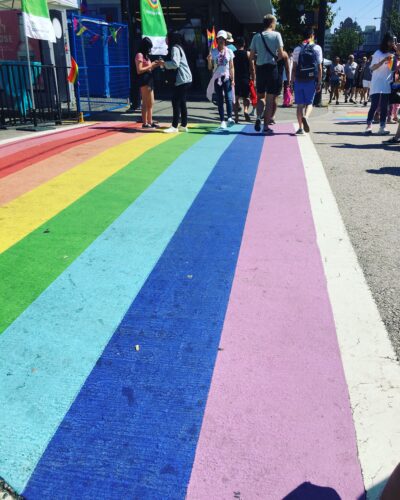 As the street began to fill up, so did my fear. Trying to find a spot that allowed my 5'2'' self to see something, one that was somewhat shaded from the blazing 25+ degree heat, and one where I could seamlessly blend in so it didn't look too obvious that I wasn't there with anyone was tricky. I walked down Robson with an indecisive anxiety reserved only for the toughest of social situations, luckily finding a relatively open spot under the cover of a tree outside of a drug store. Shuffling my feet, I steeled my resolve and waited for the parade to begin, nervous yet excited amidst the crowd's summer buzz.
The emotions came slowly. Clapping along as people holding banners for schools and city services passed by. Smiling back at local queer-centric businesses I wanted to check out. Apprehension towards politicians and corporations with their fancy cars and signage. Then a huge grin and cheering for local grassroots groups and nude people joyfully strutting their BDSM gear and effortless drag queens. And finally, holding back an overflow of happy tears at seeing queer people be unequivocably themselves in whatever way that manifested, their watery eyes the catalyst for mine.
I found myself becoming an onlooker within the crowd around me too. 30-ish-year-old parents with their baby in a stroller bailing after an hour's taste of the festivities. What seemed like tourists with their visors and cameras trying to push themselves to the front to nab all of the free things being tossed out like branded Pride flags. But also gaggles of young folk donning their queerest outfits and rainbows, simply enjoying the show with each other. I knew that could have been me if I had had the confidence earlier on to open up to myself and others. But it didn't matter, because I was there, I was a part of it as much as they were.
After the parade ended, it was almost like I was experiencing the aftermath of that initial explosion. The dust settling around me was glitter that gave my vision a glimmer, the blast made everything I heard clearer and more real, the blaze started to burn away the edges of my shell. And for whatever little time it lasted, it had an impact.
Now, I've realized that it ultimately gave me the confidence to do things like put she/they pronouns on my email signatures and bios, talk about queerness with other queer friends, and led me on the path to realizing I'm non-binary. In going to Vancouver Pride alone, I found out that I could quite literally (and figuratively) be there for myself without anyone's approval.
To even take the first step toward change, you have to want to be open with yourself first and then those around you. There won't be some magical force that suddenly makes you comfortable with yourself. Even my "explosion" was predicated by a lot of mental work and time over the years. Making those steps, however small, is key to not being stuck in the same pit of self-discomfort. For me, that was allowing myself to go to Pride without company. For you, that will probably be something else entirely. Whatever it is, and if your circumstances permit, it needs to be in your own time and at your own level of comfort.
It won't be an immediate happy ending, or even an ending at all. I'm still figuring myself out in this process that doesn't have an ending for anyone regardless of non-hegemonic identity. Weaving in-between the men's and women's sections to sew together an appearance isn't any easier. The complexity of labels still entices yet frustrates me. But I've jump-started the process of getting to a place where that doesn't feel like such a monumental pressure on my shoulders, but a casual commitment.
Even with the triumphant return of Vancouver's Pride Parade this year, I don't feel as strongly about wanting to go. Whether it's because of the increasing corporate takeover from companies that probably donate to anti-LGBTQIA2S+ politicians or just a stronger sense of being in my own, I think I'll opt for spending time with queer friends, the community, or myself. Still in an introverted, socially un-adept kind of way, but one that's mine.
Madeleine Chan (she/they) is a freelance writer based in Vancouver, BC who loves to explore the pitfalls and positives of the world in various written forms, often around media, culture, and/or identity in the pursuit of greater dialogue and understanding. You can find her work at Overachiever Magazine, The Peak, AIPT Comics, Women Write About Comics and more, and find them on Twitter @madeleinechan or Instagram @madeleinelyc.
This essay was selected as part of Shedoesthecity's New Voices Fund, established to help continue offering opportunities to talented emerging writers with less than 20 bylines. More info here.