Rachelle Wintzen moved to New York City when she was 20 to continue her career as a professional dancer. After two years, a couple injuries took her off course. The dream died.
She fell into a deep depression and soon found herself working in NYC's nightlife scene; Rachelle was immediately under its spell.
"I developed a dependency that turned into an addiction to hard drugs and alcohol, I have stories for days, it was some of the highest and lowest moments of my life. I worked in that scene for almost a decade," she tells us. Luckily, her determination to change allowed her to find the strength to do a complete 180, and commit to a journey of health.
In 2014, Rachelle opened
Chi Junky Studio
in Leslieville, pouring her energy into building a beautiful space and growing a community rooted in the principle that anyone can change their life. The name is a nod to both her past life as well as her Chinese heritage, with Chi being the Chinese medicine word for energy, vitality and life force.
Like all fitness studios, Rachelle has had to pivot in a dizzying way this year, but is proud to offer a ton of classes virtually. Entrepreneur life has never been as challenging, but lessons learned in her recovery have helped her remain resilient and press on.
How did you know you had an addiction to drugs and alcohol?
When it stopped being social and fun and it became something that I couldn't function without. It always won the battle over self control. I knew had I continued the life I was leading I wouldn't have made it to my 30th birthday. To this day I have an addictive personality. I go all in with everything I do and sometimes get consumed with things beyond a healthy point. I try to use it as a positive now instead of a negative, hence the creation of
Chi
Junky
.
What were the most important steps you took to recover?
Some of the most important steps I took in my recovery included:
Recognizing the problem and deciding I didn't want to live like this anymore.
Quitting my nightlife job that kept me in a very toxic environment and surrounded me with what enabled me to be addicted to alcohol and drugs in the first place.
Working with a therapist to understand the root cause of why I used alcohol, drugs and being busy all the time as a numbing and coping tool.
Removing myself from social circles and scenes where I knew I would be triggered.
Surrounding myself with a strong team of mentors, teachers and practitioners to help teach and get me to a state of health I never knew was possible.
Making a commitment to take care of myself and build a healthier life for me.
Developing a clear vision and setting goals for a bright future and life of fulfilment.
How do your past experiences influence or inform your new business?
I focus now on holistic wellbeing as a consistent lifestyle and that is what holds me strong to my principals and values. Once I found this new way of living well, I never looked back. It resonated in such a profound way, and helped me so much, that I made it my whole life's mission to share it with as many people as possible—Chi Junky was born.
In your words, what is the relation between physical activity and mental health?
They are hugely connected. They go hand in hand. I strongly believe you need daily physical movement to help with mental and emotional health. There are so many benefits to moving your body, movement is different for everybody as our bodies all need different things. But it is critical for overall health and longevity to move in some way everyday, even just going for a walk or gentle stretching is amazing. Make it as regular and consistent as brushing your teeth.
You are an artist and now you run a wellness business. Can you talk about how art and movement intersect? Or how you bring art into your business?
Both my former careers, as a dancer and in the NYC nightlife scene, directly influenced Chi Junky. Music has always played a huge part in my life in everything I do, in both experiences as a dancer and nightlife. Chi Junky is a music-forward studio where the music is equally weighted to the movement. I also work really hard to curate an incredible experience that touches on all 5 senses, from the signature tea bar, to a full service yoga experience where everything is provided and the room is curated with all the props you need for the class. Before Covid we gave a signature massage with essential oils to everyone at the end of every class.
More than anything working in nightlife was the best education in life experience, it taught me exceptional customer service, which I still use everyday in my business. For one, I actively get to know all my regular customers and address them by their first name when I see them. I make sure to know something special about them so they know they are important to the studio community and not just a number on a mat.
Chi Junky is known for curating an exceptional yoga experience, with profound attention to detail, everything we do big and small is done with intention, and that all stemmed from what I learned working in NYC nightlife.
What have you been telling yourself to help you persevere in this incredibly challenging year?
I really have to thank the incredible Chi Junky community for holding me up on the days I couldn't see the light at the end of the tunnel. As an entrepreneur you have to be incredibly resilient and possess a strong ability to keep getting up every time you are thrown a curve ball, fire or failure.
I think back to every challenge I have overcome, where at the time it felt like it would be the end and I wouldn't get through it. But every single time without fail I get through it and overcome it. The struggles I face today will be no different, it doesn't make it any easier working my way through them but I know that eventually it will resolve and be okay. I have learned to trust with my whole being that everything works itself out and worrying only ages you, it doesn't help the situation. Majority of the things we worry about never happen. Put all your worry into thinking of a positive outcome and believing it will be ok. Replace the worry with faith and trust, no matter what.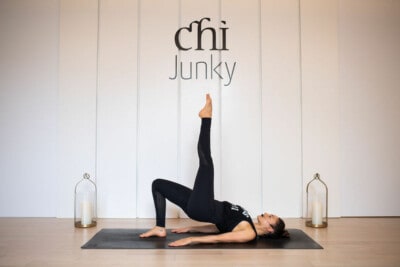 What do you want to say to the person out there who is struggling right now, who maybe feels completely defeated and alone with their struggles.
I have been there in that rock bottom despair many times in my life, I have started over and rebuilt my life from scratch a few times. Every time it felt impossible to keep going and as these difficult experiences kept coming, it felt harder and harder to get through them—but I did, every single time. I still go through big hurdles and challenges but my main take away is you will always—no matter how impossible it seems—get through it.
Let yourself move through the emotions, be kind to yourself and let yourself feel the pain but then start to make a plan. Don't sit in the despair too long; get up and start to write down ideas, thoughts and ways to make positive changes. Get out of your head and into your body. Go for a walk or move your body, listen to podcasts from people who inspire who. Listen to music that moves you, talk it out with people who love you. Do things that will shake and shift the negative energy just don't sit in it. Then be patient, give yourself time to let things happen. Nothing is permanent and every challenge you face is possible to overcome even when it seems impossible.
For more information on the Chi Junky studio, classes and the crew, visit the site.