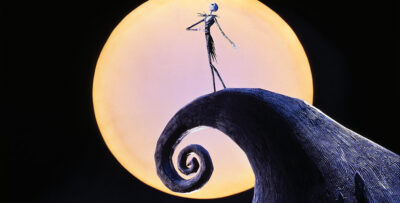 TSO Performs Tim Burton's The Nightmare Before Christmas
Tim Burton's The Nightmare Before Christmas will be projected on the big screen at Roy Thomson Hall while the Toronto Symphony Orchestra plays Danny Elfman's hits from the beloved movie. Celebrate this quintessential Halloween movie with a live performance of the spooky score. We already have goosebumps! Get your tickets for October 28 or 29.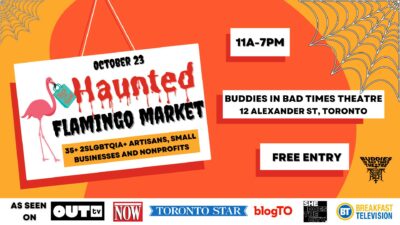 Haunted Flamingo Market
Support local queer vendors and talent at this haunted edition of The Flamingo Market! Browse through unique creations from 35+ 2SLGBTQIA+ artisans, small businesses and non-profits at Buddies in Bad Times Theatre all day long on October 23. Admission to this award-winning community market is free!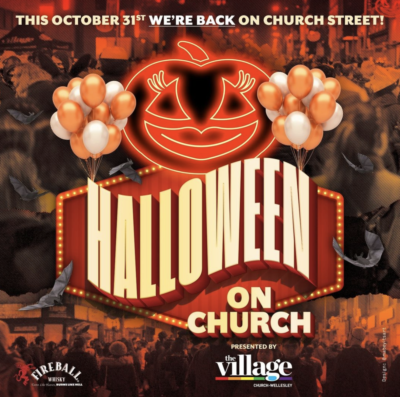 Halloween on Church
This massive annual Halloween block party is returning to the Village this year! The energy is unmatched and the costumes are next level at this lively event. A stretch of Church St. will be pedestrian-only after 6:30pm on Halloween, as thousands of people are expected to fill the streets for a spooky night of fun. Jump to Instagram for more details.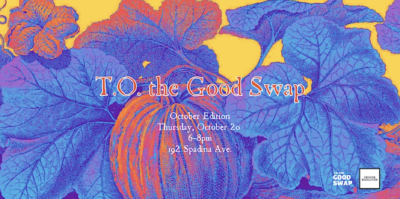 Halloween Costume Swap
If you're itching to clean out that drawer of costumes from years past, The Good Swap is hosting a Halloween costume swap on October 20. Donate your gently used costumes and swap them for another get-up you'll love—a much better option than having them end up in a landfill. Register in advance to get first pick at the swap!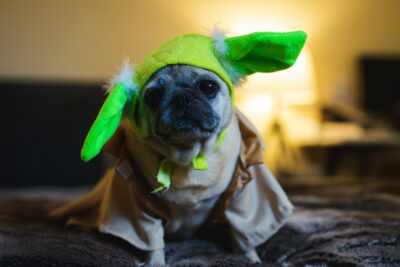 Howl'oween Pup Parade and Costume Contest
Head over to The Bentway with your doggo on October 29 for a Halloween celebration that might be more adorable than scary. Join other local dogs and owners for a costume contest, pup parade and a "Yappy Hour" complete with warm drinks, local pet vendors and a photo station to memorialize your dog's cute costume. Register now!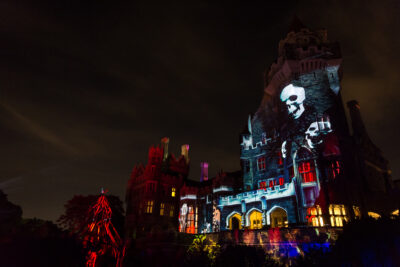 Legends of Horror at Casa Loma
For those of you who like a good thrill, the grounds of Casa Loma will once again be transformed into an immersive theatrical experience, and this time with zombies. Guests will walk at their own pace through a 2km trail, running from the lower gardens to the castle tunnels, as well as some creepy corners that the public has never seen before. Expect thematically designed sets, creepy characters, and environmental theatre. More info and tickets.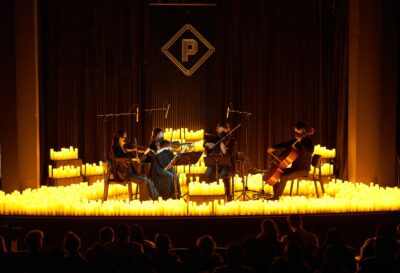 Halloween Candlelight Concert at Paradise Cinema
For a more romantic type of Halloween head to Paradise Cinema on Bloor for a multisensory concert. On Oct 31, they will host two Halloween inspired concerts under the gentle glow of candlelight. Book your seats soon. Of course, this month is also full of Halloween-themed films including The Bride of Frankenstein, cult classic Butcher, Baker, Nightmare Maker, and Lair of the White Worm, presented by Evil Women.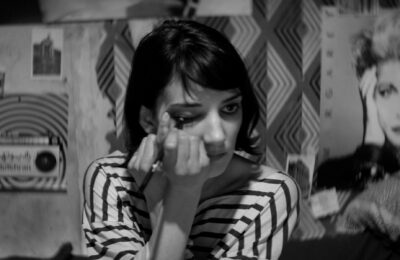 HERROR at TIFF
TIFF presents HERROR, featuring six women-written, -directed, and -centred films from the past decade which use genre and a gendered gaze to explore all manner of trauma: grief and motherhood (The Babadook, Prevenge), sexual (Revenge), racial (Master), intergenerational (Relic), and the sum total of patriarchal oppressions (A Girl Walks Home Alone at Night). Tickets and info.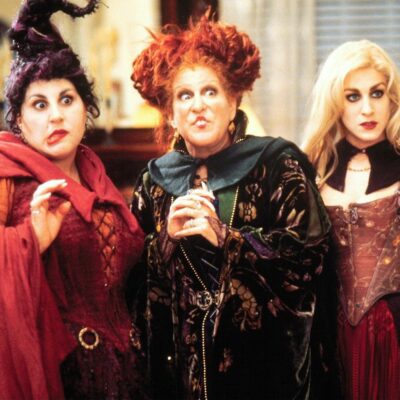 Hocus Pocus at The Revue
On Halloween night, head to The Revue for a screening Kenny Ortega's 1993 hit Hocus Pocus, starring Bette Midler, Sarah Jessica Parker and Kathy Najimy as 17th century witches who arise from the dead. Midler's lips are reason enough to attend this screening, and those 90s special effects are pretty special too. Get your tickets.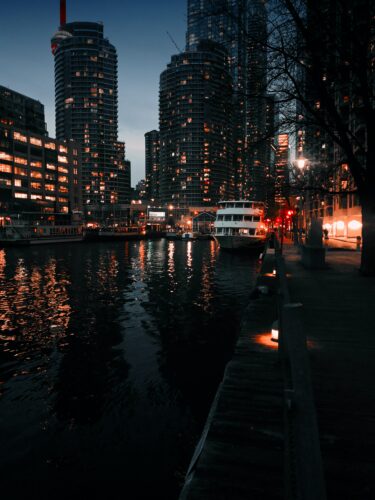 Toronto's Haunted Harbour
Feel like a creepy boat ride? This new 90-minute storytelling & boat cruise experience will take you out on the waters, through lagoons, past the Gibraltar Point Lighthouse, as well as stop for a quick visit to one of Toronto's haunted islands. Hear spine-tingling tales of ghost ships, shipwrecks, and monsters lurking just below the surface – all from the files of Toronto's famous Haunted Walk. Curious?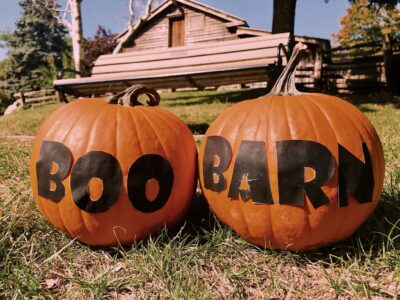 Riverdale Boo Barn
For the little ones: Riverdale Farm is hosting their beloved Boo Barn celebrations on the weekend of Oct 22-23. Kids can enjoy crafts, face painting, and exploring the spooky "Boo Barn". This event is free, but they welcome donations of non-perishable food items to enter the Boo Barn. Families can carve pumpkins on-site, collect the pumpkin seeds and take them home. First come first serve, no cost to carve, tools are provided. Suggested donation is $5 per pumpkin, all proceeds support the Farm.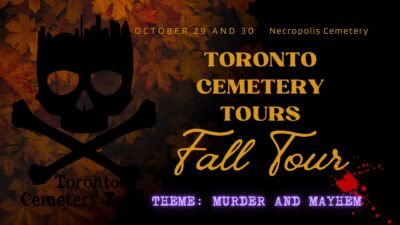 Toronto Cemetery Tours: Murder and Mayhem
This Halloween, the Toronto Cemetery Tours is doing a brand new FREE tour at the Toronto Necropolis Cemetery. Guests can look forward to stories about "a stolen identity, an unsolved murder, and Toronto's last public hanging." Meet at the cemetery gate on Winchester Street, across from Riverdale Farm. Expect a 2-hour walk and chilling tales. More info on their Facebook page.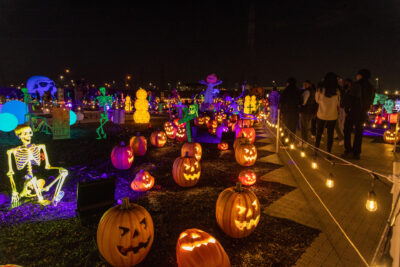 Spooky at Illumi
Mississauga's massive new light, sound, and multimedia show has a special offering for Halloween. Spooky at Illumi invites guests to enjoy 3,000 jack-o-lanterns of all shapes and sizes, hundreds of playful neon skeletons, the glow of a larger-than-life skull, as well as ghouls, witches, monsters, and ghosts scattered throughout the Dazzling World of Lights! This is bright-light Halloween fun for the whole family.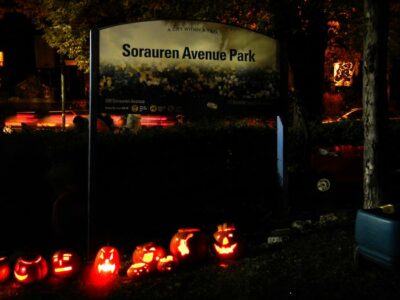 Sorauren Park Pumpkin Parade
On the evening after Halloween, take a stroll through Sorauren Park to check out hundreds of carved pumpkins. Add your pumpkin to the parade and check out the wide variety of carvings. The beloved neighbourhood event starts at 6 pm, with the busiest times after dinner.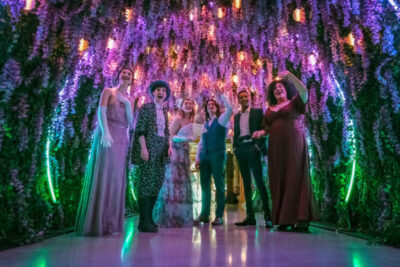 The Bridgerton Ball
While not Halloween specific, the ongoing Bridgerton Ball experience is a wonderful excuse to get dressed up! Immerse yourself in an exquisite ball with regal Regency-era costumes, mesmerizing live acrobatic performances, a string quartet playing the show's beloved soundtrack and a string quartet playing the show's beloved soundtrack and plenty of photo opportunities. This is a must-visit for Bridgerton fans! Tickets are selling fast.
Wishing you a magnificent Halloween season.