The recipient of the KM Hunter Award for Dance, Heidi Strauss began her career as an independent dance artist working with choreographers and companies throughout Canada. In 2008 she formed adelheid, and through residency opportunities at the Factory Theatre and the Theatre Centre, she's created and toured several Dora Award-winning works.
Most recently, she choreographed LOT X, which transports audiences through physical and virtual spaces across Harbourfront Centre, exploring the relationship between place, space and one another using live video projection, integrated digital technology and a moving audience. LOT X runs from May 29 to June 2 as the final installment of TORQUE, Harbourfront Centre's international contemporary dance series featuring visionary female choreographers.
SDTC: Describe your dream vacation.
HS: A beach by the sea with my son and husband. The dream part of it: getting there with no carbon footprint.
What is commanding a lot of attention in your life lately?
The show I'm working on: LOT X. And what is happening with Doug Ford as premier.
What have you learned about yourself in the past year?
That learning, and relearning the things you thought you already learned, is a huge part of life.
One fun little-known fact about you?
I'm a real crap bowler, but I had a collection of bowling shoes I wore in high school as a uniform, all in real funky colours.
What have you really connected with recently, and what about it appeals to you?
Judith Butler's Notes Toward a Performative Theory of Assembly. It's been LOT X research. It's an understatement to say she's brilliant. She writes: "To say any of us are vulnerable beings is to mark our radical dependency not only on others, but on a sustaining and sustainable world." It's a nice way to consider how inter-related everything is. Was also into OA on Netflix for how it included movement in mainstream programming.
What's the worst piece of life advice you've been given?
Good things come to those who wait.
What is your motto at the moment?
Start somewhere. It's all part of a larger process.
Any plans for summer?
Getting to the Edinburgh Festival Fringe with my friend and colleague Rachel Penny.
What are the qualities you like least and most about your parents?
Their unconditional love, loyalty, stubborn independence, and ability to MacGyver/problem-solve (except as it relates to digital technology!).
What is the most courageous thing you've ever done?
Quitting a job dancing for a company overseas (whose work I loved) because their treatment of women, including me, was abusive.
What childhood memory makes you laugh out loud?
When I quoted lyrics from David Bowies's "Changes" in an essay written to the principal of my grade school as punishment for playing a practical joke on a supply teacher.
What unnecessary object would you love to own?
I'm aspiring not to have an answer to this question.
What hack has made your life better in the past year?
Going to bed early, getting up EARLY.
What issue do you wish people took more seriously?
Climate change.
What outfit do you wear more than any other?
Jeans and a comfortable shirt.
Who has surprised you lately, and how?
All the people who listen and respond to questions by saying: "Yes, let's see what is possible." There are many.
When you look back on your life, are you at where you thought you'd be by now?
When I finished my professional training, I made a five-year plan. I'm still not sure I succeeded at many of the goals I set for myself then. It was all pretty ambitious. For most of my adult life, my goal was to keep dancing and be able to pay the rent at the end of the month. It was pure living-in-the-moment; it's also a big part of performing, giving over to what is happening as it is happening. But to be honest, as an artist working in Toronto, I never expected I would manage having a family, or owning a house.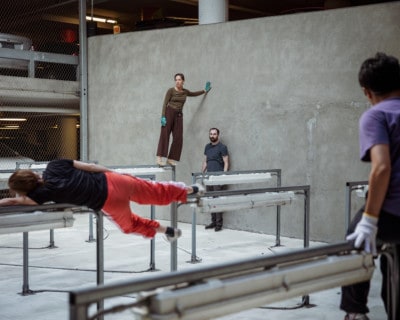 What do you hope audiences take away from your upcoming performance at Harbourfront?
An experience that stays with them, that invites reflection about the impact of the personal/individual on communities and, in turn, on the places in which we live.
What were the particular challenges to developing the choreography for LOT X? What did you love about creating this work?
LOT X is an ambitious project for a company of adelheid's size. We are super grateful to our two co-presentation partners—Harbourfront Centre and DanceWorks—and for the support of The Canada Council's special New Chapter program (created to honour Canada's 150th). The project has changed significantly in the course of the nearly three years between its first grant proposal and its upcoming presentation. It has been a constant organizational puzzle! But it has also been thrilling to work with (and learn alongside) some wickedly talented and smart folx, and to make something together that reflects where we are in 2019.