Annie Koyama is the brains and hustle behind Koyama Press, a Toronto-based small press founded in 2007. Her mandate is to promote and support a wide range of emerging and established artists via comics, graphic novels, art books, and zines. Known for her alternative edge and diverse range of titles, Koyama's roster ranges from autobiography to photography, horror to humour, and more.
We caught up with her this week.
SDTC: Can you describe your education/career trajectory prior to founding Koyama Press?
AK: I've worked in graphic arts, was a set painter for the Canadian Opera/National Ballet and then got into documentary film at the National Film Board in the 80s. I moved on to features and then finally to making commercials for about ten years.
I was sent home with a terminal diagnosis after discovery of brain aneurysms but had surgery in 2005. When I survived, I decided not to return to film but to do projects with local artists (at first) where they could make a product, I'd fund it and they could keep the proceeds. I found the Trio Magnus fellas in 2007 and we made the book Trio Magnus: Equally Superior. After that, I wanted to make more books and help get them out into the world. And that is how I accidentally fell into publishing.
How have you seen the market change in the last ten years since you started?
There seem to be more people making alternative comics than ever before, and it's difficult to keep up with the vast output; however, with Amazon trying to take over the world, more bookstores will continue to close. When I began publishing, I'd planned to publish art books but that year, Pages and Mirvish closed and the market for buying art books has definitely slowed, sadly.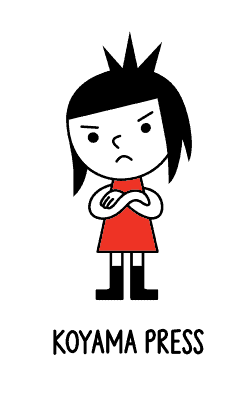 What tips would you give to emerging artists/writers that want to be published?
Above all else, put your name and contact information on your work. You'd be surprised at how infrequently this happens, especially in comics.
Check the site of the publisher you want to submit to. Some may not take submissions or have very stringent rules about how to submit.
More basic, really look at the books that they publish. If you make art comics, you're probably not going to interest a publisher who makes only mainstream comics.
What habits/traits do you need to be a great publisher, in your opinion?
Passion for what you do because for small press publishers, there's not much money to be made, especially if you work mostly with emerging artists. You have to be a diplomat, a psychologist, an organizer and event planner, a sales person, a risk taker, a cheerleader, and not be terrible at math.
What was the biggest challenge you overcame in running your biz?
By far it was getting a large distributor when I didn't have many titles and the titles that I had were in a format not popular with distributors (saddle-stitched books). Not to mention learning everything that I could about publishing, as I had no background whatsoever.
Current favourite title in your roster?
That's the Sophie's Choice question. I'm excited about all of our books and thrilled to be working with so many different artists with diverse styles.